Location
Pronouns

they/them
Partner
The Legendary birds mission continues! This is my fourth favorite chapter in Book 1 and I love how it turned out. I hope you all enjoy it as much as I did.
~
Chapter 19: Fury and Lightning
~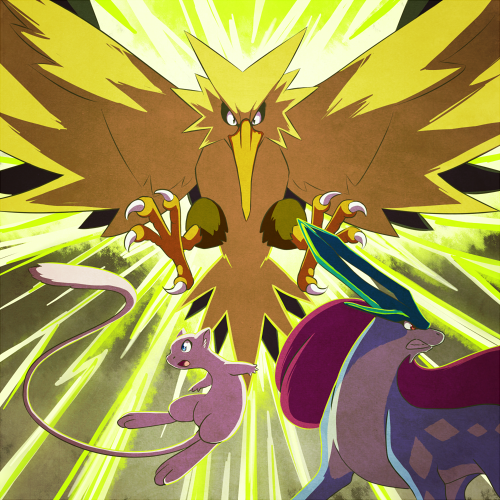 Mew. It was seriously Mew. Right here, right in front of my eyes. Never, in a million years, did I think I'd get such a clear view of the living myth itself. Seeing Legendaries in person was one thing but
Mew?
The mother of all Pokémon? The pale rose cat hovered over to the birds, raising a large, pink bubble around them and allowing them the chance to rest. The trio landed on the ground, folding their wings tightly as a healing glow washed over their bodies. Mew, on the other hand, was now staring at Mewtwo, head tilted ever so slightly with a sort of… perplexed curiosity on her face.
<Who is this one?> the cat asked softly, her telepathic words reverberating through the air, cool and clear.
"*You tell us!*" Moltres shot back. "*They have
your
power!*"
Mew tilted her head the other way, looking even more intrigued. <And Entei?>
"*Their mind is not their own,*" Articuno said in a low voice. "*The humans have done something to them.*"
Mewtwo gave no reaction to Mew's arrival. He couldn't. All he could do was stare back, eyes glowing a mindless blue, waiting for the order that would designate the new arrival as either friend or foe.
"Mewtwo, neutralize Mew! Entei, don't let the birds heal!"
Mew turned her head in the direction of the voice, observing the Rockets with a mixture of sadness and pity. <So humans have become our enemy once again. But I wonder… are you really prepared for that?>
The squealing of tires and roar of engines assaulted my ears out of nowhere. I snapped my head in their direction to see a pair of jeeps rumbling towards us through the trees, traversing the uneven, root-covered terrain like it was nothing. The passengers whipped out their firearms and pointed them right at us, and it was like my brain just shut down. I had no idea what to do. There was nowhere to run!
With the flapping of wings and a flash of shimmering light, Fearow shot forward from behind us and put up a Protect just a split second before the sound of gunfire rang out and bullets pinged off the shield. Stupid! How could I have forgotten the plan?!
"Aros, we need you!" I yelled.
"*On it!*" the Flygon called out.
I threw a hurried glance upward to see the dragon streaking away from the aerial battle, his wings a blur. Fearow's Protect started to flicker. Without wasting a second, Firestorm and Wartortle jumped in front, putting up shields of their own as the tall, shaggy bird leaped back and leaned down for Rudy to climb on her back. Aros swooped down alongside me and in one smooth motion I threw a leg over his back and clung to his neck. Time for one last Protect, and this time it was up to Aros since Fearow hadn't yet recovered from the last one. That gave Rudy and I the chance we needed to recall our nonflying Pokémon and then
finally get out of the line of fire holy crap.
"Ha! We made it out! Take that!" Rudy called out behind us as Aros and Fearow shot into the air. My breathing was shallow and it felt like my heart was going at a million miles an hour, but we'd made it. We'd been ambushed by two squads of Rockets and made it out unharmed. It was insane!
Just as soon as I had that thought, a hail of noxious sludge started raining down from above, forcing Aros to suddenly barrel to the right to avoid it. I threw a frantic glance over my shoulder to see a swarm of Golbat and Weezing belting out Sludge Bomb non-stop. Rudy pointed them out to his Fearow, and the pair of them looped around and shot toward the poison-types.
"What was that move you used in Celadon? The one with the purple dragonfire?" I asked Aros.
"*Dragon Pulse?*"
"Yes, that! Do it now!" I cried as three of the Golbat rushed us at once, their wings glowing in preparation for Aerial Ace.
Aros opened his jaws wide, allowing a ball of violet energy to gather in his mouth before unleashing it in the form of a pulsing shockwave. The draconic energy knocked two of the bats out of the air, but the third managed to skillfully loop around it and shoot right at us. Or rather—
right at me.
I flattened myself against Aros's back, screwing my eyes shut and clinging to him for dear life. Seconds later, I felt a sudden wave of heat from that direction. I opened my eyes a crack, and… the Golbat was gone? What? A flash of orange caught my eye, and I whirled around to see Stalker's Charizard shooting past, flames licking the sides of her mouth.
"*Stop holding so tight,*" Aros muttered.
Er, right, I still had my arms clenched around his neck, even after the danger had passed. I relaxed a bit, then said, "Come on, we should meet up with the others." The Flygon gave a slight huff, but then swooped back down toward the clearing.
My heart sank—the outer perimeter of the ALR circle was now swarming with combat unit jeeps.
Holy crap
the Rockets were attacking the ground team rebels with full force, and suddenly they outnumbered us two to one and any hopes of taking them on with sneak attacks and mob tactics were utterly dead. The rebels had been forced to regroup in order to defend each other. An outer perimeter of Pokémon alternated using Protect to block the gunfire while teleporters blinked in and out of the crowd, escaping with a few rebels each time. Chibi raced around the fray, launching Thunderbolts with a frightening level of precision and dropping the Rockets left and right. But… how on earth was he doing that? With his undersized power capacity, he should have been out after we all launched our simultaneous attack on the ALRs. Wait… the ALRs! They'd been forced to discharge insane amounts of power into the air to avoid being overloaded. Had he been able to absorb some of it with his Lightning Rod ability?
But even with the rebels putting up an impressive defense, the Rockets were still closing in. And the more of them escaped from the ambush, the fewer Pokémon were available to use Protect.
"*What do we do?! They need help!*" Aros yelled.
"I don't know, let me think! And since when do you care so much about the rebels?"
"*Idiot! Stygian is down there!*"
What? I scanned the ground frantically. Sure enough, down in the middle of the fray, I caught sight of an Absol, cloaked in the dark aura of Feint Attack, jumping in and out of shadows—and with a with a rider on her back, too! Wait a second… it was Darren!
"Why doesn't he just teleport out of there…?" I muttered, but then the answer hit me the moment the words left my mouth. Stygian was a dark-type—she was immune to psychic skills like Teleport.
Had to focus. Had to think of something. Attack the jeeps? That was the only thing I could think of. The Rockets didn't even have Pokémon out! Not with all the gunfire.
"Use Dragon Pulse!" I yelled, pointing downward. Aros immediately responded with another burst of sparkling dragonfire aimed right at the closest jeep, only for it to strike something invisible in midair and go hurtling off. What? They had rebound shields?! Of course they did—the combat unit jeeps at the Entei mission did—why would these be any different? They didn't do much beyond deflecting special attacks—nothing like the crazy absorbing trick the ALRs could pull. Except getting in close for a physical attack meant being in perfect range to get shot.
We had to do something, and fast. But what?!
I had just pulled out Swift's Pokéball—maybe a dust storm would give the rebels the cover they needed?—when an icy gale swept through out of nowhere, and a distant, unearthly howl reverberated throughout the trees. I knew that sound.
"Holy crap… that's—that's Suicune!" I exclaimed.
"Suicune—seriously?!" I turned to see Rudy flying alongside us once again, now gaping at me. "Where is it?! And wait, how do you know that?!"
"I've heard it before!" I yelled over the sound of the wind.
"You've
heard
it?" Rudy gasped. "What—how…?"
I didn't get a chance to respond. Right that second, a massive cobalt beast shot through the trees, snarling as it raced for the crowd of Rockets. And then the entire battleground dissolved into pandemonium. The jeeps immediately broke off from pursuing the rebels, splitting into two groups to attack the water-type from both sides. A dozen flashes of light appeared as the Rockets' Pokémon took form around the Johto beast. Nothing compared to the forces that had cornered Raikou. Without hesitation, Suicune fired a volley of multicolored beam attacks at the opposing Pokémon without even slowing down. The lineup crumbled instantly; the beast shot past them, setting its sights on the jeeps and firing at the closest one, only for its beam to rebound wildly off the vehicle's energy shield.
But rebound shields were nothing compared to the ALRs. And there was nothing to stop the beast from leaping up
onto
the jeep and attacking from within the shield's radius.
"How
dare
you use my sibling for your sick goals!!" Suicune snarled, smashing the windshield and unleashing a torrential waterspout into the vehicle. The doors flew open and a flood of water gushed out, followed by the panicked Rockets scrambling to abandon the vehicle. Suicune didn't waste a second before it started picking them off with rapid-fire volleys of Bubblebeam.
"You're all pathetic!! Stealing our power and using it against us, pretending you have any real strength at all! Cowards! Thieves! You are
nothing
!"
Bullets pelted its hide, but it didn't even seem to care. It wasn't even slowed down. One after the other, it sent jeeps flying with high-pressure water blasts, stamping the escaping Rockets into the dirt, catching them in its jaws and hurling them into the ALR barrier with a—
Okay, no, I couldn't watch that anymore. The point was, Suicune was keeping them busy which meant that the rebels were safe, for now. I threw a glance back at the fight within the ALR barrier, and… Mew's arrival had actually evened the odds. The nimble feline zipped around the battlefield, pelting Mewtwo with shadowy orbs of black energy, distracting him just long enough for Articuno to land a series of rapid-fire Ice Beams, freezing the larger psychic in a shell of ice. His eyes glowed, and the ice shattered, but that gave Mew the opportunity to strike him dead on with an even larger burst of dark energy.
On the fringes of the battlefield, Entei raced around in a blazing fireball, launching vicious Flamethrowers into the fray—only for Moltres to intercept it at every turn, using its own fire affinity to endure the flames and get close enough to rake its talons across the beast's face. Wicked Thunderbolts lanced across the battle zone, striking both of the Rockets' Legendaries relentlessly.
Had the Rebellion really done its job? We'd given Moltres the opportunity to call for reinforcements and now the Rockets were scrambling trying to keep up with the new arrivals. But with the barrier still up, how would the Legendaries inside manage to get free, even if Mewtwo was defeated?
"Switch the Anti-Legend Rays to offense mode, now!" a voice called out.
I whirled around to see a handful of the jeeps that had fled from Suicune's assault clustered off to one side of the ALR circle. And then, in an instant, the force field encircling the Legendary battle just vanished. What? Why would they drop the shield? The Legendaries could escape now!
Without warning, the ALR closest to them retracted its antennae and swiveled its upper half downward, forming a cannon that shot out a blindingly bright yellow beam, striking Moltres right in the stomach. The firebird recoiled backward, screeching in pain as the beam scorched its feathers black. Mew shot forward instantly, putting up a barrier to protect the fire legend, but then two, then three more ALRs fired the same beams at her, shattering the barrier with a crash. I whirled around to look at the ALR nearest us, but it too had folded up its shield projectors and had switched over to firing its stored power. Stalker was right—the ALRs didn't just absorb power, they could fire it back too. Not only that, but the Rockets could control them all remotely too?
"Now!" an executive called out.
Now? Now what??
Violet Pokéballs flew through the air, and the three birds' eyes went wide with panic. In an instant, they each let loose massive blasts of fire, ice, and lightning, struggling to break free of the ALR beams.
That's
why the Rockets dropped the shield?! To throw Master Balls?!
Suicune raced forward, accompanied by a violent gust of wind that swept half the Master Balls off into trees. Mew dove in front, readying a shield, but was knocked flying by a sudden psychic blast from her clone.
A flash of red out of the corner of my eye! I whirled around to see a red beam being sucked into one of the balls—a Pokémon was being captured?! My eyes frantically darted from one Legendary to the next. Mew, Mewtwo, Entei, Zapdos, Articuno… Moltres, there was no Moltres—Moltres was caught?!
"No way…" I muttered, staring in disbelief like a bucket of ice had just been dumped on my head.
Zapdos folded its wings back and dove forward, talons outstretched, clearly reaching for the ball that had just taken the firebird, but then a second group of Rockets hurled more violet spheres into the fray.
"*No!*" Articuno cried, folding its wings back and diving. The ice bird knocked Zapdos out of the way, sending the latter reeling. Mew shot down after them,
again
trying to shield the birds with a protective bubble, but then a blue aura formed around her as Mewtwo grabbed hold of her telekinetically. And in the moment the smaller cat had to spend wrenching herself free from Mewtwo's grip, an ALR rotated and fired on her.
A third round of Master Balls flew through the air, and this time Articuno was hit—struck on the back by the infallible capture device. With a horrified screech, the falcon's body dissolved into red energy and was sucked into the ball. I gaped in horror. A
second
capture?
Mew had taken to blinking in and out of view around the battlefield, teleporting non-stop, pressing buttons on the fallen Master Balls and trying to open as many of them as possible. But then a blue aura appeared around all of them, and they flew out of her reach, pulled by Mewtwo's telekinesis.
With a painful and terrifying wail, Zapdos let loose another wave of lightning from its body, shaking itself free of the ALR beam before bolting upward, frantically dodging more beams. Except the thunderbird wasn't trying to escape. It took that opportunity to spread its wings high above the battlefield and let a hail of Thunderbolts rain down on the Rockets. The first few bolts lanced off the jeeps' shields. But the lightning just kept coming without pause, eventually shattering the shields and striking two of the jeeps, causing them to erupt into flames. I flinched as the Rockets' screams assaulted my ears.
"You think you can challenge the legends without facing the consequences?!" Suicune exclaimed, staring at the events with cold fury in its eyes. But then one of the ALRs nearest it rotated and fired, knocking the water beast off its feet. At that point, Mewtwo finally managed to intercept Zapdos, knocking it out of the sky with a psychic blast, while the Rockets on the ground scrambled to get out of its range. Two more machines fired on the thunderbird the moment it crashed to the ground.
Wait a minute. The ALRs couldn't run the barrier and the ray at the same time. Now that the shield was down, the machines wouldn't be absorbing any attacks thrown at them. Which meant that without having to overwhelm the entire network at once, we could target them individually!
"Hey Jade!" a voice called out. I spun around to see Rudy and Darren approaching, both still riding on Fearow and Stygian, respectively.
"Ray gave the order to retreat—there's not much else any of us can do here!" Rudy yelled, grimacing like he hated every word.
"Are you kidding?! Of course we can do something! We can stop the ALRs!" I countered. The two of them paused, looking taken aback.
"I dunno if you forgot, but we already tried that," Darren said, tilting his head in confusion.
"Oh yeah?! Watch!" I pointed at the nearest ALR and said, "Aros, use your strongest move, now!" The Flygon turned his neck back to give me an incredulous scowl. "Please, just trust me," I added quietly. Several seconds passed. Finally, his gaze hardened into determination, and he nodded before turning back to face the Anti-Legendary Ray. The Flygon brandished both sets of claws, letting them glow with a writhing green aura before slashing wildly. Claw marks appeared in the machine's outer armor, shallow at first, but deepening with each strike.
"Holy crap, that's actually
working
," Rudy gasped, pulling out a Pokéball to release Ebony. "Use Inferno, now!" The Houndoom's eyes lit up, and she breathed out a massive wave of white-hot flame. Without a word, Stygian rushed around to the other side of the machine, the blade on her head glowing purple. She aimed a few strategically-placed slashes, cleaving off the shields on the upper part of the cannon, allowing Ebony's flames to penetrate the inner mechanisms. Finally, the beam started to sputter, giving way to a wave of sparks before the entire top half of the machine collapsed in on itself, half-melted.
We'd done it. We'd actually done it!
The ALRs weren't unstoppable.
The Legendaries didn't know that they could be destroying the ALRs, right now! They
needed
to know! If they joined in, we'd be able to take care of them all in no time! Suicune had seen me before—if it recognized me, I could use that opportunity to pass on the message to it. And if not, well… Aros was fast, right?
"Let the others know that we've got to start destroying the ALRs—there's something I've gotta do!" I announced. And then to Aros, I added, "Circle the battlefield real quick, I know a way we can end this."
"*You
what
? …Oh, whatever, I'm not even gonna question it at this point,*" the Flygon muttered under his breath before taking off. We shot around the ALR circle in a wide arc, my eyes rapidly scanning the ground ahead of us. Finally, I spotted Suicune weaving in and out of the trees, struggling to get closer to a group of Rockets that had gathered between two ALRs for protection and were firing beams at the beast any time it got too close.
"Suicune!" I called out. Suicune whipped its head around to face us, its crimson eyes boring a hole right through me. And for a split second my heart stopped as I saw the beast charging a shimmering beam of light in its mouth until its eyes went wide and it froze.
"You! You're an interloper, aren't you?!" Suicune barked.
"A
what?
" But the beast didn't explain. I shook my head and went on, "Listen to me! Those machines aren't indestructible, and they can't absorb your attacks when they're in offense mode!"
Suicune paused, blinking in surprise. It then glanced between me and the ALR circle a few times before sprinting off without a word.
Aros threw a glance back at me like I was insane. "*The hell was that?*"
"It was stupid, but it's gonna turn the tide of the fight," I said firmly. Across the clearing, Suicune had already started bombarding one of the ALRs with multicolored beam attacks. Not too far from it, the rebels were doing the same. Zapdos was still desperately attempting to strike back at the Rockets, so blind with rage that it didn't even notice the ground glowing white until a pillar of swirling blue flame erupted from below, called forth by Entei. Zapdos screeched in anguish as the flames enveloped it. But then, without warning, Mew teleported to Entei's side, grabbed hold of the beast, and then teleported again. An agonized howl rang out as the fire legend reappeared
within
one of the ALR beams that had been aiming at Zapdos. Its body spasmed wildly as the energy dug into it, then finally collapsed to the ground, motionless.
It was down. Entei had finally been brought down. I didn't know whether to be glad that the free Legendaries had one less enemy, or feel bad that they'd even had to do that to one of their own in the first place.
Mew stared at the fainted beast for several seconds. Then out of nowhere, her eyes widened like she had just realized something. The cat disappeared from view again, then reappeared alongside Entei, grabbed hold of its mane, and—
A blue aura formed around her and she froze right as the glow of a teleport had started to form. Clenching his paws together, Mewtwo wrenched Mew away from the fallen beast before a narrow beam shot out of nowhere, dissolving its body into red energy.
The Rockets had recalled Entei. That meant its Pokéball was here, at the mission site. And I'd seen where the Pokéball beam had come from—it was the van that had transported Entei and Mewtwo here in the first place, still hiding amongst the trees, covered in a camouflaged sheet. Entei's Pokéball was in there.
Right there, right now!
I could steal it. And Mewtwo! And then nothing could stop Zapdos from freeing the other two birds! Our mission didn't have to end in failure!
I had to do it.
"Aros, the van, over there. Entei's in there," I said.
"*I saw.*"
"We're going to steal it."
For about the millionth time that day, Aros turned his neck to gape at me like I'd just said the craziest thing he'd ever heard. "*What?*"
"I've already got a plan on how to do it." My brain felt like it was on fire from racing so fast.
Aros opened his mouth to say something, but then shook his head and turned around, saying "*I never knew humans were so…
this
,*" before flying over as quickly as he could, touching down alongside the passenger door. I grabbed both my Pokéballs, releasing Firestorm and Swift. The van had to be occupied. I wasn't taking any chances this time.
"Firestorm, fill the back of the van with a Smokescreen so the Rockets can't aim at us. Swift, use your Keen Eye to see how many are in there. Then Aros, you grab them and throw 'em out. If they drop their guns, hurry and grab 'em. If not, get back to us and use Protect," I said. If any of them were caught off guard by the sudden instructions out of nowhere, they didn't show it.
Firestorm stuck by my side as I crept around to the back door of the van. I took a deep breath—no turning back now. I threw open the door and Firestorm immediately jumped forward to spew a thick cloud of smoke inside. Swift circled around in the air and called out, "*Only two of them!*"
No gunfire yet. Aros shot through the smoke, and a couple of panicked yelps reached my ears right before he emerged, carrying two flailing Rockets in lab coats.
Just a pair of scientists. They weren't even armed. The Flygon hurled them off into the trees unceremoniously.
"Make sure they don't bother us," I told Aros. Then, to Swift, "I need you to clear out the smoke."
The Pidgeotto nodded and whipped up a gust of wind, sweeping the van clear within seconds. I climbed inside, followed by both of my Pokémon, and we were met with a wall of computer consoles and softly flickering lights. Alright, where would Entei's Pokéball be? I couldn't see it out in the open. Maybe it had been stashed somewhere for safekeeping? I frantically started throwing open every drawer and compartment I could find… but I couldn't find any Pokéballs. Or anything resembling a Pokéball, for that matter. That didn't make any sense. It should have been here.
"It has to be here," I reassured myself, double-checking all the places I'd already looked. I must have missed it. That was the only answer.
It had to be here!
"*Hey, we've got trouble,*" Aros said.
I groaned. "What kind of trouble?"
"And just
what
do we have here?" a chilling voice behind me asked. My blood instantly ran cold. Not that voice. Not
now
. Why now?!
Slowly, I turned to see the executive Astrid approaching the van, sitting atop her Arcanine. Aros spread his wings defensively and brandished his claws, doing everything in his power to look bigger and also hide me from view.
"I know you're in there," Astrid called out to me. Damn it. I clenched my fists, mind racing. We'd have to fight the head of the combat unit. That was the
last
thing we needed right now. Except… unlike our last encounter with her, Aros was actually on my side for real this time. He was strong enough to fight her, right?
"*I'm not afraid of her. Half her team's fire-type. Fire doesn't hurt m—*" The Flygon's words were cut off by a red-hot fireball to the face, knocking him backward. "*Oh
shit,
that's hot!*" he cried, bracing himself against the back door of the van.
"That was a
warning shot
," Astrid said poisonously. "Now get out of the way."
"*Screw you.*"
Astrid sighed exaggeratedly and with a very slow, deliberate motion, dismounted her Pokémon. "Arcanine, keep the experiment busy while I deal with this one." The firedog bared its teeth and lunged. I flinched, screwing my eyes shut the moment it struck, hearing Aros howling in pain. When I opened my eyes, Arcanine had dragged the Flygon away from the back of the van, its jaws locked firmly around one of his arms. Aros flared his wings in a desperate attempt to stabilize himself while drawing back his other arm to slash with. But at the last second, the firedog let go of him and dodged the incoming attack before charging forward, its entire body wreathed in flames.
Astrid was now standing at the back of the van, staring at me with a condescending scowl. Firestorm and Swift took fighting stances in front of me. Her hand hovered over her Pokéball belt, but she hadn't sent anyone else out yet. She was… waiting for us to make the first move? Why?
Wait… the equipment? There was a ton of sensitive equipment behind us.
Of course
she didn't want to run the risk of accidentally destroying it. But… what was so important about it?
The answer snapped into my mind, clear as day. It was controlling Mewtwo. That had to be it. Razors had mentioned that a device had been controlling him. Mewtwo and Entei had been unloaded from the van before the mission. Entei had been recalled into it. This was it! This was the Legendary control tech. I clenched my fists, feeling a spark of confidence rising within me. I actually had
way
more leverage in this than I thought, didn't I?
"You can't hide in there forever," Astrid snapped.
I gave her a defiant glare. "I think I can. I think these computers are the only thing keeping Mewtwo on your side. What happens if I destroy them?"
"You'll be in for the worst pain of your life,
that's what
," she spat. But at the same time, there was actually the tiniest sliver of fear in her expression. Mewtwo might have been the Rockets' greatest weapon, but they were also
terrified
of him, weren't they?
Neither of us made a move. Behind her, Arcanine had knocked Aros to the ground, pummeling the dragon repeatedly with a series of rapid-fire blows. My chest tightened—Aros was faring much worse than I'd expected. I had to find a way out of this, and fast. But I couldn't
actually
destroy the computers with her standing there. It'd be a death sentence. At the same time, she couldn't start a battle without running the risk of destroying them herself—
that
was a death sentence as well. And she couldn't just pull me out herself while I had Firestorm and Swift here. We were stuck. And from the look on her face, she knew it just as well as I did.
Without warning, Firestorm spat a fireball right at Astrid. Her eyes went wide, and she lunged out of the way, dodging it at the last second.
"You're going to regret that!" she snarled.
And then a sudden bolt of lightning struck her from nowhere, knocking her to the ground instantly. What the hell? How—where had that come from?! My question was answered when a spiky Pikachu shot into our field of view, stopping in its tracks right in front of the van.
Chibi!
Arcanine immediately bolted away from Aros, snarling furiously as it threw itself between its fallen trainer and Chibi. But then its eyes darted between me, Chibi, and Aros as it slowly stepped backward, ears pinned and tail low. The firedog let out low growl, then nudged its nose under its trainer and rolled her limp body onto its back before racing off.
I sank to my knees, letting out a huge sigh of relief. I didn't have much chance to relax before Chibi rounded on me. "*What are you doing facing down the head of the combat unit alone?! I'd expect that kind of overconfidence from Aros, but not you, Jade.*"
"*Hey,*" Aros growled, hobbling over to us.
"I didn't mean to! It kind of just happened," I muttered lamely, feeling my cheeks go red.
Chibi closed his eyes and shook his head. "*Stay out of trouble, damn it,*" he said before racing off.
"Since when has he been so protective?" I muttered under my breath. I leaned outside the van to get a good look at where he was heading and saw that the rebels' sabotage hadn't gone unnoticed. With Suicune focusing its efforts on the ALRs and Mew and Zapdos banding together to fight Mewtwo, the Rockets had opted to stay out of the Legendaries' way, which put them in another direct clash with the Rebellion.
I took a deep breath. The others would be okay. The Rockets' forces had already been decimated by Suicune. And Chibi was going to help protect them. I had to focus on what I was doing. I turned back to see how Aros had fared and—
"Oh geez… are you okay?"
"*What's it look like?*" Aros said in a low voice, looking away. The bug-dragon's scales were covered in nasty red blisters and vicious gashes in jagged, tearing patterns that looked like bite wounds, bleeding freely. I hopped down from the van and approached him carefully—the last thing I wanted was to catch him off-guard in such a vulnerable state.
"At least take these," I said, reaching into my belt pouch and holding out a fistful of oran and rawst berries. The Flygon scarfed them down instantly.
"*Not nearly enough, but it'll do,*" he muttered.
I climbed back inside the van, a feeling of hopelessness starting to settle in. No matter how hard I looked, I hadn't been able to find Mewtwo and Entei's Pokéballs. Was there any point in spending more time looking? But if not, what was I supposed to do now?
The answer hit me like lightning. The threat I'd made to Astrid… to destroy the Legendary control tech… now that she was gone,
I could actually do that.
"Firestorm, time to trash that console." The Charmeleon looked like he'd just been told it was his birthday. Blowing out a huge fireball onto his claws, he drew back a fist and swung it with all his might. We'd been attacking heavily armored weaponry all day, it was actually kind of funny seeing his Fire Punch tear through ordinary computers. But the real question was: had that broken the Rockets' control over Mewtwo? I leaned outside the back of the van to get a better look at the Legendary battle and—
I stared. Mewtwo lay sprawled out in the dirt, motionless. They'd finally managed to take him down. If I'd been just a little bit faster…
Zapdos's feathers were charred black, its wings straining just to stay aloft. And yet it
still
was bearing down on the Rocket's forces with an unyielding fury, despite the fact that its bolts had weakened to the point that they couldn't even break the vehicles' shields. Master Balls flew through the air, forcing the electric-type to dive out of the way in an awkward move that almost sent it crashing to the ground.
<Zapdos, we must leave!> Mew pleaded.
"*No!! I'm not leaving without them!*"
<It will do us no good if
you're
captured as well!>
"*
I can't leave them!!
*" the thunderbird cried, eyes wide with desperation.
Mew glanced frantically between Zapdos and the Rockets, her eyes widening in horror as a Master Ball flew right at the former. And then, in the blink of an eye, she teleported to Zapdos's side, and the two of them vanished together. This time they didn't reappear. Mew had taken them far from here.
They'd escaped. But it also meant they'd had to give up on rescuing Articuno and Moltres.
The squeal of tires suddenly rang out, alarmingly close to us this time. Had the Rockets realized I was here? How?!
Astrid's Arcanine. Like it wouldn't have led them back to me? Especially now that the Legendaries were gone? My train of thought was rudely interrupted by Aros clambering inside the van, shoving me, Firestorm, and Swift into a corner in the process.
"Aros, what the hell."
"*The Rockets are all heading this way. Excuse me if I didn't want to be in the line of fire,*" Aros grumbled.
"You couldn't just fly away?"
"*How the hell would you have gotten out then, huh?*"
I raised an eyebrow. "Is that concern?"
Aros scoffed. "*Tch. As if. Chibi would never let me hear the end of it if I got you killed.*"
Well alright then. Either way, we had to get out of here, now. "Can you still fly?"
"*Don't have much of a choice if we wanna get out of here,*" the Flygon grunted.
I recalled Firestorm and Swift, then slowly clambered onto his back, taking care to avoid the worst of the burns.
"Alright. Let's go."
Aros bolted out of the van and then everything dissolved into chaos. Gunfire rang out, so close it nearly split my ears. And then out of nowhere, Aros barreled to the left and my arms slipped from his neck and for a single, heart-stopping moment I was clutching at thin air before my hands found his tail fan and I clung to it for dear life. His every move sent whiplash running through my lower body, but there was no chance for him to slow down—I had no choice but to ride it out. The dark aura of Feint Attack slowly crept across the both of us as we shot across the ground, nothing more than a shadow. More Rockets in this direction—more gunfire! Nowhere was safe! Our shadowy aura faded, but the bug-dragon immediately focused all his energy into flaring it up again, just in time to misdirect a second Rocket squad's gunfire, right before bolting for the empty airspace between two jeeps.
"*Dammit this is hard—I've never used Feint Attack this much in such a short time,*" Aros grunted.
He was running low on energy. Everyone was. What would we do if he ran out entirely? I just had to hold on. We were going to make it, I just had to hold on! They couldn't hit us; we were moving too fast. I just had to keep telling myself that.
We were moving too—
A sudden, sharp pain tore through my arm and I was falling. My surroundings spiraled past me in a dizzying whirlwind, and the only thing I could make out was the ground rushing toward me and my voice as I screamed, and I screwed my eyes shut right before I struck the ground and kept going, tumbling over and over before finally skidding to a stop in a crumpled heap, every inch of my body racked with pain.
I clutched my left arm to my chest and immediately felt my right hand soaked with something warm and sticky. What…? Slowly, shakily, I peeled my fingers away, revealing a deep gash that carved through—okay no, I shouldn't have looked. I clutched it even tighter, wincing as the dirt from my hand stung the wound and blood continued to seep through my fingers. Damn it, why was there so much blood?! My right arm was an awful, scraped-up mess, but at least it wasn't bleeding all over the place like—
Like I'd been shot. No way… I'd been shot?
I clenched my teeth and struggled to regain control of my breathing as tears stung the corners of my eyes. They were still after me, weren't they? I had to get up. I had to run! But my body didn't want to move.
I craned my neck to look up at my surroundings and saw the Rockets that had cornered us earlier now closing in. Saw their Pokémon launching attacks at Aros as he made repeated attempts to swoop down towards me. Saw the familiar form of an Arcanine bounding towards me in the distance and felt my blood run cold. I swallowed hard and poured every ounce of effort into pulling my legs underneath my body, then
somehow
managed to put my weight on one leg and lift myself from the ground, still clutching my bloodied arm. Had to keep moving. Had to—
A sudden bolt flew out of nowhere and I was on the ground again, crying out in agony as a surge of lightning tore through me.
That was it. I didn't have any strength left. My body was paralyzed, my limbs twitching uncontrollably. I could barely make out the heavy thud of paws striking the ground near me, followed by the scraping of boots against the dirt.
Had to… do something. But my thoughts didn't want to flow straight. Everything felt hazy and distant, even the pain.
The last thing I saw was Astrid staring down at me, her face devoid of any emotion. Then everything went dark.