Location
Pronouns

they/them
Partner
There's an Extra on teleport mechanics in the previous post!
~
Chapter 15: Mewtwo
~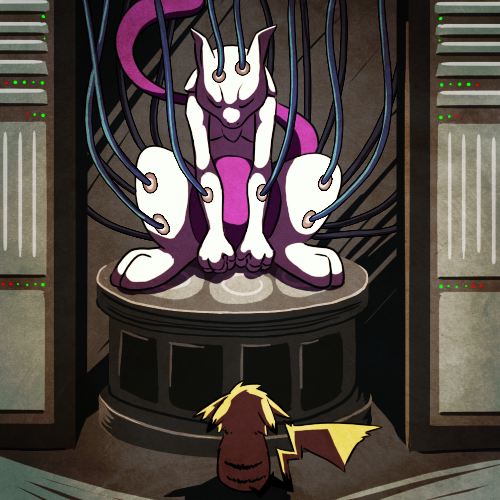 No one questioned me as I made my way towards D block, moving as quickly as possible without outright running. Stracion's warning had come at the perfect time. The rumor that the experiments were in D block obviously hadn't reached any executives yet, because there were way fewer Rockets here than the other departments. But 'fewer Rockets' still meant 'Rockets.'
I stopped and leaned against the wall, pretending to fiddle with my R-com while I watched the others out of the corner of my eye. The fact that no one had seen the experiments in a good ten minutes probably meant that they'd stopped running and hid at some point. Also… the room they were hiding in had to be unlocked. There was no way it couldn't be—otherwise there'd be obvious signs of forced entry.
But that also meant it would be pure luck whether or not I stumbled across the experiments before the Rockets did—not a comforting thought. I couldn't just go searching randomly. I needed a plan.
I ducked inside the first unlocked room I could find—an office of some sort—and released Chibi. The Pikachu appeared in a flash of white light, immediately clutching his head with his paws.
"Are you okay?" I asked.
"*I'll be fine,*" the hybrid muttered, not making eye contact.
He didn't look fine, and it still didn't seem right to send him out when he was like this. But I didn't really have a choice at the moment. I needed his help.
"The other experiments are nearby. But I don't know where. We need to draw the Rockets away from that area so I can search without someone else spotting the others as soon as I find them," I explained.
"*You're asking for a diversion,*" Chibi said bluntly.
I… honestly wasn't sure what I was asking of him. But now that he'd said it, a diversion did seem like the best course of action… if he was in any state to be making one.
The Pikachu gave a self-satisfied nod. "*Thought so.*" He glanced around the office, his eyes falling on a door opposite the one I'd come in through. His expression turned thoughtful, like something had just occurred to him, before he walked over and pressed an ear to it.
"*There's no one on this side,*" he said, gesturing for me to follow him.
I tilted my head. What was he planning? I walked over and opened the door to reveal a dimly lit passageway lined with several other, similar doors. From the peeling paint and chipped tile, it looked like it hadn't been used in years. Just how big was this base?
Chibi glanced back and forth down the passage, nodding to himself. "*I should have enough charged up for at least one… *" he muttered. One? One what?
I soon got my answer. Sparks leaped off his golden fur, soon giving way to scattered strings of electricity, and then finally a jagged lightning bolt shooting across the hallway. It was tiny compared to his usual Thunderbolts, but it still blackened the opposite wall and split the air with a resounding crack.
I stared at him, completely floored. "What was that…?"
"*Your diversion. Now recall me and get out of here. Hurry!*" he hissed. I didn't need telling twice. The instant his form dissolved into the Pokéball beam, I bolted in the opposite direction as fast as I could.
The previous hallway was already clear, as all the grunts had run off to locate the source of the lightning. Which meant I only had a few minutes, if that, to blitz through as many unlocked rooms as possible. I threw open door after door, stopping just long enough to scour each room before moving on to the next. Good thing all three of the experiments were so big, otherwise it would have been impossible to search each room quickly enough to make it through them all. But I still hadn't seen any sign of them yet. Where were they?
After the tenth room with no luck, anxiety was starting to creep up on me. Were they even in this department? Stracion's info could have easily been wrong. Or she could have tricked me. Or they could have just left before I got here —there were a dozen ways I could potentially fail to locate the experiments.
A few minutes had passed. I was almost out of time, wasn't I? Come on! I had to find them now! Another door, another computer lab, another failure. I wasn't gonna find them, was I? But I couldn't just
stop
… I had to keep trying.
I threw open a closet, prepared for more nothing… and completely unprepared for the sudden rush of claws and blades flying right at me.
"It's me, it's me!" I cried, leaping back and throwing my hands in front of my face. They'd stop themselves in time, right?!
A few seconds passed and I apparently hadn't been mauled, so I dared to open my fingers a crack, just in time for a pair of claws to grab me by the shoulders and drag me into the closet before the door was slammed shut behind me. I tried to jump back, but there was no space—the experiments were all crammed into a too-small closet, and I was now waaay too close to all of them for comfort. Especially considering the size and wingspan of the Flygon pressed up against the wall to my left. Razors had tucked himself into the corner, his scythes folded in front of his chest so they wouldn't accidentally slice the others—I appreciated his effort, since my arrival meant there was now even less space. And Absol… Absol lay flat across the floor of the closet—I almost didn't notice her at first.
Still breathing heavily, I managed to ask, "What are you guys doing in here?"
"*We didn't have a choice. This guy here basically risked our escape just cause you had Nine,*" Flygon hissed, facing me with an accusing scowl.
"And that's my fault why…?" I asked slowly.
The bug-dragon paused, as though he hadn't considered that, then shot a glare over his shoulder at the mantis sitting behind him.
Razors stared back, his expression perfectly neutral. "*I won't defend myself,*" he said simply. The hybrid turned his gaze on me, and I couldn't help flinching. "*Do you still have Chibi?*" he demanded, a slight edge to his voice—anxiety, maybe?
"He's right here," I said, holding up the black Pokéball.
The mantis relaxed slightly. "*Then we need to get out of here.*"
I clenched my teeth. "Hang on. There's something else I need to do."
The two clones fixed me with suspicious glares, but Razors simply nodded and said, "*You mentioned Thirty-six.*"
"*Thirty-six?*" Flygon asked, looking alarmed. "*What's the human planning to do with Thirty-six?*"
"I'm just copying information from the computer," I countered, a bit too quickly. The emerald dragon tilted his head incredulously.
"*What is your plan for getting out of here?*" Absol asked, licking her mane and generally looking bored with the discussion.
"I haven't got one yet," I admitted.
"*Well you're a brilliant one, aren't you?*" she said without looking up at me.
"I wasn't counting on the base being on high alert! That was you guys' fault!" I regretted the words the instant they were out of my mouth.
Absol paused her grooming to give a very deliberate brow raise, but Flygon bared his fangs, hissing, "*Watch that tone, human.*"
"*Twenty-four, this isn't helping,*" Razors said flatly. His intense stare was fixed on all of us, though.
Flygon recoiled slightly under the Scyther's gaze, but then turned away, mumbling, "*I just don't feel comfortable with any of this.*"
I groaned. This had gone on long enough, and that Flygon was really starting to get on my nerves. "Look. They still think I'm a Rocket, and it's going to stay that way. So if you go in your Pokéballs now, then I can freely walk around the base until I feel like leaving, alright?" Which meant I could then complete my mission and they couldn't do a thing to stop me.
Flygon opened his mouth like he was going to protest, but couldn't think of anything to say. Absol just shrugged and went back to grooming, now licking her oversized obsidian claws. Several moments passed, then Razors finally broke the silence with, "*So long as all of us, including Chibi, make it out of here… do what you must.*"
He didn't need to tell me twice. I immediately felt better once the three of them were inside their Pokéballs.
"Just what is so special about thirty-six?" I asked, unable to hide the annoyance from my voice. "Everyone makes such a big deal about it. What
is
this thing?"
"*I've never seen it before—none of us have,*" Chibi replied. "*But if the rumors are true… we're gonna need to see it to believe it.*"
The two of us were sitting in an empty lab five doors down from the cloning lab. I'd had to duck in here to avoid the search team currently scouring this department. And I wanted to avoid another Stracion situation, so I had Chibi out since he could most quickly incapacitate anyone who snuck up on us.
Chibi's ears twitched. "*A lot of Rockets just left the area.*" His ability to monitor the happenings outside our room was also useful.
I slowly crept closer to the window and peeked out into the hallway. A few grunts passed by, then rounded a corner on the other side of the door.
"*And that was the all clear,*" Chibi said, walking over to stand alongside me.
I nodded. "Alright, gonna make a break for the lab now," I said, recalling him.
I took a deep breath and opened the door a crack, just to be sure that the hallway was indeed empty. No one was in sight, and the only voices within earshot sounded distant and growing fainter still. Perfect. I hopped to my feet and slipped out the door, shutting it quietly behind me before striding across the hallway as quickly as possible. Within seconds I was there, standing in front of the heavy black doors to the Pokémon Cloning Lab.
A chill ran down my back. This was it. The home of the mysterious experiment number thirty-six. I'd finally get to see it, and get its data, and get the hell out of here. I tapped my ID to the card scanner, and even though I'd been finding my way into off-limits rooms all night, I still half-expected
this time
to be the one where my card would get rejected. There was no way I could just walk right into a room like this. And yet… the scanner light flashed green and the door slid open, just like the rest. Having admin rights was crazy powerful.
The room was dimly lit, with black tile floors and dark metal walls. Ceiling-high computers with dozens of screens completely covered the right wall, currently displaying shimmering, multicolored data graphs of some sort. Huge glass tubes covered the opposite wall, all of them empty and lined with a creepy orange residue. But then, in my peripheral vision, I caught sight of something far more interesting. Seated on a cylindrical platform, hooked up to dozens of tubes and wires, was a Pokémon. And man, was it
bizarre
. Tall, gangly, and humanoid, with thin, wiry arms and huge legs. But strangely… cat-like? The pointed ears, rounded paws, and short muzzle all reminded me of a cat… a creepy hairless humanoid cat. And yet, despite everything, there was something… powerful about it. I couldn't explain why, it just was.
My legs carried me closer to the Pokémon without me telling them to. It was weird, but the air around it felt… heavier than it should have. Like there was some invisible force exuding from it that made the hair on my arms stand on end.
My eyes slid to the display screen closest to it. There, in the top left corner, were the words: "Experimental Pokémon 036: Mewtwo."
Mew… two? This thing was… an enhanced clone… of
Mew
? A Legendary so rarely seen it was practically a myth. But if Team Rocket made an enhanced copy of it… that meant that it pretty much
had
to exist, right? That… also meant that I was basically standing next to a
Legendary Pokémon
.
Its eyes were closed, and it gave no indication that it was aware of my presence. Of course Team Rocket wouldn't keep a super clone in their base without having it restrained in some way. Still, standing this close to it felt… uncomfortable. I held my breath as I slowly backed away from the clone, keeping my eyes glued to it the entire time. I wasn't sure how standing ten feet away from it as opposed to five was supposed to be safer in any way, but it made me feel better.
The computers opposite of Mewtwo probably held the information that Stalker was after, and the sooner I got it, the sooner I could leave. It'd be best if I had Chibi out while I was in here, too —just in case I was discovered. As soon as the hybrid materialized from his Pokéball, his eyes went wide at the sight of the clone.
"*Is that Thirty-six?*" the Pikachu asked.
I nodded. "Its name is Mewtwo."
"*Mewtwo… *" he said slowly. "*So it really is a Legendary experiment, just like me. A clone of Mew… *"
"You know about Mew?"
"*Just stories. Stuff I've heard from non-experiments who used to live in the wild.*" He tilted his head, frowning. "*Does it really look like this?*"
"I think the original is smaller… and less humanoid." At least, from what I could remember. Mew photos tended to be even lower quality than other Legendaries. I mean, with how many legend spotters were out and about, there'd be a few photos of the Johto beasts or the Kanto birds every few months or so. But Mew? A lot of people thought it might not even exist anymore.
I sat myself down in a huge desk chair and pulled out the flash drive Stalker had given me. As for which computer to plug it into… well they were all wired together, so any one of them probably had access to all the others. I shrugged and plugged it into the closest one. A login prompt appeared, but then immediately disappeared as soon as the drive lit up. Huh. Well I was glad Stalker had thought ahead on that one, because I was not in the mood to have a repeat of what happened when I grabbed Chibi.
The only thing on the flash drive was a single executable file. I clicked it, a window popped up with a progress bar, and the drive immediately started to fill itself with files taken from the computer. And that was pretty much it—I just had to sit back and let it do its job. I rotated the chair around to face Chibi, who was still staring at Mewtwo in reverent fascination. The two of them really did have a lot in common, didn't they? Both created by Team Rocket… both part Legendary… both destined to be used against the Legendaries if it weren't for the Rebellion.
All of a sudden, the hybrid snapped his head toward me, eyes wide. "*He's talking to me. In my mind.*"
I stared blankly at him, unable to work through what he'd just said. He didn't mean…
Mewtwo?
"…What?" was all I could say.
"*I told him that I'm an experiment just like him. Hang on, I'll ask him to include you.*"
He was going to
what?
How? Tension flooded my body in an instant. What was about to happen and how was I supposed to brace myself for it?
A sudden wave of resentment filled my mind. But that didn't matter. Nothing I'd been thinking about previously mattered, I just wanted to know what I was
doing
here. I wasn't supposed to
be
here.
Why
was I here?
Wait… what? What was going on? Confusion… but it was distant. Smothered. Unreal. What was any of this? I was still in the lab, but at the same time I wasn't. I was… somewhere else. Somewhere less real… the kind of place that only existed between thoughts.
<This one wishes for me to speak to you, human.>
I was
not
ready for that. Mewtwo's telepathic voice echoed throughout every corner of my mind. Resounding. Powerful. How had I not known he was psychic? I should have known, even before seeing him. Nothing was more true or obvious in this world. I mean… logically there was no way I could have known that. But I still should have just known. It didn't matter how.
<Why is a human child here?>
<Because she freed me, and she's fighting against your creators.> Wait, that was… Chibi? It sounded like him. But I didn't hear his words at all, it was more like I… felt them. Or something.
<My… creators.> That one was Mewtwo again, and his words were followed by what felt like a sigh. A wave of frustration reverberated throughout my mind. So this was all Mewtwo's doing, then? He was broadcasting our thoughts to each other?
But then, from the way he'd said it, he clearly knew he'd been created. Did he know what the Rockets were planning to do with him?
<Do you… know what you were created for?> I thought, hoping Mewtwo could hear it. It didn't really feel any different than just thinking something to myself, so I kind of doubted that I'd get a response.
But then a wave of icy resentment washed over me. <I know that I was created to fight. Created to dominate others like myself.> God, Mewtwo's presence was overwhelming. I couldn't tell what I was feeling anymore. Too many things. Too hard to process them all. My thoughts dragged like mud. What
was
I doing here?
"*Are you alright?*"
I blinked. I'd almost completely forgotten about my other senses in the midst of the bizarre psychic conversation. Chibi was staring at me with his usual intensity, but there was a touch of concern in his expression. Something about looking at him and seeing him with my eyes felt weirdly unnatural right now.
"My head hurts," I muttered.
"*Do you want to stop?*"
Yes. But this was important. I clenched my teeth and said, "No, anything we can find out from him could be useful." Then, to Mewtwo, I asked, <Are you able to move or use your power at all?>
The tiniest chill of despair pricked at the back of my neck a few seconds later. <No. I have looked upon the world with my own eyes only once, when I was first awakened. The humans have kept me in this artificial sleep ever since. Speaking through the mind uses only the tiniest amount of my strength.>
Realization flashed across Chibi's face. "*Thought so. That machine he's on is an energy inhibitor. Most of the early testing done on me involved one of those.*"
Daggers of impatience suddenly dug into me. <If you are not aligned with my creators, then what are you doing here?>
I took a deep breath. Right, all I'd done so far was ask him frustrating questions without really explaining anything at all. I had to make it clear that I was on his side.
<I came here to get information. They—er, your creators—they want to use your power to capture the Legendary Pokémon. My team is trying to stop them, and this info might help us do that.>
I felt Mewtwo give a cold, ironic chuckle. <Legendary Pokémon… I have heard talk of them. The most powerful beings of this world, and yet the humans regard them as nothing but pawns… pieces of a plan that must be obtained.> His thoughts turned darkly serious. <These 'Legendaries' are in danger, that much is certain.>
I swallowed. So he already knew that much. <They're powerful, yes… but not invincible. Which is why they need our help.>
Amusement. <And what help could a human child give?>
I hesitated. <We've already stopped the Rockets once before. And we'll keep doing whatever it takes.>
<Why?> His tone felt skeptical.
<Because we don't want their powers abused by the Rockets!> That was it, right? The reason why I'd joined the Rebellion. I couldn't remember, and the idea of trying to dig up the memory felt like wading through a bog right now.
Mewtwo didn't respond for some time. I felt a sort of… perplexed curiosity from him. <You said you were going to stop them from using my power. How do they plan to do that? They are afraid to even wake me.>
I was hoping I wouldn't have to explain that. But I'd been dancing around it earlier in the conversation, and he was bound to notice. <They've taken over the minds of some of the other experiments, and they're trying to do the same to the Legendaries,> I explained. <But they haven't figured it out yet, and their main test subject is free now, so if we can just—>
<It's too late.>
I blinked. The words were Chibi's. What did he mean, it was too late?
Mewtwo was silent for several seconds, until finally: <Explain.>
Anger and shame flickered across the Pikachu's expression, and he turned to face away from me, though his emotions still reverberated through the psychic link, clear as day. <I'm part Legendary,> he told Mewtwo. <I was the test subject for the Legendary control technology. They recently had a major breakthrough… they hadn't gotten to try it on me yet, but… > He clenched his fists, feathers quivering. <The next time you open your eyes… it probably won't even be under your own power.>
I gaped at the hybrid. So
that's
what he'd been rambling about while delusional? They'd really done it? They'd figured out how to control Legendaries?
A long pause followed. Shock had paralyzed my thoughts, slowly giving way to a river of cold dread that permeated every corner of my mind. And it was coming from Mewtwo.
<If you have nothing more to say or do here, you should leave.>
Out of nowhere, the feeling vanished. Just like that, Mewtwo's presence faded from my mind, and it was like a humongous weight had been removed. The air still felt thick and heavy just from being near him, but I could
breathe
again—and my thoughts and feelings were mine and mine alone.
I shot a bewildered glance at Chibi. "We're not gonna leave just like that, are we?"
At first, the Pikachu didn't respond. He was still staring at the floor, fists clenched and body shuddering. Finally, in a low voice, he said, "*You got what you came here for, right?*"
I glanced over at the monitor, where a completion alert had popped up. "I guess so, but…" My words trailed off as my eyes slid back to the machine where Mewtwo was contained. "Shouldn't we… do something?"
"*Like what?*" he asked without looking at me.
"We… we could, I don't know… capture him?"
That got his attention. He gave me a look as though I'd just spoken the dumbest words he'd ever heard. "*You know the entire team would be on us in a second if he were removed from that machine.*"
I smiled weakly. "They're already after me."
Chibi folded his arms. "*Do you even have an unused Pokéball?*"
I sighed. "No." Honestly, for all I knew, Mewtwo was probably already linked with a Pokéball. I guess there really wasn't anything I could do. Not now, anyway.
I turned back to look at the clone one last time. It was bad enough that Legendaries were being captured and brainwashed, but the idea of that happening to one that had never even gotten to do anything in its life…
"We're going to get you out of here. Maybe not right now, but someday," I whispered.
I wasn't expecting a response. Not to something I'd said out loud. But then a rush of conflicting emotions—hope, despair, rage, and helplessness—hit me all at once, and I was pretty sure it wasn't mine.
<Leave,> Mewtwo said icily.
I sighed. That was the end of that, I guess. I leaned down to retrieve the flash drive from the computer before walking over to the door.
"I'd better recall you again," I said to Chibi. "The next time I let you out, we should be out of the base."
"*With our luck, I'm not counting on that,*" the Pikachu said right before his form dissolved into the ball. I took a deep breath before opening the door to the cloning lab and venturing out into the base once more.
I'd accomplished what Stalker had asked of me. I'd succeeded at my own personal mission too. But the encounter with Mewtwo had left a sour taste in my mouth. The Rockets basically now had another Legendary at their disposal, and one that they'd soon be able to fully control. Not only that, but they'd be able to use him to take down and capture
other
Legendaries. How were we going to sabotage any missions from now on?
I guess that was for Stalker to figure out. That was the whole reason I was gathering this info for him. He'd figure something out.
"What the hell are you doing here, grunt?!"
My heart jumped straight into my throat as I spun around wildly, trying to locate the source of the noise. It wasn't hard to find—down the other end of the hallway, a Rocket was sprinting toward me. My legs instantly tried to run, but then it hit me—I still looked like a Rocket. Getting in trouble as a random grunt was
way
better than being caught as a rebel.
As the Rocket neared, I was able to get a better look at her—a young woman with short, auburn hair, a tough build, and stern features. Not the sort of person I'd like to cross. High-ranking too, from the looks of her uniform. She wore a tight black tank top with a thick vest, loose capri pants and heavy black combat boots. Sure enough, both her vest and cap had the executive symbol emblazoned on them.
But then an eerie feeling washed over me. Why did I feel like I recognized her from somewhere?
It hit me like a hammer out of nowhere. She was the executive that cornered us at the plane crash. I hadn't seen much of her that day, but that voice and overall demeanor was unmistakable.
"This area is strictly off-limits right now! We're in a high-alert situation and no one's allowed in this department!"
She still thought I was a Rocket. Good—I had to take advantage of that. I did my best to make a submissive sort of face as I said, "Sorry, I'm new here and I got lost."
The executive's footsteps slowed to a stop. She stood there for several seconds, examining me carefully with the single, sharp green eye that wasn't covered by her bangs. And then a slow look of surprise and recognition spread across her features, followed by a horribly unnerving grin.
"Don't try making any dumbass excuses—I know who you are. You're the kid who stole number nine when our transport jet crashed. You've got a lot of nerve showing up here now. Either that or you're just stupid."
It felt like the air had been sucked out of my lungs. What? How? How could she possibly know it was me? It took every ounce of concentration I had to keep my face neutral with the sudden wave of dread spreading through every inch of my body. Had to play dumb. She had no proof. Had to keep it that way.
"I… really have no idea what you're talking about." And given my level of confusion, I was pretty confident that my response didn't seem like acting.
"Think you can bluff your way out of this? You probably don't even know how I know that you're a rebel. I might not have seen you at the crash site, but we have your photo from when you were captured. And I
never
forget a face."
I stared in horror, all pretenses of posing as a Rocket utterly dead. She knew.
She knew
.
The executive smirked, clearly enjoying the effect her words had on me. "Looks like we have rebels infiltrating our ranks after all. The other executives were skeptical, but it makes perfect sense. Your team was responsible for Raikou going free, weren't you?"
I gave her the most defiant glare I could muster, to let her know I wasn't going to play along.
She rolled her eyes. "It had to be your team," she spat. "None of our old enemies would have been able to get the info soon enough—it had to be someone currently working against us from within. Of course, there are a few more things I'd like to know, and you're going to tell me."
I hesitated. "…What makes you say that?"
The executive laughed. "You really don't know who you're talking to, do you?" When I didn't say anything, she went on, "My name is Astrid. I'm head executive over the entire Kanto combat unit."
I clenched my teeth, desperately willing my face to stay neutral. Couldn't let her know how much dread I was feeling right now.
Of course
I'd run into the head executive with every reason to hold a grudge against me. I should've known I'd used up all my luck with Stracion being the first Rocket to corner me today.
My hand hovered over a Pokéball. Maybe I could… no. No, there was no way I could ever hope to beat her. But I couldn't let her know that.
"Yeah well… I've got number nine, and he beat you
and
your entire crew last time!" I yelled, holding out his Pokéball. That was pretty much the best show of bravado I could think of.
Astrid rolled her eyes. "I'll pretend that wasn't the biggest fluke in existence. Anyway, who said I wanted to battle? I think it'd be faster for me to just knock you out right here, drag your stupid rebel ass to a detention cell, and force you to tell me everything I want to know."
My eyes unconsciously slid to the gun holster hanging from her Pokéball belt, sending another jolt of ice coursing through my veins. No, what was I thinking—she had
just said
she planned to take me alive. But only because I had information. And after she'd gotten that information out of me…?
No. No matter what, I couldn't be captured. I'd be as good as dead. No matter how stupid a plan I came up with, it couldn't possibly be worse than letting her take me without a fight. But what could I possibly do? Chibi was out of power. Or… was he? He'd said he'd charged up a little bit in the small amount of time he'd been off the machine. It wouldn't be enough for a battle. But for a single cheap shot…?
I swallowed hard. No choice. I had to try it. With trembling fingertips, I pressed the button on Chibi's Pokéball.
Astrid's face lit up with rage. "What the hell are you—?!"
Before the light had even started forming, I called out, "Thundershock!"
Chibi's body materialized and he immediately let loose a string of lightning at her. She screamed, and I bolted in the opposite direction faster than I'd ever run. My legs were on autopilot. Had to get away,
had to get away
. Nothing else mattered.
Chibi came racing after me several seconds later. He threw me an accusing glare and yelled, "*What's going on?! Why did you give us away?!*"
"She already knew it was me, I didn't have a choice!"
"Damn it, you're dead now, you little sh‌it!!" Astrid's enraged voice echoed down the hallway.
The sound of a Pokéball opening reached my ears, followed by paws striking the ground, rapidly approaching us. I didn't dare turn to look, but suddenly my spine tingled. It felt like… static?
"*Crap. It's that Raichu,*" Chibi said, an actual twinge of fear in his voice.
I didn't get a chance to say anything. A flash of neon yellow blinded me and then my senses dissolved into a torrent of pain, twisting and writhing and burning through every inch of me. Limbs went numb, and suddenly I was tripping over useless hunks of dead weight. The floor rushed up to hit me, but I didn't feel it. Couldn't feel anything but the piercing sting of lightning.
As soon as it struck, it ended. Was… was it over? Did I still have a chance to escape? I wanted to move, but my body refused to listen. Every inch of me felt numb. I blinked a few times, forcing my eyes to focus on my fingertips. Come on, move! I didn't have time for this!
Sparks shot past my field of view, and I flinched, expecting another burst of pain. But nothing happened. Slowly, I opened my eyes again. Chibi stood rigid in front of me with his arms spread wide, shielding me with his body. He was panting hard and wincing in pain; sparks leaped off his back at random.
He'd protected me… I couldn't just lie here, I had to do something. Slowly, painfully, I put every ounce of strength I could gather into forcing my limbs to move again. I didn't know how, but somehow I managed to pull my legs underneath me to stand up. And then I locked eyes with Astrid, who was looking somewhat frazzled, but still wearing that stupid smug expression of hers.
"What was that about number nine being able to beat me? I know perfectly well its Lightning Rod doesn't work right—hit it with a big enough shock and it'll feel the pain just like anything else." Her face split into a sadistic grin. "Speaking of which, how did you enjoy it?"
I glared at her, my fists clenched so hard my nails dug into my palms. I'd stopped caring about hiding my emotional state from her. I
wanted
her to see my reactions and know how I felt.
"There's plenty more where that came from. Personally, if I were in your position, I'd surrender right here and now. But it's fine if you don't want to. I could listen to your screams for the rest of the night," she said icily. Sparks leapt off Raichu's cheeks at her words.
My thoughts didn't want to flow straight. I couldn't tell if it was from the lightning or from the rolling fog of anger clouding my mind. What was I supposed to do now? She had us completely trapped.
Except… wait. Chibi had taken the tail end of the Thundershock for me. It had still hurt him, but he could absorb electricity. Which meant he probably now had enough power for a stronger blast that could knock her out. But the Raichu would protect her if I tried it. I needed something to distract it. One of the experiments? They'd probably kill me if I tried to give them battle orders.
But what if I didn't need to? What with her attitude of attack first and ask questions later? And… what type was Flygon again…?
I gripped his Pokéball tightly, my mind made up. It was my only option. I threw the ball forward.
"Not this shit again!" Astrid yelled, immediately pointing forward for Raichu to attack the newcomer.
Lightning struck the burst of energy before it even got a chance to materialize. But then it took the form of a dragon. He flared his wings in alarm upon realizing that he was under attack, but then tilted his head in confusion and glanced around, trying to figure out what the heck was going on. The electricity wasn't harming him at all. So he
was
a ground-type!
There was a split second where Astrid's eyes widened with the realization that she'd been tricked, right before Chibi sent a Thundershock flying right at her. She didn't even get a chance to scream—the force of the attack knocked her unconscious in a second.
Raichu whirled around to see its trainer on the ground and let out a distressed cry before turning back toward Flygon and hissing. It drew back a forepaw and focused energy into it before charging at the dragon.
Okay, there was no reason for us to be fighting this out when the Raichu's trainer was unconscious. While Chibi rushed in to block the punch with his tail, I bolted around them as fast as I could, grabbed Raichu's Pokéball off Astrid's belt, and recalled the orange mouse in a beam of red.
I barely had a second to feel relieved before Flygon rounded on me with an offended glare. "*What was that?! Don't do that again! I never agreed to battle for you!*"
I recoiled backward, throwing my hands up in defense. "I just needed something to distract Raichu so Chibi could get her! I knew you wouldn't be hurt by it!"
Flygon snorted and turned his back to me without saying anything. It took me a few seconds to realize that he was done with the conversation and probably wanted to go back in the ball. Fine by me—I recalled him.
I sank to the ground, still not even sure how I'd managed to stand in the first place. The pain was starting to catch up with me. Yeah… everything hurt now. I don't know how long I sat there, breathing heavily, every nerve in my body firing on overdrive. I'd been
so close
to getting captured. Way too close.
"*We don't have much time,*" Chibi said, walking over to me. "*Once someone finds her lying there, they'll know there was a rebel in the base.*"
I glanced over at Astrid's fallen form and winced. Even the most intimidating person looked kind of sad and pathetic just lying there in a crumpled heap. Now that the rage and adrenaline was starting to wear off, I mostly just felt creeped out sitting so close to her. I couldn't help edging away.
"*I'm going to recall myself so I'm not seen. Try to recover quickly.*" Chibi tapped the button of his Pokéball and disappeared.
Suddenly finding myself alone was the kick I needed. Not to mention the fact that I really didn't want to be seen sitting next to an unconscious executive. I slowly struggled to my feet, every muscle fighting me the entire time, before setting off for the stairs.
My mission was done. After all the unexpected running, hiding, battling, and other crap, it was actually kind of hard to believe I could actually leave Celadon HQ now.
Finally
. Nothing had ever sounded more appealing than getting out of here and never coming back.
At least after all this, I had a pretty good idea of how to navigate B2f. Crossing the floor to reach the stairs took half the time it had previously. I was about halfway up the stairs when my R-com started buzzing in my pocket. I grabbed it, took a look at the screen, and… I was getting a call from Stracion?
I tapped the screen and hesitantly held it to my ear. "Uh… hello?"
"Yo, you dead yet?"
I snorted. "Obviously not."
Stracion chuckled. "Just checkin'. Didja find them?"
"Yeah."
"Shweet. Anyway, you're gonna have a hell of a time getting out—the base is on lockdown. No one's allowed out."
Great. Just great. I swallowed and said, "What if I just wait until the whole mess blows over? There's no reason for them to suspect my Rocket identity."
"Maybe so, but that'll just make them more paranoid. And what if they run a Pokéball inspection?" I hadn't thought about that.
"What do you think I should do?" I asked slowly.
"Good old-fashioned breakout? You've got experiments with you, in case you hadn't noticed," she said flatly.
"Wouldn't that be… really noticeable?"
"You're kinda past the point of subtlety here, kid."
"My name's
Jade
," I shot back, tired of being talked down to. And by someone close to my age, no less.
"Alright, alright," she said dismissively. "Anyway, this is getting to be a pain. I'll start a rumor that I saw something weird on floor B3. That should draw most everyone who's not assigned to be on guard. Use that opportunity, cause you're not getting another one." And with that, she hung up.
I put a hand to my forehead and exhaled long and hard. As if this night needed more complications. Alright, time to see how bad the entrance was. I walked up the rest of the stairs, doing my best to look casual despite how hard my heart was pounding. A commotion of voices echoed from the lobby, and my body tensed up. It sounded like maybe a dozen or so Rockets had gathered there. My immediate instinct was to spin around and go anywhere else. But… no, I had to give Stracion a chance. It was the only shot I'd get.
Minutes crawled by as I stood alone in the stairwell, waiting. Suddenly, the voices from the other room rose in volume with a tone of alarm. Had the message finally reached them?
Footsteps echoed off the walls, racing toward me. Without thinking, I pressed myself against the wall just as a six-person squad raced past me down the stairs. It felt so incredibly awkward just standing there as they ran past, but they were looking for rogue experiments, not rebels. I had to keep telling myself that.
Once I was certain they were gone, I crept forward down the hallway to the entry lobby, the last room between me and my freedom. I took a deep breath and glanced around the corner. Six Rockets, all of them armed. Four of them had a Pokémon by their side as well. There was no sneaking past them. And trying to persuade them that I, a random grunt, should totally be let out… didn't sound like a good idea either. It was like Stracion said—our only way out was by force.
I retreated back to the stairway where I could open Pokéballs without anyone hearing the sound. Three flashes of light materialized into Chibi and the two clones.
"Long story short, the base is on high alert and the entrance is heavily guarded," I said before anyone could ask.
"*How many are there?*" Chibi asked unflinchingly.
"Six Rockets and four Pokémon."
Absol and Flygon exchanged skeptical looks, but Chibi just stared down, as though in deep thought. "*There's no way they'll shoot to kill any of us experiments. We're too valuable. That's our advantage here.*" He closed his eyes and lowered his head in concentration, occasionally muttering to himself while the rest of us stood there and waited. Waited for what could be our only ticket out.
"*I've got it,*" the Pikachu suddenly announced. "*I'll rush out there with Agility. While the Rockets are focused trying to hit me, you two will slip behind them with Feint Attack. We take out the Rockets first, then go for the Pokémon.*"
Absol and Flygon nodded, and the three of them wasted no time getting into position at the end of the hallway. Chibi began racing around in a tight circle, his movements quick at first, but rapidly increasing in speed until he was little more than a yellow blur in the middle of the hallway. Suddenly, the hybrid shot forward into the entry room, practically appearing out of nowhere from how fast he was going. He paused there, letting the Rockets get a good look at him before racing off. And the reaction was instantaneous.
"Number nine is loose too?!" one of the guards shouted.
"Number nine is at the entrance, send backup now!" another yelled into a radio.
The room exploded into chaos. The Rockets' Pokémon dashed forward, claws and fists and teeth glowing, but their target was moving way too fast for them to get any idea of where to aim. Darts shot through the air as the Rockets desperately attempted to tranquilize the lightning-fast rodent. In front of me, the two clones nodded to each other before melting into shadow and streaking across the floor. I had to creep closer to get a look at what was going on, but getting called out by the Rockets was… not really a concern anymore with all the chaos going on now. Absol and Flygon materialized from the shadows behind the Rockets, immediately slamming two of them into the wall. One of the agents spun around at the noise and fired on them, but Absol was ready for that. She jumped in front of Flygon and produced a shimmering Protect barrier.
And that was the opening Chibi needed. After dodging blows from both a Raticate and Machoke, a wave of sparks leaped from his fur, giving way to strings of electricity, and then—
And then it hit me—if he planned to use Discharge, everything in the room was a potential target… including me.
I dove out of the room just as a blindingly bright flash and a resounding crack split the air. When I looked back, three more of the Rockets had slumped to the ground; the one left standing had managed to duck behind her Sandslash for protection. Chibi was crouched low in the middle of the room, panting hard with sparks leaping off his back. A Nidorino picked itself off the floor and launched a flurry of poison darts at him while he was prone, but then Absol appeared out of nowhere and struck it in the back of the head with paws cloaked in dark aura. Sandslash drew back a forepaw and slashed at her, right before Flygon rushed at the ground-type, breathing out a lick of dragonfire in its face. Chibi dodged another vicious bite from Raticate, and then the last remaining Rocket stood up to take another shot and immediately got nailed by a Thundershock.
"*Go now!*" Chibi called out to me.
What, now?! They were still fighting! Except… with the Rockets down, I couldn't be shot, and they could fend off the enemy Pokémon long enough to escape. That's what he was banking on!
In an instant, I jumped out from behind the corner and sprinted toward the door as fast as my legs could carry me. A few of the Rockets' Pokémon glanced in my direction, but Flygon took that moment of distraction as an opportunity to smash them into the floor. Heart pounding, I raced up the stairs, the alluring sight of the exit finally within view. We were going to make it, we actually were going to—I slammed into the door with a painful thud. It wouldn't open… why not?! Because the base was on lockdown?
"*Out of the way!*" Flygon called out behind me.
I barely had enough time to process his words and jump to the side right before the bug-dragon slashed clean through the door hinges with flaming claws. The door crashed to the ground with a heavy clang, revealing the way out.
Holy crap. Now, more than ever, I was glad to have Flygon on our side.
We burst out into the alleyway, joined immediately afterward by Chibi and Absol. We were all out! Now we just had to get out of sight before the Rockets could catch up, and—
Out of nowhere, Flygon shot into the air, his red-lined wings vibrating impossibly fast as he tore through the alleyway and into the night sky.
Wait, what?! Was… was he leaving?
"Where are you going?!" I cried.
"*Away from here! I'm finally free!*" the dragon called out.
"*Get back here!*" Chibi barked at him. "*You have to carry Jade.*"
Flygon almost tumbled over from stopping so abruptly in midair before whirling around to face Chibi with a shocked and disgusted look. "*What?! I'm not letting a human on my back!*"
"*She has our Pokéballs—if she escapes, so do the rest of us,*" Absol pointed out.
The bug-eyed dragon stared at her, completely taken aback. "*But, but—*"
I could hear the Rockets charging up the stairs after us. In just a few seconds, they'd burst through that door, guns at the ready, and—
"*Quit arguing and just do it!*" Chibi ordered.
"*Alright, fine!*" the dragon roared before shooting back toward us and hovering alongside me. Any hesitation I might've had about riding a Pokémon that clearly didn't want to be ridden flew straight out the window. I recalled Absol and jumped onto the dragon's back, and was about to recall Chibi, but then he leaped on with me, gripping my shirt with his claws.
By the time the Rockets burst out into the alleyway, we were gone.
Last edited: