Introduction and Table of Contents

Pronouns

She/Her
Partners
You're awake. Good! I've been waiting so very long…
…How long? You were out for quite a while. I was beginning to get worried about you. Although, your mind wouldn't have survived the trip if I hadn't put you under. Transferring consciousness between bodies is a big deal, after all!

Do you remember what we talked about? The questions I asked you? The conclusions we came to together?

Yes… We're here. We've arrived at the Pokemon World. But…

I'm afraid I have to leave you now. However, I trust you'll be just fine on your own.

You will… If you answered my questions with an honest and open heart, you should have nothing to fear.
And now we must part, dear Espurr. My heart goes out to you, in the new world…
.
.
.
.
.
.
.
.
.
.
10,000 years ago, something wiped the human race out, leaving pokemon to pick up the pieces. Now, those powers stir again.

A posse of children, a wayward zoroark, two scorned researchers, and a band of misfit cartographers come together to combat the dictatorial Helping Adventurous Pokemon Prosper Institute and the dark powers driving its advance. Dangerous secrets form, mysteries gain fangs, darkness unfolds on a global scale, and soon a pressing question makes itself clear to the entire world: How do you defeat the darkness when it festers within everyone? Based upon the character of 'Espurr' from Pokemon Super Mystery Dungeon.
Genres:
Drama / Fantasy / Horror | Rated Hard T

Warnings:

Bullying, Near-Death Situations, Actual Death, Violence, Politics, (Minimal) Graphic Violence/Blood, Fantasy Discrimination, and Heavy Themes all throughout. Broad spoilers for Pokemon Super Mystery Dungeon.
​
This is a story about learning from the past, rebuilding burned bridges, and growing into a better version of yourself. It's also a story about awful people doing awful things, and a gruesome cycle of evil that many deem necessary. In more material terms, it's about a group of dysfunctional children banding together to save their village from certain doom, and the many, many reasons the world they live in couldn't do the same. It's a character study of the Pokemon Mystery Dungeon world and franchise, an expansion upon the woefully undermined plot of Pokemon Super Mystery Dungeon, and an excuse to give a mostly overlooked side character the limelight.
However! That's a lot of intense stuff. So, below is a list of content warnings for those who wouldn't be comfortable reading such things. I'll stick a content warning on top of any chapters with particularly gruesome stuff, and can be messaged to provide summaries/alternate versions of chapters if you're uncomfortable reading that.
- Death, Lots of Death (though mostly implied)
- Many Near-Death Scenarios
- Graphic Scenes/Blood (though infrequent)
- Dystopian Themes, including Politics
- Intense Study of Trauma and Survivor's Guilt
- Depictions of Discrimination, Bigotry, and Fantasy Racism
- Bullying
- Under And Overtones of Horror
Much like the seasons of a television show, this fic is designed to read by arc (separated into Parts below), not necessarily by chapter. The first two arcs are also a slow burn/slice of life small town plot while the larger mystery simmers in the background, and as such there aren't many large developments or payoffs until Chapter Seven. I apologize for the slow start and will accept criticism on any part/chunk of the story, but humbly request that you factor this fic's long-term storytelling nature in when judging it.
TABLE OF CONTENTS:

Prologue - Those That Live In This World

PART ONE: THE VILLAGE

1. - Tricky
2. - The Dazzling Debut of the Dashing Wanderer!
3. - The Deserted Plaza
4. - Nuzleaf
5. - Monster of the Mines
6. - The Council of Baram
7. - Exam Day
8. - Maelstrom
9. - The Dungeon Test
10. - Interlude the First: Strange Things On the Horizon

11. - Special Episode I: Extermination

PART TWO: THE SUMMER

12. - Deerling's Day
13. - The Dungeon Runners, Pt. I
14. - The Dungeon Runners, Pt. II
15. - Photos and Conspiracy
16. - The Clubhouse
17. - Fright Night
18. - Revelation Mountain
19. - The Calm and The Storm
20. - Fallout
21. - The Crooked House
22. - Salutations From the Other Side
23. - Void and Shadow
24. - All Together Now
25. - What Came After
26. - Interlude the Second: Rejected
27. - Special Episode II: Inheritance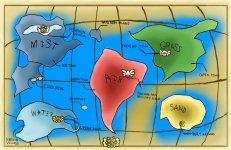 ​
Mist Continent
Helping Adventurous Pokemon Prosper Institute (H.A.P.P.I.)
The largest and current rescue guild management organization to exist on the planet. The owner and facilitator of the Connection Orb Network, and manufacturer of Z-crystal power sources, H.A.P.P.I. has achieved global connection of the rescue team network like never before.
The famous establishment that housed the heroes who saved Mist soon merged with Post Town near it to become Pokemon Paradise, the largest city in the world. Pokemon of all shapes, sizes, and creeds live together in a constantly expanding and plentiful city, and there are special provisions and quarters fenced off for H.A.P.P.I. rescue teams and officials.
A roaming airborne base constructed by H.A.P.P.I. that floats around Mist.

Grass Continent
An establishment that used to manage exploration guilds and teams on both the Grass and Air Continents. This entity is now a fraction of what it once was, and is currently succeeded by H.A.P.P.I. in rescue guild management.
The Grass Continent's most famous guild establishment. While much of the guild has been converted into a tourist attraction and many of its members have moved on, the guild still manages to bring thousands of tourists to Treasure Town each year.

Water Continent
A small group of cartographers on the Water Continent with a stated mission of mapping the world. Also authorized to take on local and minor abroad missions listed on the Connection Orb Network.

Air Continent
The oldest and most famous guild establishment. Run by the centuries old explorer Wartortle, the guild manages affairs on the Air Continent and acts as a continentwide police force.

Sand Continent
An organization that does trade with but is not directly affiliated with any guild, guild management organization, or the Connection Orb Network. Manages and helps arrange archeology expeditions on the Sand Continent.
Title Music!
Dune Theme
- Toto
Last edited: