Kimiko returned Saltriv's smile and gently stroked its leaf. The little chikorita seemed to have calmed down a bit, so Kimiko returned her attention to the party just in time to see Odette taking a potion... and then burst into song.


Where'd they come from? she thought, eyeing the accompanying orchestra. Nice touch.
Saltriv looked up at Kimiko as she began stroking their leaf. What was she doing? That...that felt really nice, actually!
As their tail began to wag, the shadowy wisps began to die back down, and they asked, "What are you doing? It feels really good!"
A flicker caught her eye and Kimiko looked down - this time, Saltriv definitely was leaking shadowy wisps. "Whoa," Kimiko gasped, flinching away. She vaguely wondered if this was a shadow pokemon, but... hadn't that whole incident been cleared up? "Hey, um, are you alright?" she asked Saltriv quietly.
At that question, Saltriv's eyes widened, and they looked down. No, the wisps were back! They were almost gone, but they were still present.
"I-I'm ok!" the Chikorita said, pressing their leaf back against Kimiko's hand.
Just stay calm. Stay calm. Focus on that really nice sensation.
Soon, the wisps disappeared entirely, and Saltriv began smiling brightly at the stroking.
"Never have I ever... been in a physical altercation,"
"I've been in lots of fights!" Saltriv said, extending a vine to grab a vial without leaving Kimiko's side. "I've even fought and rescued a Shadow Pokemon already, with my teammates' help!"
They began drinking the vial, before a white glow enveloped them, completely obscuring them from view. The glow began growing, and the shape underneath began twisting and morphing. Once the glow was as tall as Odette, it dissipated, revealing the now-Meganium underneath.
However, they looked odd for a Meganium. Instead of antennae, they still had their autumn-red leaf, their petals were a similar color, and their skin was a pale yellow-green color.
Saltriv looked down at themselves in awe, tapping various parts of themselves with vines to see if this was real, and it was.
"I...I evolved!" Saltriv exclaimed.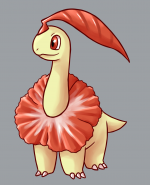 (Art by Cress)