Pronouns

She/her
Partners
"Hoopa bored! Hoopa know what to do! Hoopa play a game!"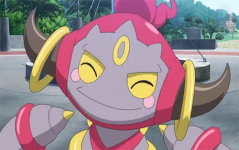 A strange, glowing portal appears in front of you. Is this a dream or-?

You spot a small shape approaching. As they draw near, you see it appears to be... a Pokemon?

To some, it looks like some kind of strange gray and pink creature. Others may recognize it as something else-the mythical Pokemon, Hoopa!

But what's it doing here?

It seems they have some kind of offer...
​
Welcome to the very first Flash RP game! The idea behind these is to create quick, low commitment spaces for people to gather and play a simple game while RPing as their characters.
Flash RP games will be open for 1 Week at time, unless otherwise specified.
Circumstances:
For this game, you can assume the little trickster Hoopa has appeared before your character with a proposition! Join them for a fun game with folks from all over the world-oops! All over the
dimensions.
Hoopa is bored and wants to do something
new!
Hoopa promises to return your character to the exact time and place they left, and they won't be in any danger! So won't you join in on some fun?
Rules:
No Godmoding. This means no controlling other characters action, or speaking for them. The exception to this is if you've already discussed something beforehand with another player.​

Remember this is a game and these are characters. Don't take anything that happens between characters personally.​

Be respectful out of thread​

For ease of reading, if you have an ooc comment, use the Discord or if on forum posts, use "[[ ]]".​

No vagueposting. If you feel like you want an interaction, feel free to ask! If you have an issue with something said, or an interaction makes you uncomfortable, speak to me or a mod!​

Due to the nature of certain games, such as truth or dare, I gently request you avoid things of sexual or romantic nature involving other players (e.g. I dare you to kiss that person! Unless you have explicit permission. Even so, keep things PG-13! This also includes mentions of gore/violence etc)​
Signups:
(You can bring any kind of character you want! Serious or meme-y)
Name:
Age:
Gender:
Species:
Misc:
Signups end on Sunday at 5pm EST!
Misc Notes:
This is my first time! So times, dates and stuff may change to fit the needs! If you have questions or concerns, contact me on discord. Remember, this is a casual game so just enjoy the experience!
If you can't make this game, don't worry! I plan to run another in mid Nov!
Last edited: