You step into the portal, and everything fades.

For a moment, there is nothing but white. In every direction, no matter how far, there was nothing but an endless blank canvas.

Then, the world comes into focus. Air rushes past your head, as a rollercoaster zooms nearby, though not a single passenger was in its seats. A Ferris Wheel spun high above, completely empty. Game stalls stood unmanned, yet supplied with plenty of prizes.

Yet, the sky remained as white as the void you saw when you first entered. No sun, no clouds, nothing. Yet, everything was illuminated as if it were a bright, sunny day.

Some others were around. A mix of humans and Pokemon of all shapes and sizes. And in front of them all, was the Voice of Life that brought them here. The human looked at them with a smile, and said, "Welcome to the White Void."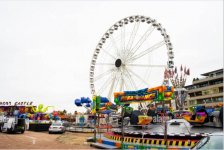 ​
[[Players:
There will be
one day
of getting to know each other before the game of Truth or Dare begins! Currently, the participants don't know what game they're playing, only that they were given the offer to "have some fun in another world". After the first day ends, Zinnia will start the game.
The setting is an amusement park. Feel free to use your imagination for what's in the park, but the only people there are Zinnia and the participants. The rides somehow run themselves, so they're usable, and feel free to make up rides for dares and such! There's a wide variety of them, some for humans, some for Pokemon, some for both.
The RP will last until
March 13th, 5:00 PM EST
unless extensions happen.
Have fun!
]]
Last edited: