Pronouns

She/her
Partners
"B̸̫͐e̴̯̼͑͊h̸͇͊͒ŏ̸̫l̴̝̈̃d̶̢̬̿ ̸̹̎̀ȳ̷̡̰̀ơ̴͇͋ư̶̮̲̓r̴̹͒̚ ̸͇̐K̶̼͎̓͠ȋ̶̊͜n̵̩̐͆g̶͙̿"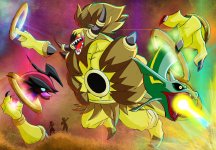 Burning, golden light faded to reveal a massive figure that towered over all. Five rings, blazing with power, and two beings emerging from them, thrashing madly under Orzo's control.​
"Prepare yourselves!" Darkrai roared. He swept out a clawed hand and a shadowy barrier flickered to life around the group. A second later a energy beam from Rayquaza smashed into it. It held just until the beam dispersed, before cracking and falling away. The sky dragon roared and thrashed in the grip of the ring, screeching madly. Yvetal's blue gaze seemed almost sightless, dark aura rolling off its body. The air hummed and buzzed with energy.
Clink trembled at the sight of the being before them. Hoopa wilted, eyes wide and unseeing as he gazed upon his counterpart, fully unbound.
Darkrai stood protectively at the front of the group, arms still spread. "Focus! Hoopa, tell me what you can sense!" His voice came out sharp and quick, devoid of fear.
Hoopa blinked and collected themselves. "H-he's not at full strength yet and its taking all his energy to control those legendaries! I-I think we have a chance. If we destroy the rings we can free them, but we have to get past the legendaries themselves first."
Darkrai gazed upward, eyes burning with fury. "Clink, what of the legendaries?"
"They can't access their full power under Orzo's control," Clink called bravely. "We should be able to take them if we work together."
Despot King Orzo is commanding the legendaries! He has summoned Rayquaza, Lord of the Skies and Yveltal, Bringer of Death!

Rayquaza is charging up with Dragon-Type energy! He looks ready to target the whole group!

Orzo has formed a barrier around Yvetal!

Yveltal appears to be inactive!
Darkrai's voice echoed across the void.
"Get ready to attack!"
Last edited: