Location
Pronouns

she/her/hers
Partners
Welcome to
The Quest for the Legends
, an original trainer fanfic that I originally started in 2002 when I was twelve, started rewriting from scratch in 2004, and then completed in 2018, exactly sixteen years after it started.
I have plans to do a proper rewrite of this story.
This is not that rewrite.
This will be me posting that 2004-2018 version that I completed, with
light
edits but no more than that. This is mainly for two reasons: 1) I'm creating chapter art for every chapter as art practice, and it'd be nice to be able to
do
something with it; and 2) various people on here have expressed an interest in reading the completed fic to me, but understandably the task of doing so is a bit overwhelming when it's 77 chapters and a prologue. Posting it here with a delay between chapters and the opportunity to comment and interact with people in the process probably makes it a lot easier for that to actually happen as a thing people can have fun with!
What I mean by light edits
is that I'll probably clean up stuff like typos and grammatical errors, maybe correct blatant easily-corrected inconsistencies, and alter a sentence or two here and there that I find
especially
awful. I will
not
be altering events to be any less cooked up by a twelve-year-old, or the writing style to be much less clunky; doing so in any useful capacity would require that full rewrite and all in all take years. I still want to do that, but in the meantime, this is just to let people read it on Thousand Roads in its full completed not-particularly-glorious glory. (I
might
finish doing some rewrites I've been meaning to do to chapter 76 in particular? Maybe? If they happen to be done when I get there?)
Thus, this version of the fic is pretty old and bad! When I read through and commented on the whole fic after it ended, I felt it started to more or less hold up as still enjoyable on its own terms for me around the late thirties range (in terms of chapters), if that tells you anything. Before that point, there's just a whole lot of absolute ridiculous nonsense,
especially
in the first few chapters. I'm well aware of this;
actual critique would probably be a waste of your time
. Feel free to poke light fun at it, though. I will be doing so myself throughout this thread, both introducing each chapter and in some spoiler-free endnotes on each. I'm just hoping you all have some fun here.
Content-wise, this story is more or less a T rating.
It has one (1) f-bomb in it; a bunch of routine Pokémon battle violence that's bloodier than canon but still ultimately temporary and harmless; a good bit of more intense violence and mortal peril, including between humans (
this includes violence against minors
); some instances of brief/mild gore; alcoholism; several character deaths; and various generally dark/disturbing themes, including recurring themes of
suicide
. If requested I can include a heads up before individual chapters containing some of these themes if that would be helpful for you (please do request it if so!), but please consider this a warning that applies for the entire fic - it's not that there's just this
one
chapter that discusses suicide.
The
posting schedule
will probably be largely determined by when I finish chapter art, which is to say, usually spaced some 3-6 days apart probably - unless people would rather I slow it down to a regular schedule like one chapter per week, which I can also do if that's something people would prefer. At the point of starting this thread, I've already done the chapter art for the prologue and first three chapters; I'll post three days apart until I catch up with the chapter art. The general idea with the chapter art is to try to finish illustrating the final chapter by the fic's twentieth anniversary, June 19th 2022, though I have no idea if I'll
actually
make that; if you join me for this, perhaps we can all celebrate the anniversary together.
Thus, without further ado, please enjoy the prologue, a supremely clunkily-written effort to be mysterious and hint at
grander things
. Did you know my trainer fic has a dramatic plot about legendaries
dying horribly
, which is of course not going to come up again at all for the next 24 chapters?

Prologue​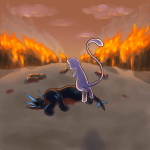 ​
The flaming remains of a town burned sadly in the sharp wind. Gray, gloomy clouds covered the sky, a bit of vibrant red sunlight reaching through them in the west.
The blood-soaked ground was covered in bodies. Most of them were whole. In fact, a few might still have been breathing some of the last breaths of their lives. Others were completely torn apart, so that it seemed almost like a supernatural being had swept past with the sole intention of killing them, but its mere presence had made everything else drop dead as well.
There was one thing that the torn apart ones had in common: while they lived, they had been known as legendary Pokémon. These former streets contained the bodies of twelve legendary Pokémon. All but two of them would soon be buried in the sands of time, forgotten and insignificant in history.
These two others had another thing to tell them apart from the other legendaries, which was that they were not among the mutilated ones. And in fact, had anyone been there to compare them, he would have found the two distantly similar. Both of them had somewhat catlike heads and long tails with ovals on the ends, but one was smaller, pinkish-white and had a rabbit-like contrast in the length of the four legs, the front ones being short but the back ones long. It was breathing faintly. The other was larger, more human-shaped overall, had a light purplish gray body and a deep purple, muscular tail. It also had a large, drying wound in the middle of its non-moving chest.
After a while, the small one stirred. Consciousness slowly returned to the furred body. A leg twitched. Soon enough, its eyes opened.
"Mew?"
The small creature rose up and stared wide-eyed at the destruction.
The Legendary Pokémon levitated a meter or so into the air as its big, innocent-looking sapphire blue eyes fearfully scanned the area, as if looking for something. Then it seemed to have found what it was looking for; it stopped, kicked the air with both of its long hind legs and darted towards the left.
Terrified, the legendary looked upon a black, feline-like head with neon green markings. The same green shade was also on six long spikes which sprouted from the back of its head, three on each side. The left eye socket was empty; what had been the right eyeball was now merely a bloody mess.
The pink legendary's disbelieving eyes stared at the head in horror, oblivious to the death all around. Silent tears filled them.
"Chalenor…" sounded a weak telepathic voice around the lifeless town.
Such description, wow, an excellent choice by fourteen-year-old me to spend a significant proportion of the dramatic prologue by word count on a very dull description of what Mew and Mewtwo look like even after being convinced by a reviewer to spend less time on describing exactly what Chalenor looks like

Chalenor is one of many, many fakemon legendaries featuring in this fic; be prepared. His spikes and markings change color with his emotions, according to the RGB system, with the red factor signifying anger, the green factor signifying excitement or tension, and the blue factor signifying sadness or grief; exactly one of the many revisions of the prologue states that they faded to blue at the end here, which is why they're illustrated that way despite only being described as green in the text here.

Versions of the prologue also differ on whether his head is just lying there on its own somewhere or if the body is nearby; this version makes it sound like the former, but the illustration shows the latter because honestly just the head lying there is just kind of a comical image.
Last edited: