Location
Pronouns

they/them
Partners
Content Warnings : Semi-realistic, like my other fic(Paldea's Awakening)
Spoiler alert! Follows the game story. Or so I heard.Was it based off of this journal? It's probably a bit fudged though...
If you don't live in the pokemon world, don't read the blurred part because you'll realize it's real...wait, oops.
Never mind, I gave it away, so there won't be a blurred part.
See, I found a journal about the ancient the then-called Hisui region, now the Sinnoh. What it was doing in my Paldean house, I really don't know.
Anyway, I read it. I decided to transcribe it, after all, I don't want the world to lose such precious knowledge...little disturbing that a modern person went into the past though...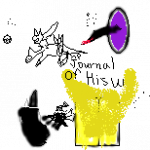 Entry 1 :
I...I couldn't remember my name. Or how I got here. Or...well, anything about me.
"Hi?" at least I could speak. I survey myself. Nothing wrong. Black clothing, cap, that type of stuff. I could care less about my appearance though.
Where am I?
I don't know to be honest. I retained everything else though, so I might be able to know...right?
I should talk with the locals. They'll know a lot more than me.
I look around and dart off to a figure standing near me.
I...can't remember much. Did the person wipe some of my memories away? I remember standing with my jaw on the ground realizing...THAT I'M IN THE DANG PAST!!!GET ME OUTTA HERE!
He explained a bunch of things to me though...like pokeballs are crafted here...wait, is he from the modern world? Strange...
Anyway, I woke up suddenly with three small Pokemon,
Rowlet
,
Oshawott
, and
Cyndaquil
; and a human over me.
"You okay?" the person asks, "I'm Professor Laventon."
At the sound of his voice, the three pokemon are off in a flash. Laventon rushes after them. Something falls out of my pocket. A memory stirs. "Phone..." I mutter. Didn't the mysterious person call it an Arc Phone? Well, it hardly matters. I try to catch up with Laventon and the escaping pokemon.
Of course, Laventon can't catch pokemon because wow, it's in the ancient times, people
don't
catch pokemon! He gives me a whole bunch of pokeballs to catch them though.
I take a wild guess and go to a pond that appears to be a perfect habitat for oshawott. I'm surprised to see the cute rascal there. I take aim, careful not to move too many parts of my body, and throw. It hits the oshawott perfectly on the head and the pokeball beeps three times and I go out to get my catch...but I'm not the best swimmer. Ugh.
By now, I decide to just dry off at a hill, so I head to a high one. I can't believe my eyes. There, like a brown-green lump, is the rowlet. Now though, I can't exactly be stealthy. The rowlet screeches and tries to hop away. The pokeball, however is faster. It hits the rowlet and in it goes.
Two down, one to go.
I just need to get that cyndaquil!
I check the forest, sure that fire pokemon love committing arson. No such luck there.
I probe at a few other sensible places before I find the most off-the-rocker place ever for a cyndaquil-a rock. The thing is surprisingly fast and I almost lost it. It attempted to eat a random berry on the ground however and it was an easy catch.
I returned to Professor Laventon.
"Um...okay you're probably wondering why in the world I was trying to catch those pokemon...well, I'm part of the Galaxy Team."
"Galaxy Team?"
"The team who's working on the first-ever pokedex! That's what we're calling it anyway."
Another memory. The figure said to catch every pokemon here. I better join up. Was the person a Team Galaxy member?
"I'm in."
"Great! I think we need to talk to Akari and Cyllene though..."
"Um...?"
"Come on, let's get to Jubilife Town!"
Since when have professors been this giddy?
I follow him to a restaurant there-The Wallflower.
Apparently Akari and Cyllene are members of The Galaxy Expedition Team...so, I need to talk to them? Laventon said something about them on a bridge, right?
"Um...are you Akari and Cyllene?" I ask the first group of people I see.
"That's us. I'm Akari. She's Cyllene. What's your name?" A 15-year old girl stepped out.
My...name? I vaguely remember the figure saying my name was Rei...eh, it'll do.
"Um...Rei."
Cyllene is clearly all business and asked me what in the world I was doing here. I tell them what had happened. They raise their eyebrows at the mention of the figure.
"So...you're hoping to join, I gather?" Akari asks.
"Yes."
"Then you'll have to pass the entry trial. We'll give you a room for your help though."
So...guess I'm just going to bed?
[Entry ends]
Hmm...Rei
is
in history...didn't he save the world from "nobles"? I guess I'll find out...
Last edited: