you should've known the price of evil
Location
Pronouns

she/her
Partners
Hello Thousand Roads! After some lurking and watching from afar, I've decided to join this forum and post something of my own. Some of you already know me from Serebii or Bulbagarden - for the rest, pleased to meet you! But that's enough about me, I've got a story I'd like to share.
Seiren
is a dark comedy drama starring Red, a young man who not quite right and a liiittle too attached to a certain special omanyte named Helix, one he considers to be a form of his god. If these names sound suspiciously familiar, that would be because this story does indeed take inspiration from the
Twitch Plays Pokémon
online phenomenon which peaked in 2014. If you're not familiar with that, though, no need to freak, as not only are the ties to the generally agreed upon "lore" quite loose, but I've done my best to write them in such a way that requires little to no knowledge of this subfandom. And finally, if something's unclear, I'll gladly answer questions and work to make the setup clearer if need be.
Now a word about the content: this story is rated
PG-15
due to strong language, violence / physical abuse, alcohol usage and dark themes that come with immoral actions onscreen and offscreen. For reference, our protagonist is a rather terrible person.
This ain't your mom's Red.
No, really, this really shouldn't be considered as an incarnation of the Red from the games or manga or anything. Being from a TPP run, he was essentially built on a blank slate that happened to be named Red as that was the default in-game name. Okay cool now back to you big font Canis.
Thank you for your attention. Comments and other feedback on the story are very much appreciated. Catch the full synopsis and stats below the cover image, and I hope you enjoy
Seiren!
---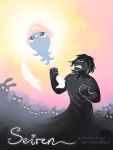 S E I R E N
Synopsis:
Red isn't too happy about Helix's new celebrity crush. Therefore, action must be taken.
Genre:
Drama, Dark Comedy
Started:
9 June 2018
Status:
Finished
(8 April 2020)
Length:
64 000 words
(Measured 8 April 2020)
---
PROLOGUE
---​
Ding!
The bell's ring pierces my skull.
He needs something.
I drop the book and roll over to see the water tank. He stares back with His gray-yellow eyes, His tentacle still lying on the button, too tired to pull back again. My heartbeat surges. Is this it? Is it happening now?
I bounce out of bed as quickly as any persian on its prey and hurry to the tank. Even the focus and motions of His eyes are delayed...
"My lord, what do You need?" I ask. It could be just another false alarm, but an ominous cold resides in my core. It only grows stronger with each passing second and each new observation on how terrible He looks right now.
A tip of one tentacle sluggishly rises, prompting me to dive my arms into the lukewarm water and lift up the sickly omastar. The splashes of water paint dark spots onto my shirt and the towels covering the floor. He breaks the surface, flattening as the upthrust of the fluid disappears. It happens every time, but… He just looks so miserable nowadays.
"Red..." He rasps. I lean in, determined not to miss a single one of His words.
"Yes?"
"You know I'm coming back, right?"
I unwind for just a second, chuckling. "Y-yes, I know. I just..."
No, He's right. I shouldn't be this worried. He's come back once, He'll come back again. I know exactly how to get Him back and I'm absolutely positive it'll work. And this time they'll have a vaccine ready for Him. They learned enough about this disease during His suffering through it, and now they know how to prevent it. He won't get this way again. His lifespan won't be cut short. Still...
"And I'll be healthy," he continues, slit-pupiled eyes slowly blinking. "And an omanyte, too. A lot easier to carry around… I think I'll want to stay that way longer this time around..."
I sit back on the bed and lower Him onto my lap to give my arms a break. My jeans quickly soak up the water on His skin.
What He's saying is all true, but I… I don't know. He's going to have to mature all over again, learn to speak, go to school… and I don't know which ones of His memories won't stick around this time. What if He forgets me entirely? What if He won't like me? What if --
His tentacle rubs on my wet forearm, interrupting my worries. "I know I won't remember everything from this life, but I'm still going to be the same mon. And you'll be the same person. I know I'll like you again."
I sigh. "Thank You, my lord." I'm not content, but to ease His mind, I'll pretend.
"Now…" He says, shifting on my lap, "now I would finally like to sleep."
I nod and lean forwards to get up, but He stops me with a groan.
"Here," He specifies.
"Wouldn't it be more comfortable in the water?"
"I've had My whole life to be comfortable. I can tell you need Me now."
That's the last push the tears in my ducts needed. They're freed, as is my smile.
"Goodnight, Red," He wheezes and lets His rubbery body relax. His warty lids close, hiding the pale yellow.
"Goodnight," I whisper back.
A silence arises, but only for a second before the winds outside snuff it out. I look through the window at the golden autumn view and watch the swaying trees and grass, brown and yellow. The neighboring houses remain still, their hue only slightly altered by the evening sun.
The mass on my lap slows in its breathing. My pulse speeds up again.
A part of me, the naive part, urges me to initiate some kind of mollusk-adjusted CPR, but I suppress the need. It's time for Him to go and there'd be no benefit to prolonging His pain. Instead, as painful as it is, it's my job to be here and make sure He leaves in peace.
The breaths grow weaker. The time between them stretches out - longer, longer, longer… until the next one finally fails to arrive.
A jagged grip seizes my heart. I shakingly gasp for air. Another wave of hot tears emerges.
It shouldn't hurt like this. It shouldn't hurt because He's coming back, and it shouldn't hurt for someone like me.
It's just one of those things I'll never understand.
---​
The trees of Viridian Forest dash by as the train hums on. It's a shame this window is so smudgy - the autumn colors seem brilliant. Even the evergreens look majestic among their more vibrant deciduous peers.
But I don't need to look out the window for a sight that warms my heart, do I? That's right. I have You.
Two sparkling eyes stare back from the dark of my bag, their image wavering as the rumbling of the train and the bubbling powerhead quake the water's surface.
My beautiful lord, so healthy, and this time He'll stay that way. He's already got the life-saving shot.
"You hungry?" I whisper. He continues staring, not yet understanding my language.
I zip open another pouch of the bag and pull out a green plastic container. I pop it open to reveal the numerous leppa berries inside. He shuffles in place as I open His aquarium, unsure of what's happening.
"It's alright," I say calmly. It seems to make His worries subside somewhat. The rest of His shyness melts away as I drop one of the red-yellow berries into the water and He realizes it's edible. His translucent tentacles cover the fruit, and He begins nibbling away.
The train slows down to a halt. The final jolt wakes up the black-jacketed nidoking snoozing on the seat across from mine.
"Home yet?" Fonz mumbles, blinking his squinted eyes.
"Just a stop."
"Mhhh…" he sighs and lets his lids close again.
I look back down at the aquarium. The omanyte has lain down on the side of His shell and is retreating inside. Looks like Fonz isn't the only sleepy one here.
Quietly, I snap shut the lid of the aquarium and return the leppas to their pouch in the bag. May He have the privacy He deserves.
It's funny. Currently, He must see
me
as the god in this relationship. Well, technically, the real god is in that other bag, but… I don't want to think about that right now.
The only thing that matters now is that He and I are finally together again. Things are exactly as they should be, and I won't let anything,
anything
change that.
---​
Last edited: