Don't underestimate seeds.
Pronouns

She/Her
Partners
Summary:
"Saint Bonapisa's good luck for trainers," Cass told me once. Maybe she should've kept some of that luck for herself. The drifblim was still following me, but if Lake Valor was what Cass wanted, then I'd find a way to get her there.
Content warning
: off-screen death, a funeral, homophobia and transphobia. None of it goes beyond a PG level of detail, but you might want to make sure you're in the right mindset for it.
Wordcount
: 9k
This was my entry for the
Friends and Partners Contest
.
🏆 3rd Place 🏆
8/2/21 - Changed the ending and cleaned up a few confusing bits.
I hope you enjoy!
---
Ballast​
I was on the last bus down Mt. Hokulani when I found out about Cass. Mom had called hours earlier, but there hadn't been cellphone service on the mountain. I listened to the voicemail once, then immediately played it again, mashing the phone to my ear as if the happy chatter of tourists was the problem. It wasn't. I'd heard—I just couldn't understand.
When I stumbled off the bus, I finally noticed that I was pressing my still-wet canvas to my chest like a security blanket. Through the hairpins turns all down Route 10, I'd been careful to hold it stiff-armed away from myself, despite the surrounding crush of bodies. Now the canvas stuck fast to me. I peeled it back, leaving behind a dark stain, shirt and painting both ruined. For a moment, I stared at the Prussian blue smear that cut through my landscape, obliterating the skarmory I had delicately picked out from the sky, but there wasn't much to do about it: I had to pack for the funeral.
The next available flight out of Malie City was a red-eye. The passengers on either side of me slept, lolling on neck pillows, but I couldn't make myself close my eyes. Instead, I watched the sunrise slide from shades of indigo and aubergine to coral and vermillion.
As I thought about how I'd mix each color, I rolled Luci's ball between my palms. She'd be sulky when I let her out again; she hadn't seen the inside of her pokeball in at least a year, used to having free run of the apartment. I didn't let my thoughts move beyond the ball in my hands and the view out the tiny window—not to where I was headed, and not to what waited there.
Gray, days-old snow shrouded Hearthome City when we landed. Home sweet home.
My parents picked me up from the airport. I hefted my suitcase and moved for the car door, but Mom was already climbing out. "It's okay, I got it," I told her.
She threw her arms around me so tightly I barely managed to set my suitcase back down. "I'm so sorry, Jenna," she said against my neck.
And at that, I finally cried.
—
Mourners trickled from the parking lot to the cathedral steps, their heads lowered. As Dad pulled into a parking spot, I craned my neck to watch the procession, anxiety fluttering in my chest. I'd been to Cass's church a few times—the price of sleeping over at her house—but never for a funeral.
No one who approached the church had a pokemon at their side; several mourners recalled their partners as they stepped out of their cars, careful to shut the door quietly. However, a sleepy-eyed bibarel hunched at the threshold, facing a priest in ultramarine robes. The priest sprinkled the passing supplicants with water from an ornate urn that the bibarel occasionally topped off.
But my eye was drawn to the second priest, who stood to one side, atop one of the balustrades, his cyan robes fluttering. His chin was tipped to the sky, and I followed his gaze toward the steeple, where a staravia circled. It was chasing something, sending it spinning with gusts of wind. A garbage bag, maybe? But why would—
I sucked in a breath and scrambled out of the car.
"Jenna?"
"That's Bonapisa," I said, gesturing towards the drifblim floating above the church. "One of hers." The last and only time I'd seen it, Bonapisa had only been a drifloon, one stringy leg wrapped firmly around Cass's arm. This drifblim could've just as easily blown down from the mountains or escaped some other trainer, but I knew it was Cass's with as much certainty as I knew my own face in the mirror.
Before Mom or Dad could say anything else, I cut across the lot. Edging into the flower bed to get closer, I called up to the priest, "Excuse me, um,"—I faltered, unsure of the correct title—"Father?"
He glanced my way and smiled briefly. His eyes were a shade lighter than his robes, ice blue. "Don't worry. The creature can't get inside the Lord's house, and it'll be far away before the rites begin."
Above, the drifblim hunched at the base of the steeple, arms hooked around the buttresses. But the staravia brought its wings together, and the burst of wind ripped the drifblim off the roof and into open air. It keened, a sound like wind howling on a stormy night, and I couldn't help shuddering. It had been creepy as a drifloon, and it was creepier now.
But it was
hers
.
"No, you don't understand," I pressed. "It's—it was one of Cass's pokemon. I'm positive. It should stay."
The priest's expression soured. "My son—" He paused and squinted, realizing his mistake. Then he cleared his throat, and the uncertainty left his face. "If that creature stayed, it would snatch her soul away. She could never be reborn."
Behind me, Mom called out warningly, "Jenna …."
The priest slipped into a kindly but distant smile. "I know this is a difficult day. But all things are made right in Arceus' arms. Go well, my child."
Then Mom's hand was on my arm. For a moment, I strained against her grasp, scanning the sky for Bonapisa. The drifblim had already shrunk to a gray dot in the distance. As she steered me toward the steps, a cold breeze touched the back of my neck, but I didn't raise my head again.
—
The coffin dominated the center aisle.
She's really in there
, I told myself.
That's what's left.
It still didn't feel true. Thankfully the lid was closed, draped in a white cloth bordered with golden infinity symbols. A few mourners touched the cloth and made the looping sign of Arceus over themselves, but I shrank away and kept my hands in my pockets.
My parents flanked me as I lay our flowers on the altar with the others. Three framed images stood among the bundles of lilies and chrysanthemums: a purugly, a floatzel, and a roserade. I didn't recognize them—Cass started her journey after I left Sinnoh—but they must've been her team. She'd been really doing it. I felt like we were mourning the pokemon, too, though I didn't think any of them had died in the accident. I suddenly wanted to know where the rest of her team had ended up, but I couldn't imagine asking. It didn't matter now.
There was no image of the drifblim.
Smiling down from the center of the altar was Cass. Sort of. Her family had chosen a photo of her wearing a dress, pink satin and tulle. Her hair was teased into ringlets and pinned behind one ear with a jeweled flower. Prom, maybe. I almost didn't recognize her.
The Cass I knew wore oversized t-shirts, her topknot always coming partway undone. Remembering the way the escaped strands of hair had curled at the nape of her neck was what got me: that girl was gone, really gone, and forever out of reach. A sob burst out of me before I could stop it. Mom's arm tightened around my waist, and I sagged against her. We hobbled down the stairs together like competitors in a three-legged race.
Shortly after we took our seats, the requiem began. The sixteen priests formed a loose circle around the bishop, distinct in his white robes trimmed with gold. He intoned, "We have gathered here today to celebrate the life of Cassandra Anne Greer, beloved daughter, sister, and friend."
The doll-like girl in the photo looked like a
Cassandra Anne
. Maybe that was how her parents had seen her.
"None of us can claim to understand the divine plan or why the Original One calls home some souls sooner than others, but we can take comfort in the knowledge that she is safe in the arms of the Infinite, free from suffering, soon to be reborn."
Then he read from an enormous tome on a pedestal of interlinked gold rings. I took my cues from the row ahead of us, kneeling when they knelt and standing when they stood, even though my limbs were heavy and stiff. Mrs. Greer's quiet crying punctuated the pauses. She sat many rows away, but her sniffles echoed until I felt surrounded by them. Too intimate. Too exposed.
The air was so thick with incense, flowers, and dust that my head swam. I longed to slip outside for fresh air, where my thoughts could be my own—but I would have to shimmy past the entire row of people and then down the aisle where Arceus and all his worshippers would see me. Picturing it, I flinched.
I didn't belong here. Why had I even come? For Cass, I supposed.
But she's dead, Jenna
.
The bishop's voice rang out, sudden and loud. "Lord, You are in all things, and all things move through Your will."
"Amen," the crowd said as one.
A bell chimed, and then the space filled with the rustling of a hundred people turning pages all at once. Dad leaned to point out the passage for Mom and me, and I was grateful for her hand closing around mine.
The crowd read aloud together, "From nothing came One. From One came one thousand." I picked out Dad's voice among the others, steady and sure. Mom's was faltering, but of course she was polite enough to try. I moved my mouth but didn't make a sound. "One thousand rivers may split one thousand times, but all empty into one sea."
"The Lord in His mercy offers us the bounty of His blessings." The bishop gestured towards the far left wall. "We honor the moon with its brightness."
The mourners replied, "The brightness of the moon is the brightness of the Lord."
A priest in peach robes glided to the leftmost alcove and lit a candle within. Above the lintel, a gold-lacquered figure with a togetic on his shoulder smiled blandly—some saint. If they'd been alive today, the Arcean saints might've just been gym leaders. In this room, they were the Thousand Voices of the Almighty.
"We honor the snow with its whiteness."
Again, the congregation answered, "The whiteness of the snow is the whiteness of the Lord." The priest in gray lit his candle.
We honored
the mind with its lightness, the body with all the strength it hath,
and
the lightning with its rapid wrath
. Despite everything else, I liked the rhythm of the chant, all the colors. I found myself looking ahead to the red-robed priest who would light a candle for fire, for Luci, who still waited on my belt. The ritual reminded me of the Island Challenge, all those bright shards to gather up. I reached automatically to finger the remaining empty grooves of my z-ring, forgetting I'd left it at home.
The next blessing was for
the wind with swiftness along its path
. As the priest in cyan bent to his candle, I realized I knew the saint above that alcove: Bonapisa, patron saint of flying-types, messengers, and travelers. Cass had once given me a string bracelet with a pewter charm embossed with her image.
Thanks,
I'd said,
but I'm not really big on … you know, saints and stuff.
She'd only smiled.
Bonapisa's good luck for trainers. She might come in handy.
Maybe Cass should've kept some of that luck for herself.
The blessings flowed on:
the sea with its deepness, the rocks with their steepness, the earth with its starkness, the night with its darkness
….
Over and over, the day I'd left Sinnoh replayed in my mind: how I'd hesitated next to the trash can in the airport terminal. How I'd finally opened my fist and let the bracelet fall. How Saint Bonapisa had clinked as she hit the bottom. Now I wished I could return to that moment, dig the bracelet out, and have that little piece of Cass back.
The fire as it flowers, the steel as it towers, the drake with its glower, the swarm with its many, the thorn with its potency
….
I knew it was irrational, but I couldn't help thinking that maybe if I hadn't thrown her luck away, Cass would still be alive.
And then, with
the fields and their plenty
, the semi-circle of sixteen candles around the room was complete.
The bishop chimed the bell again and chanted, "By these we know the many faces of the One and come to rest in the arms of Infinity."
"Amen."
Casting his arms wide, the bishop called up to the ceiling, "O Lord of the Infinite, we entreat You to welcome the soul of Your beloved daughter Cassandra Greer, who You lifted out of the void and, in Your wisdom and grace, gave form on this living earth. May You grant her shelter from the Infinite Abyss that her soul may one day rejoin the living."
People had to take comfort in something … but I couldn't buy the Arcean story of rebirth. I imagined Cass in an empty airport terminal, feet propped on her backpack, gazing out a window onto deep space.
Final boarding call for Infinite Void.
Cass was headed someplace much further than Alola, and I didn't think she'd be back.
"Grant us the wisdom, Lord," the bishop continued, "to recognize her in all things as we recognize You in all things." He drew an infinity symbol in the air, putting his whole body into it. Then he lowered his head. "And now let us pray."
All around, mourners knelt or bent their heads over clasped hands. I dropped my gaze, but didn't close my eyes. I didn't have anything to say to Arceus. If he cared what I did, I'd never seen any sign of it. If he even existed at all, I'd guess he was just another pokemon, a creature of flesh and bone like the rest of us.
Like the Tapus. They were real—people caught glimpses of them all the time—but they came and went as they liked. When the crops grew well and the seas were calm, people called it a blessing. When storms and tsunamis beat upon the islands, the Alolan people brought conciliatory offerings of fruit, rice, and okolehao to the Tapus. For a righteous Arcean, worshipping a Tapu would be as hollow as worshipping a starly or a stone. But I'd seen a bowl of rice do more than words whispered into the air.
So instead, I watched the candlelight flicker on the polished wood floors, tinted every color of the rainbow from the stained glass windows. Finally, I did close my eyes; I didn't want to picture Cass here in this dark, foreboding space. I wanted to think of her somewhere bright and warm, throwing her head back in laughter.
I'd spent almost as much time sitting on her bed as my own, watching movies, doing homework, or simply talking. A prism dangled in her window, and when the light was just right, it kissed her shoulder with refracted rainbows. I'd learned eventually that the prism was an Arcean thing, but I still thought it was a little magical.
"You can keep a secret, right
?"
With a shy smile, she'd presented the drifloon: a little deflated, puckering at the edges, cooing. "Her name is Bonapisa."
"Your parents are gonna kill you if they find out."
"I know." Cass frowned but lifted her chin. "But she was hurt—caught in the eaves. I couldn't just leave her."
"So you're keeping it?"
She squeezed the fluff atop Bonapisa's head—it sprang back like a sponge—and the drifloon nuzzled her arm. "Wouldn't hurt to get a head start on my team before I set out, right? And look at this cutie!"
It inflated and deflated as it breathed, like a living lung.
Not wanting to hurt Cass's feelings, I pivoted. "What is it with your family and ghosts anyway?"
I guessed it had something to do with the gym leader. I liked that Fantina didn't seem to care what other people thought about what she wore or how she spoke—she did what she wanted. But whenever she appeared on TV at the Greer house, Mrs. Greer clicked away, saying,
His mother must be ashamed.
It made sense that Fantina's pokemon would be banned, too.
But Cass said, "It's not my family. It's the whole church. They're … it's hard to explain. You know how Arceus made the world and everything in it?"
Arceus talk immediately made my stomach shrivel, but I nodded for her benefit, watching her mouth as she spoke.
"Well, everything that's not the world is the void—the opposite of life. And that's what Giratina wants more of. So it sends ghosts into the world to lead souls away into the nothingness, to unravel the fabric of life itself. Or, if your soul gets lost, you could even become a ghost." She paused, toying with the drifloon's feet. "That can't be true, though, can it? I mean, if Arceus created everything, then he created ghosts too, right?"
"Maybe?"
With a nervous laugh, Cass said, "Just something I've been thinking about. Sorry if that's too weird … but I can't really talk to anyone about it but you."
When she met my eyes and smiled, I almost could have told her everything, let my own secret unfold like a flower. If her church was wrong about ghosts, maybe it was wrong about other things, too.
Then Mrs. Greer called outside the door, "Girls, dinner!"
And I clenched my words tight and small and safe.
—
Cousins and uncles I'd never met milled around the Greer's living room, speaking in low voices and half-heartedly nibbling at the sandwiches and stuffed eggs. The room was overcrowded, not just with funeral-goers but with memories. The last time I'd been in this room, I'd thought it would be the last time.
As I carried the store-bought cookies to the table, I caught sight of Cass's parents across the room. Mrs. Greer's hair was pulled back, which made her look strikingly like her daughter, only older, shoulders slumped. She turned and registered my face with a look of surprise so obvious it made my insides squirm.
She knew
. Was she upset that I'd come?
But she motioned me over with a watery smile.
"I'm so sorry for your loss," I managed to squeeze out through the lump in my throat.
Mr. Greer nodded in acknowledgement, and Mrs. Greer pulled me into a hug. "I'm so glad you made it, Jenna. She would've wanted you to be here."
I swallowed hard, not wanting to cry in front of them.
When Mrs. Greer pulled away, she said, "But, honey, what happened to your pretty curls?"
"Oh." I ran a hand over the back of my head and looked away. "The long hair kinda got in the way."
An expression I couldn't name flickered across her face. "It's not easy being out on the road, is it?"
I hadn't been on the road in months, not in the way she was imagining. I hardly left Malie City except for day trips up Mt. Hokulani to paint, traveling by highway and trails with concrete steps and handrails. Luci and I had completed a few trials, but it didn't take long for me to decide that what I'd really wanted wasn't an adventure but just to get away. So I settled into an apartment above a malasada shop and a life of selling paintings to tourists and let that be enough.
My hair wasn't for
the road
. It was for me.
But there was a hint of earnestness and longing in Mrs. Greer's voice. Maybe she wanted to believe I was still united with her daughter in this, still carrying the torch. Maybe she was hoping I would reaffirm the dangers of traveling the wild routes.
What happened to Cass could've happened to anyone
.
Letting her come to her own conclusions was easier than finding words to explain who I was, so I agreed, "No, it's not easy."
Mrs. Greer grabbed onto her husband's arm, and I wondered if that had been the wrong thing to say after all.
"Cassandra was never content to take the easy path," Mr. Greer said, speaking up for the first time. His eyes were doleful as an Arcean saint's.
"She was so …." I drew in a slow breath. "She always did what she thought was right."
Mrs. Greer nodded and fidgeted with a string of rainbow-colored prayer beads. I sensed she was waiting for me to say more, to bring Cass to life again with words, but I could only think of her giving shelter to the wind-battered drifloon. Probably better not to mention that now. In every other way, she'd been the daughter they wanted.
"Jenna … I think you should go."
I smiled politely down at my shoes.
"Thank you for coming, Jenna," Mrs. Greer finally said. "Our home is open to you anytime,"
Then she didn't know after all.
When another woman from the church clasped her shoulder and the Greers turned away, I was relieved to step back into the crowd.
I circled back towards the food table, partly looking for my parents and partly to have something to occupy myself. I recognized a few of Cass's friends from school, but no one I knew well enough to want to talk to. I wondered about Tim, her little brother, but hadn't seen him anywhere yet. By the time I'd plated a couple of stuffed eggs, I spotted my parents waiting to talk to Mr. and Mrs. Greer, so I slipped into the kitchen to wait where it was quieter.
The kitchen windows looked out on the back deck, and my heart somersaulted at the sight of the wooden porch swing.
Of course it's still there
, I scolded myself.
What did you expect
?
Cass and I had sat there together the last time we spoke. It felt like a lifetime ago. It felt like five minutes ago.
I remembered rocking from heel to toe, nervous at her sudden quiet. Her feet were planted firmly, so only my end of the bench wiggled. "Are you upset?" I asked.
"No, I'm happy for you! It's just …." She twirled a loose strand of hair around her finger. "It won't be the same here without you."
"Yeah, it's gonna be weird." I stopped rocking.
She nudged my leg with her knee. "Why are
you
moping?"
I thought for a minute and said, "I haven't told my parents I was accepted yet. I don't have to go."
"Oh my goodness, yes you do, Jenna," she burst out. "You worked so hard."
Only a handful of non-residents were admitted to the Island Challenge each year, and come fall, I'd be one of them.
"I mean, not right away. I could delay a year." My stomach fluttered, but I pushed past it. "I could … start when you start. We could do it together. Wouldn't that be great?"
Cass's smile snuck through before a frown took over. "I could never go that far from my parents. They'd be crushed if I left Sinnoh." She suddenly sounded so tired and small.
I hated the thought of her alone in this city.
I'd been dreaming of beaches and sun, a place without winter, but I offered, "I could stay …."
She laid a hand on my arm, her grip surprisingly firm. "You deserve to be happy, Jenna."
Her smile was so tender it warmed me from my belly to the tips of my toes. I wanted to carry her away from here. I wanted to bring her the sun—
that
would make me happy. I didn't allow myself to think: I leaned forward and kissed her. For a moment, there was only the smell of her soap, her hand on my arm, and the softness of her mouth.
And then she jerked away.
"I'm sorry," I blurted as my heart crashed into my stomach. My entire face throbbed with heat. "I shouldn't have …."
The instant before Cass turned away, hand over her mouth, her eyes were wide with fear. I'd made her afraid of
me
. "Jenna … I think you should go."
So I jammed on my sneakers without another word and without pausing to put on my socks, balling them up in my pocket instead. And I walked home.
I wondered, at first, if I should call her, apologize again, but I never mustered the nerve. Clearly, she didn't want to talk. One week bled into another—and then summer was over, and I was on the plane for Alola.
And now she was gone.
I looked down at the plate of eggs in my hand and felt nauseated at the thought of eating anything. Luci would like them though, and she deserved a treat after being stuck in her ball for so long. I was afraid to release her inside the house—I didn't know if it would be somehow offensive—but the deck should be okay. Five minutes in the cold wouldn't hurt either of us.
I was reaching for the doorknob when someone called my name behind me. Tim stood in the kitchen doorway. Cass's little brother wasn't so little anymore: he was still skinny as a sudowoodo but taller than me. He had to be, what, seventeen now? Pretty soon, he'd be setting out on his own jour—no, maybe not anymore.
"Taking a break?" he asked.
"Sort of. Wanted to give Luci some fresh air." I felt a spark of spiteful glee at moving among these church folks with a pokemon named Lucifer. I swiftly stuffed down my amusement and added, "I'm sorry for your loss."
"You too."
He said it with such perfect sincerity that I wanted to throw my arms around him. I'd forgotten what a sweet kid he could be. But we'd never been that kind of friends, so I smiled for him instead.
"I brought something for you."
"What? Tim, you don't have to—"
He was already reaching into his jacket pocket for an envelope. "It's yours already." Sure enough, my name was written on the front.
"What is it?" I asked. But I recognized the handwriting.
"I didn't open it. She wrote it for you."
I turned the envelope over in my hands. It had been stamped in red ink,
Return to sender: insufficient postage
. My stomach lurched at the postmark date: last month. Why had Cass tried to send me something
now
? We hadn't spoken in over a year.
Tim watched with undisguised curiosity, maybe even envy, and his earnestness made me nervous. Good or bad, this letter wouldn't be inconsequential—I couldn't read it in front of him. With a fast-beating heart, I pocketed the envelope and choked out, "Thanks, Tim."
Then something else occurred to me. "She must've asked Mom for my address."
"Probably."
"Why didn't she just call?"
Tim was quiet for a moment. I hadn't expected an answer, but he said, "It was hard for her here, after you left." I wasn't sure whether or not I was imagining the accusation in his tone.
I answered carefully. "I guess things must be pretty hard now."
The grain of sternness I thought I'd seen in him melted. He put his hands in his pockets and looked down. "Today sucked."
"Yeah. I bet."
He took a deep breath and let it out. "But I think it'll be a little better now that someone is taking Adjuto. One less thing to worry about." The name sounded like another saint, but I wasn't sure. Seeing the look on my face, Tim clarified, "Her floatzel. I guess he'll have a different name now."
"Your parents didn't want to keep him?"
"A pokemon that size is a lot to take care of," Tim said bitterly, clearly repeating someone else's words. "They both have to work, and I have school, so … they all need new homes."
"Oh."
"Adjuto's going to someone in Unova. They'd better be good to him—that's all I can say." Tim pushed ahead as if he couldn't stop himself until he'd said it all. He must have been holding it all in for a while. "The League said Gertie can safely return to the wild—the rangers came by to get her earlier this week—and Ms. Duncan is taking Fiacre, since she needs the company. So then there's just … the other one."
Bonapisa.
"I think I saw it at the church," I said slowly.
Tim shivered. "It keeps hanging around the house. I hear it at night sometimes, this awful sound like the roof is going to come off. We released it, but it won't go." He gave a violent shake of its head and added, "I hate it. I don't know what she was thinking."
"Maybe—" I cut myself off. He wouldn't want to hear that the drifblim might only be hungry, drawn to the family's grief. "Maybe it'll lose interest when things settle down."
Tim drew his shoulders up, making himself small.
I tried again. "Maybe you could stay at a friend's house until …."
He shook his head and said, "It's
Cass
I'm worried about."
She's already dead
. But I bit it back. "What do you mean?"
Tim warily eyed my face. "Well, this is when her soul is most vulnerable."
"Oh," I said, realizing. "Her ashes?" The coffin was probably burning as we spoke.
He nodded. "We can't wait, not with that thing hovering around, watching us. But there's no way Dad can make it to Lake Valor when the weather's like this. He's got bad knees."
Tim looked like he could come apart at the slightest breath, like a dandelion clock. Poor kid. He was carrying so much.
This shouldn't be your responsibility to worry about
, I wanted to tell him. But he clearly wanted to talk about it, so I asked, "Lake Valor?"
"It's traditional," he said a little sharply.
"Right."
"Mom and Dad were talking about Route 208. It feels weird, but at least there's the falls and … all rivers lead to one ocean, right?" He didn't sound entirely sure.
"You couldn't have one of her trainer friends take, um … take her to Lake Valor?"
He scrunched his face. "Like who?"
Fair point. In the living room, there had been few people between the ages of eight and forty-eight, and fewer with balls on their belts. It made a kind of sense: if I were journeying through Sinnoh when winter was coming on, I imagined I might find a cozy place to stay put until the weather got better. The price of a plane ticket didn't help either. I'd gotten Mom and Dad's help paying for mine, but not every trainer had that option. Or maybe, I thought, remembering my own brief stint of camping across Alola, maybe one day had run into the next until Cass's trainer friends had lost track of the date. Maybe they'd forgotten.
"What about one of the priests?" I tried. "Don't they have pokemon?"
Tim looked horrified. "They can't leave the city for something like that. Especially not so soon before Solstice."
Of course, the Thousand Hands of Arceus had more important things to do.
"Uncle Carlisle was going to travel from Floaroma to do it, but he wouldn't be able to cross the mountains until at least next week, so …."
Even in death, she couldn't escape Hearthome or the shadow of the church steeple. It didn't matter, I told myself, not really. The ash would blow everywhere no matter where it was dumped out—it couldn't be contained. Plus, the part of her that would care about that kind of thing was long gone.
But it still bothered me.
"I could do it."
Tim jerked his head up. "Jenna, is that … safe?"
"The southern route shouldn't be bad. There's never much snow that way, and it's mostly flat. And I've got a fire-type." Luci was only a Litten, but still. He didn't need to know that. Luci and I had summited Ten Karat Hill and crossed the Haina Desert together—we could handle a few days of hiking.
"Are you sure?"
I touched the envelope in my pocket. "It's what she would've wanted, right?"
—
Bonapisa was following me.
I noticed her from the top of a gentle rise when we stopped to rest. Luci had already rolled in the snow, gotten bored of it, and started stalking the starlies in the thicket along the path. As I sipped from my water bottle, I mentally carved the field into parcels of light and shadow and considered digging out my sketchbook.
But in the valley below, the drifblim floated like a low-lying cloud, slowly winding between the trees. No sketchbook, then—time to go. As conditions of being allowed to deliver Cass's ashes to Lake Valor, the church had prayed over me and tied a copper infinity symbol to my backpack, but I had no illusions about how effectively their blessings would protect me from a real threat.
Probably just hungry,
I reminded myself, though that seemed less likely now: more grief to go around back in Hearthome.
At first, I checked over my shoulder every few minutes, catching a glimpse of Bonapisa more often than not. Finally, I crunched to a stop and called out with all the fire I could muster, "So I guess you're coming, too?"
I turned just in time to catch it ducking behind a tree, not at all hidden. I softened, a little. "Well?"
The drifblim shrank as small as it could, pulling in its arms, but was still clearly visible on either side of the tree trunk. I waited a few moments, but it made no move to flee nor to come closer.
So I started down the path again. When I peeked a moment later, the drifblim was bumbling along behind me, keeping its distance but never quite out of sight.
I'd seen enough of Fantina's battles on TV to know that Bonapisa definitely
could
move faster; if it wanted to hurt me, it would've tried already. So I stopped looking over my shoulder and focused instead on where I was putting my feet. Let the drifblim do what it wanted.
The hike wasn't bad. I'd expected the trail to be a slick mess, but the ground held firm beneath me, undisturbed by foot traffic, even where the snow had thawed to mud. I couldn't believe the stillness, a level beyond the muffling effect of the snow. It had been months since I'd been out of earshot of traffic noise. The sun was only a fuzzy halo through gauzy clouds, but walking kept me warm and sweating under my borrowed coat: the cold couldn't touch me.
Luci bounded at my side, scattering snow each time she leapt at a starly. She wasn't quick enough to catch them, but … I hadn't noticed until then how big she was getting. Maybe even close to evolving. I wasn't sure what I'd do if that happened. A litten in a studio apartment was one thing, but a torracat? When the snow began to soak into Luci's fur and she refused to walk farther, I was almost relieved to recall her, even though it was too quiet afterward.
"Just you and me," I called over my shoulder to Bonapisa. "Best friends."
I made camp well before sundown, just in case: I hadn't pitched a tent in a long time. When the campfire was crackling, Luci curled on a tarp at my feet, I finally took out Cass's letter. I weighed the envelope in my hands, trying to guess how many pages might be inside. With a deep breath, I slid my finger along the flap and opened it.
Dear Jenna
, the letter began,
You probably weren't expecting to hear from me. I hope—
The letter whipped out of my hands before I registered the whistle of wind. I leapt up and grabbed wildly, but my fingers closed on nothing. The sheet of paper spiraled up and up, pale and luminous against the twilight sky, before tumbling back down.
Hissing and cursing, I dove for the letter. I nearly had it when a second, smaller gust swept the paper out from under my fingers and sent it skittering into the mud. With a cry of frustration, I made a running snatch at the letter—and promptly slid off my feet. Cold seeped through my pants, but I had the letter, spotted with muddy fingerprints but otherwise dry.
As I climbed to my feet, I caught sight of Bonapisa. I'd never seen it come so close. Luci had skittered off the tarp to face it, her hackles raised. The drifblim's sides heaved in and out, each gust rippling the fire.
Rage surged through me so suddenly that for a moment I couldn't speak. "What is
wrong
with you!" I screamed.
The drifblim hovered in place, pulsating. At this distance, I could see its veins, the sucking flap of its mouth like a tear across its body.
My stomach churned with revulsion and anger. "What do you
want
?!"
I stepped forward, and Bonapisa finally drew back, arms pumping. "Don't you get it? You're too late!"
Whether because of my shout or simply because its retreat made it look like prey, Luci finally pounced. She missed—Bonapisa easily rose up and out of reach—but it was enough to drive the drifblim out of the circle of firelight.
"Where were you when she actually needed you?" I shouted at Bonapisa's receding form. I didn't care what I was saying or whether the drifblim understood. "It was your job to protect her!"
The drifblim vanished into the shadows, and there there was only a low, nearly human moan through the trees. Then even that was gone.
Puffing for breath, I clutched Cass's letter to my chest in one hand and leaned forward with the other on my knee. I couldn't hear anything but my own breathing.
Until Luci growled. She batted at something on the ground, and that was when I noticed the sound like dry leaves. Or an ekans rattle.
Maybe Luci hadn't been attacking Bonapisa at all.
She swatted again, and I cried, "No, Lu, get back! Don't touch it! Use fire!"
The ekans' head snapped forward, but I didn't see whether its fangs connected. Then a burst of fire swallowed it up. Within the flames, the snake was a pretzeling, writhing silhouette for an instant before it flung itself out, away from us and into the night.
Luci switched her tail and turned her nose up.
"Let me see. Did it get you?"
She didn't give me much of a chance to inspect her paws before she sprang away to perch atop the rock where I'd been sitting. With a brief pause to skewer me with a glare, she set about grooming her fur.
"Yeah, you're fine." I let out a breath. "That was lucky."
It wasn't luck, though: it was Bonapisa. She had noticed the ekans first and taken action. A snake was the last thing I'd thought to worry about on the icy trail. Maybe it had been the heat of the campfire that had brought it out, or maybe I'd accidentally disturbed its resting spot when I made camp. Either way, if I'd stayed where I'd been sitting …. I shivered, even though the fire was already drying my muddy pants to a hard crust.
I tucked Cass's letter into my backpack, flat between my sketchbook and the box containing her ashes, and decided to save it for a better moment. I couldn't risk losing it out here.
Later, tucked in my sleeping bag with the flashlight, I reached again for the letter, knowing I should read it now before something else happened to it. But I couldn't make myself slide it from the envelope. I'd never get to read it for the first time again, never be able to un-know what it said, and then that would be it. There would never be new words from her ever again.
As I waited for sleep to take me, I heard the wind in the trees ... but if that was Bonapisa, it was the only sign of her presence.
I didn't catch sight of her again the next day or the day after. I felt bad for yelling at her, but I decided it was probably for the best that she'd gone her own way. Before long, I'd be back on a plane to Alola, and Bonapisa was just one more ghost I'd be leaving behind.
—
With Luci tucked against my chest, her legs thrown over my arm, I kept as warm as I'd ever been in our apartment above the malasada shop. But that didn't mean sleep came easily. I was out of practice sleeping on hard ground; even during my brief tour of Alola, I'd camped on sand as often as not. If I didn't wake up to change positions, then Luci woke me instead, yowling to be let out of the tent, then to be let back in, and then just to be petted.
The night before I expected to arrive at Lake Valor, I woke to yipping and howling outside. Lights flickered through the tent wall. Even half-asleep, I knew what it was: at the Pastoria pokecenter, the man at the desk had warned me about a pack of wild houndour prowling the area.
Normally, their numbers stayed small, but a while back, some idiot had illegally released a houndoom; like a warlord calling bannermen, it had drawn together several smaller bands of dogs from across south Sinnoh. By the light of day, the news hadn't worried me. I'd camped before in rockruff and growlithe territory and had never been bothered. This time, though, Luci was outside the tent by herself.
Throwing on my coat and boots, I grabbed Luci's ball, and scrambled out.
I knew by their growls that the pack was close, even before I picked out the yellow eyes in a semi-circle around the tent, at least ten pairs. The houndoom hung behind the others. Most of its shape was lost to shadow, but the gleam of bone and horn under the half-moon revealed how large it was—its shoulder would be level with my chest, and it was at least four times the size of my litten. I couldn't make Luci out at all until the houndoom tipped its head back and spat fire. Even with her fur on end and her paws spread wide, she looked terribly small.
I wasn't sure if recalling her would diffuse the situation or if the pack would take it as a sign of weakness, an excuse to attack. There were so many. If more than one of them came at her, I might not be able to catch her in the recall beam. So far, they'd held off, and that made me optimistic about keeping her out. I decided to try something else.
"Hey!" I shouted at the top of my lungs, stretching my arms wide to appear taller. "Go away!"
The houndoom snarled, its teeth backlit with smoky orange.
Luci hissed and arched her back, inspiring a fresh wave of growls from the pack.
Maybe not, then.
"Come on, Luci," I said softly, taking a step away. My palms were sweating despite the cold. "Let's go."
For a moment, I was afraid she was going to ignore me and do something stupid: she swished her tail like she did when she was about to breathe fire. But she finally took one delicate step back—
In a blur from the left, one of the houndour lunged at her. I recalled Luci a split-second before the houndour's teeth would've closed on her neck. Instead, the houndour bit the air and stumbled. It whipped around to glare at me, growling. The pack crept forward.
I nearly choked on dread as I scanned the ground for a large rock or branch—anything.
A wind rose, first a moan and then a howl. Flying ice and dirt hissed against the tent and the hood of my coat. One of the smaller houndour tumbled onto its side like it had been pushed over. The houndoom turned its face out of the wind, ears flattened to its head.
And then something lifted me up by the armpits. My hands flew up to grab whatever had grabbed me, and my fingers met with flesh: suede-soft, stretchy, and clammy with cold. I tipped my head back and found myself staring up into the drifblim's cavernous body. By then, my feet had already left the ground.
Panic ripped through me. I kicked my legs, but Bonapisa held on tight. We continued to rise. Below, the tent shrank to the size of a photo frame and then a matchbook; I dug my fingers into the drifblim's arms in fear that she
would
let me go. Her grip held firm, though, surprisingly gentle.
Bit by bit, my pulse slowed, my shoulders went slack, and I gave in at last to weightlessness. What else could I do?
The houndoom's pack howled, but the sound was tinny and faint. I couldn't tell how long they paced and circled beneath us, but my fear had evaporated. It felt like watching a campsite that belonged to another girl from another time. Eventually, they slunk off down the hill, and even their cries faded away.
As the dawn's first blush spread from the horizon, Bonapisa began to lower us back down. To the right, Lake Valor was a patch of lingering night, indigo blue among the pink trees. Even as the lake sank out of sight behind the pines, my heart lifted. It wasn't much further now.
Bonapisa set me down lightly enough that I landed like a dancer. I barely felt her slide her arms away. By the time I looked around for her, she'd already withdrawn to a safe distance, half turned towards the trees.
"Bonapisa …." I trailed off, unsure of what to say.
At the sound of her name, the drifblim soundlessly waved all four arms.
I croaked, "I'm sorry. I shouldn't have yelled at you. I'm sure you … you must miss her too, right?"
She inched closer, puttering like a box fan.
"You understand everything, don't you."
When she stopped, she was nearly close enough to touch, but I didn't try. Instead, I tipped my face towards the rising sun; from down on the ground, it was only a line of fuchsia seeping between dark trees. There was no point in going back to sleep now. "Think we can beat the sun?"
Bonapisa hovered nearby while I broke down the tent and stuffed it all back into my bag, arranging the box of Cass's ashes on top. That's all that was left: five pounds of dust. And a drifblim. I sat back on my heels and caught Bonapisa's unblinking gaze. "Well, this is it," I told her. She only bobbed in place until I took my first step towards the trees, and then she drifted after.
My backpack was no lighter than before, but I hardly felt its weight. I moved with the lightness of a dream. The starlies were quieter that morning, as if someone had turned the volume down. Bonapisa, I noticed for the first time, wooshed softly as she moved through the air, off-beat from my breathing but maybe not so different. I found myself humming along to her rhythm. I was a few bars in when I realized where it was from:
the moon with its brightness, the snow with its whiteness, the wind with swiftness along its path
….
Sure, Arceus
, I decided,
you can come along, too. You can all come
.
The lake appeared like a magic trick, one moment hidden behind the weave of branches and the next laid open, luminous. The sight gave me a burst of energy; within minutes, I stood where water lapped at the muddy ledge, out of breath but smiling.
When I turned, Bonapisa was already at my side, her arms swaying. "Thank you. I wouldn't have made it here without you."
She glided towards the lakeshore—expectantly, I thought.
"You're right. We have a job to do."
I shrugged off my backpack, knelt beside it at the water's edge, and pulled the box of ashes into my lap. It could have just as easily been a box of tea or soap or any other small, ordinary thing except for the infinity symbol sealing it shut.
Cass's family would've had a prayer for this moment. The priests had whispered and chanted over me before I'd left Hearthome, but now I couldn't remember a single word they'd said.
Of course, they would also start by chasing off Bonapisa. That showed what they knew.
"I still don't really know how to pray," I said down to the box. "I hope you're not too disappointed. So I guess all that's left to say is … goodbye."
The words hung in the air for a few moments before I reached into my bag for my palette knife and sliced through the seal. Inside was a thick plastic bag of gray powder. It reminded me of dry paint pigment, except that it had no color at all. With some effort, I managed to stab through the plastic and pull open a hole the size of my fist. But I balked at the thought of putting a hand in: it felt too casual, like reaching into a bowl of popcorn. There was no one for miles to see or care, but still. I couldn't do it.
I didn't realize that Bonapisa had crept closer until there came a sound like a sharp intake of breath right next to me. And then, with wind rattling in the dry branches, she swept forward.
If you had asked me before that morning how it would feel for a ghost to pass through you, I would've guessed cold. Goosebumps. Nausea. Maybe for another ghost at another time, those things would've been true. But Bonapisa broke over me like a memory. I smelled airport carpet and church dust, and I could almost,
almost
swear I heard Cass's laughter. Then, in slow motion, the bag tipped out of my hands, and its contents sprayed out into the water.
Lightheaded, I tumbled backward onto my elbows. Bonapisa scudded out across the water, spreading ashes with each flick of her arms. The wind sang over stone and through the trees. Part of me wanted to sing along, and another part wanted to laugh: the Arceans should have just sent Bonapisa from the beginning.
I wondered suddenly if Bonapisa would come with me if I asked. I didn't know what I'd do with a drifblim—I certainly couldn't keep her indoors—but we could figure that out later. It could be worth a try.
For a while, I watched her glide back and forth. The lake was so clear that there appeared to be two Bonapisas, one above and one below. The water mirrored trees and a sky whose color I couldn't quite name. Maybe someday I'd meet Cass again, there in that other world. What would we say to each other?
Heart trilling, I remembered the letter. If this wasn't the right time for Cass's words, then what would be?
I took up the letter with trembling fingers and smoothed the paper out on my lap. Then with a deep breath, I read.
Dear Jenna,

You probably weren't expecting to hear from me. I hope it's okay that I'm writing to you now. I should've done it sooner, and I'm sorry. I'm sorry for all of it.

That night on the porch swing … I was scared. That sounds so stupid now. That doesn't make it okay and it's not an excuse, but it's the truth. I wish I'd been as brave as you then, that I could take back what I said or that I'd said something after, but I think I'm learning now. I'm finally figuring out who I am.

I don't want to be small anymore. I want to be exactly what Arceus created me to be, even if that doesn't look like the life everyone else has or the life my parents think I should have. I don't know what I'll tell them. I love them, but they aren't going to change, and I guess I'm not either. Lord knows I've tried.

I'm explaining everything all wrong.

What I'm really trying to say is … I'll be home for Solstice, and it would mean a lot to me if we could meet up and talk. Or maybe I could visit you! You probably don't want to deal with the cold and all the holiday stuff. But I think it would be easier to explain how I feel in person.

And if you don't want to see me ever again … I wouldn't blame you. Even if you don't want to meet, I feel better knowing that I tried to tell you … that I miss you and still think about you all the time. That I remember the porch swing.

I hope you're kicking butt out there, wherever you are.

Always,

Cass
The words ran blurry with my tears, and I had to stop reading to dry my face before I could continue. I read her letter a second time, then a third, and an image leapt to my mind: Cass scampering down the slopes of Mt. Coronet with her scarf flapping behind her, quick-footed because she had to get home in time for Solstice, because there might be a letter from Alola waiting. And maybe that was why her feet had slipped on that treacherous path.
It wasn't
fair
. One more week, just one, and she would've been home, wanting to talk to me. We could've …. I didn't even know what. No one would ever know now.
I crushed the letter to my chest, desperately wishing it would've made it to me in Alola. But would it have mattered? I could have agreed to meet and talk, could have apologized or made demands or promised any number of things, and she still might have tumbled off the path on her way to meet me. I couldn't undo what had already happened.
As I moved to wipe my nose on my sleeve, I realized with a start that Bonapisa had drifted up above the trees on the other side of the lake. Scrambling to my feet, I called, "Bonapisa! Wait!"
She slowed and half-turned toward me … but she didn't stop.
I watched her go until the tears ran too thickly for me to make out her shrinking shape, and then I sank to the black dirt. I howled and sobbed like I hadn't allowed myself to in the church, like it was Cass herself who had flown away. Then, at last, I was too wrung out to do anything but lay listening to the forest wake up.
When I finally sat up, the lake surface was still, not even the reflection of a cloud cutting through the blue. The ashes had completely dissolved into the reflected sky. Gone, forever.
Bonapisa was never going to belong to me, I realized. Like Cass, she deserved to be free.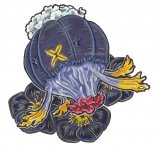 More like this on
Tumblr
and
Instagram
.
Last edited: