the cat is mightier than the pen
Staff
Partners
Haru has always done things right: won eight badges, landed his dream internship. But when the time comes to wrap up his pokemon journey, right and wrong aren't so clear anymore. And duty pushes him down a dangerous path . . . [COMPLETE].
Otherwise known as
: boy has religious revelation at worst possible time.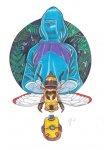 (lovely artwork by @OldschoolJohto!)



Chapter One - The Choice
​
The lights inside the ranger's station burned a pale white. Haru Watanabe paused in the entryway, drawing in a deep breath of filtered air. A dark, aromatic scent wafted towards him. The ranger on duty was making tea.

Haru approached the desk slowly, his heavy, waterproofed boots thudding against the floor.

"Morning," the ranger said, a slight yawn muffling her words. It was seven minutes past six. Outside, Route 119 was still dark and gray, the road winding through the reeds like the dark back of a seviper. "Early starter, huh?"

"The route gets too crowded mid-day," Haru replied. His voice came out low, but to his relief, it was steady.

"Returning traveler?"

"That's right." Haru held out his trainer's license.

"Eight badges, huh," she said, peering at her monitor. "Congrats. Your Class B expires this month, though. If you want to file for a Class A, the window's almost over," she added helpfully.

Haru shook his head. "I'm not going pro. I'm starting a research internship in a couple of weeks, actually."

"Really? What's your field?"

"Ecology. With a focus on micro-climates."

Now he had her attention. She looked up from the monitor, her orange bob swinging.

"That's my focus too! Micro-climates and the despeciation problem. It's why I took a ranger job here, to get some local experience before I apply to the Weather Institute's patrol team. What lab are you going to be working at?"

Haru swallowed. He hadn't been expecting questions. "Station 111—by the desert ruins. Mirage Tower, if you know it."

"Wow, yeah, that's one intense area," she said with a grin. "All those fossils. So what brings you out to this neck of the woods?"

His stomach lurched. But somehow he found a smile, broad and overly bright. "You know. The micro-climates."

The ranger's laugh echoed tinnily off the station's metal walls. "Getting your fill of rainy weather before heading off to the desert?"

"Something like that, yeah."

A lull fell as she logged his information. Haru's foot began to tap against the ground. This had never seemed to take so long before.

"Haru," the ranger said suddenly, her eyes still fixed on the monitor. His stomach somersaulted. "That's an unusual name. It's pretty."

Pretty? His name was common. He'd been the fourth Haru in his cohort growing up in Ecruteak. The other kids had called him "Caterpie" for his unusually wide eyes, probably inherited from the Kalosian relation his family never talked about.

"Thanks," Haru said, before the silence became awkward. "It's a traditional name in Johto—means clear day."

"Well, we could use some of that here," the ranger joked. "Maybe you'll be our good luck charm. I miss the sun out here. Oh, and I'm Feng."

"Feng. Nice to meet you. Maybe we'll see each other at a conference."

"Let's count on it," she said with a wink. She handed him back his trainer's license, and his hand clenched around it tightly. "Let me see—weather is pretty much the usual, though we're expecting some serious thunderstorms starting mid-afternoon and running until late evening. Currently a ban on kecleon capture, until mating season ends. And I know you've heard this a hundred times, but bear with me. Poaching and dumping are national crimes under the Hoenn Revised Code, Section Eleven, Chapter Five. I'll need a verbal affirmation that you understand the law—"

"Yes," Haru said quickly, his heart suddenly thunder.

But the ranger didn't seem to hear. She continued, "Everything else you already know, but keep safe, and don't feel ashamed to use your emergency signal if you need to. Shit happens to the best of us."

Haru nodded, returned his license to his pocket, and stepped outside. The difference in atmosphere hit him instantly, the filtered air of the station giving way for the moist, heavy murk of Route 119. It was drizzling lightly, so Haru flipped up the hood of his raincoat. Methodically, he checked that his possessions were secure, making sure to place his pokedex in a rainproof case. He'd learned that lesson the hard way, when a sudden downpour had put the device out of commission. These preparations done, he stood still on the path, tasting the mist on his mouth and letting the pounding of his heart calm.

So what if the routine check had gone on longer than he'd have liked. It wasn't anything to be concerned about. She'd remember him as just another trainer, enjoying the route one last time, before his traveling days were over.

One last journey. One final obligation.

His hand clenched involuntarily around the single pokeball on his belt.



Haru set off at a brisk pace. There were roughly six miles to cover, and he had hoped to travel the bulk of the distance on the path, before the route became busy with trainers. Once he went off road, the going would be much slower.

His mind wandered as he walked. First, to an essay he'd written in elementary school. It had won second-place in some meaningless competition and his mother had framed it on the mantel. The opening lines of the essay, written in his childish prose, looped insistently in his head. "Everyone always complains about the rules. But are rules bad?"

His thoughts turned to his sister, Erika. She'd received a promotion at her agency and had been completely off-the-wall ecstatic when she'd called him last night, alternating between boasting and chiding. "Just imagine where you'd be if you'd taken a job earlier. Experience counts, you know. Starting so late, you're going to see a salary drop of at least twenty-five percent compared to your peers. Maybe more." He couldn't have gotten a word in edgewise even if he'd wanted to. So he'd listened and nodded, while his decision sat like a stone in his stomach.

And every swirl and eddy of thought brought him back to that warm Evergrande night. It had only been a week ago, but it might as well have been a year. He'd ducked into an after-party at his friend's hotel suite, but the stuffy air and sour smell of beer hadn't felt like celebration—nor had it felt appropriate for loss.

His team had made it past the league's three qualifying stages and lost in the first round. In three weeks, his trainer's license would expire for good. His head still pounding from the party, he'd wandered down to the training grounds, where it was quiet. Even the most committed trainers were celebrating their victories that night; the losers were making the most of their defeats.

He'd arranged the last kindling from his backpack, doused it with starter, and lit a bonfire.

"So," he had said, his voice sounding small in the deserted training grounds, "I guess this is it."

The fire crackled, reflected in his pokemon's eyes—six pairs, so different, staring expectantly back at him.

In three weeks he would have to part with all but two of them. Nya-Nya, his delcatty, was considered a category three pokemon—permissible for recreational ownership. Damascus, his cradily, could also stay with him, or at least, near him. The Mirage Tower Laboratory had a special license for fossil pokemon.

As for the rest—it was the Placement Center or the Daycare. He'd tried to explain as clearly as he could. If they went to the Placement Center, they could continue to battle. An opening would be found for them on a professional trainer's team. Haru would be notified, of course. He promised he would watch every battle they competed in.

Aporea, his breloom, had raised her head at that. She was a fighter—more of a fighter than Haru had ever been. He'd won his eight badges by dint of hard work, good strategy, and a fair bit of luck. The badges had been a useful accomplishment to point at whenever his parents complained that his future would be better served by quitting training and entering the workforce, but they had never been a passion. Aporea would do well with a professional trainer, someone who could bring out her full potential.

Perched on Aporea's head, Quannuk had slowly raised a wing and let out a short, piercing call.

"You too?" Haru had asked, looking his pelipper over. He'd never known why she had followed him from the beach as a young wingull, staying even after he'd shown her that he was out of bread crumbs. He met her impassive eyes, with their bisected blacks, and held back a shiver. There were some answers he'd never learn now.

"There's also the National Daycare," he told them. "It'll be a quieter life. A chance to raise a family, though—" He'd faltered as his tropius stirred, a questioning look on her face. "Your children may go to starting trainers, I think."

His probopass made a muffled, craggy sound, that Haru had long ago decided to interpret as a chuckle. "I guess that's not a problem for you, huh?" he said and Crado had bobbed up and down in evident approval.

"Stop me if I have this wrong," Haru said to the night. "Aporea, Quannuk, you want to keep on battling. Crado, you'd prefer the daycare. What about you, Heconilia?"

The silence stretched out until it was unbearably thin. Shouts and muted laughter rose from the Evergrande after-parties in the surrounding hotels. He held the tropius' amber gaze until the campfire smoke made his eyes sting and water.

"It's one or the other, you know, that's the law." He should have started this conversation earlier. The days suddenly felt so short. "You have to make a choice."

But Heconilia had let out a long trill and shook her head rapidly, until a single crescent fruit fell from around her neck with a dense thud. She nudged it towards him with her green crown. Underneath, her eyes were impossibly trusting.

I want to go back home.

The smoke burned at his eyes and he rubbed them. The only one with a choice to make was him . . .
​
Haru sucked in a breath of moist, clean air and found his feet slowing.

The ranger's words echoed in his mind. Poaching and dumping are national crimes under the Hoenn Revised Code, Section Eleven, Chapter Five.

Haru understood the purpose of the law better than most people. Letting loose trained pokemon disrupted the ecological balance. Turf battles took place, habitats shifted, and the end result was the encroachment of pokemon on human lands—wurmple devastating harvests and zubat swarming radio towers. The rules were there for a reason.

He didn't need to risk this. He could still turn around, tell the ranger he had a pokemon to place and leave it to the system. He could walk away now with his prospects still intact.

If his parents had any idea what he was contemplating . . . he could see the apoplectic red rising on his father's face and the way his mother's eyes would harden into tight black coals. They hadn't uprooted themselves to Hoenn to see him throw away his future. An internship at the Mirage Desert Station. If he worked hard and kept his head down, they would take him on as a lab technician. After three years, hopefully no more than five, he would begin to conduct his own experiments. One solid breakthrough, one strong paper, and he could lead his own team of researchers. That had always been his dream.

Haru's hand crept to the feather pendant around his neck. Ho-Oh's charm.

"Help me, ancestors," he whispered.

The rain picked up around him, a slow, light patter that made the air into a continuous murmur. Through the fall of the water, he thought he could hear an aged, rasping voice. His grandmother's voice. He closed his eyes, straining to pick out her words from the rainfall.

Then Ho-Oh beheld the mighty deeds these three spirits had rendered him;

And he was pleased and spake, Loyal servants, your service has been good;

Then Raikou went up to the Heavens, where he dwelled close to the life-bringer;

Entei entered the heart of a great mountain, for he was tired and sought rest;

But Suicune ran along the white caps of the waves and, like unbidden wind, she was free.​
Free.

The final word hung in the air like a judgment.

He was back in her reading room, perched attentively on his knees as Grandmother recited from the Golden Book. The tapestries on the wall were threadbare, but brilliant. Every spring Grandmother laid them out and worked them carefully with a clean white towel. There was something magical about the process, Haru had always thought. Grandmother labored with a quiet, intense concentration, as if history itself would topple if the dyes chanced to blur.

How many times had he heard Grandmother recite that same verse? But the words took on a new, graver meaning now. Ho-oh had granted freedom to his most able servants. If Heconilia undertook Suicune's choice, Haru had no right to refuse her.

A particularly large droplet of rain fell and burst on Haru's closed eyelid. He opened his eyes, blinking through the wetness.



If he ever tried to explain this

to Erika, she would probably laugh. "So logical," she would say, shaking her head, "right up until you aren't. Superstition gets you every time, little brother."

But she had never liked to listen when Grandmother told the old stories. She had never paid attention while Grandmother explained the duty that still bound them, as descendants of the ancient priestly order. She had never cared to take in the magic of the old tapestries, renewed with every season, woven dense with obligation.

Haru tightened the hood of his slicker as the rain intensified. He unlatched Heconilia's pokeball from his belt and held it for a moment, the surface growing slippery from the rainwater.

No, there was no choice here—only duty.

With his other hand, he pulled out his nav. "Open area map."

On his screen, the geocached marker where he'd originally captured Heconilia glowed a bright green. It was less than a mile off now to his left, far into the canopy that rose up from the road.

Haru double-checked that the waterproof coverings over his legs left no gaps and glanced at the screen of his nav, glowing like a beacon in the gloom. 9am. The day was coming on quickly. Soon, the road would be swarming.

He needed to stop wasting time.

Haru pushed off into the wet undergrowth, which rose to his shoulders. Taller trees formed a dark canopy above his head. Only scattered streaks of the gray morning light passed through. The rain was falling more heavily now. Water pooled in the imprints his boots left on the road.

As the rain poured down, the mud bubbled up and ran, until even those traces were gone.
Last edited: