Il faut cultiver notre jardin
Partners
So, this was originally intended to be a 'short' in my Sword n' Shield Shorts collection, but it got a little out of hand...
Mild violence, reference to death, reference to drugs
Also contains spoilers for Pokemon Sword/Shield, I guess.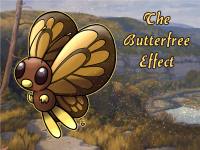 Thanks to Cresselia92 for the banner!
The Butterfree Effect
"Good morning, everyone!" Gloria said, emerging from her tent. Her Pokemon had gotten up earlier than her and were now scattered around the campsite. Inteleon casually leaned against a nearby tree, juggling a coin in the air with repeated squirts of water. Orbeetle quietly meditated in the center of the clearing. Corvisquire perched on a high branch, preening aloofly. Everyone seemed content, except...
"And how are my favorite fossil buddies doing today?" Gloria asked, smiling cheerfully.
Actozolt was chattering uncontrollably, desperately trying to scoop the ashes of last night's fire onto their yellow upper body with their tiny forelimbs. Dracovish had their head jammed in a shallow hole filled with brackish water, occasionally emitting a series of harsh coughs that were audible even underwater. Both of them took a moment to scowl in Gloria's direction before returning to their pathetic tasks.
"Great! I'm glad everyone's doing well! Now, let's pack up camp and get ready for another exciting day-"
WHOOOMPH! Air rushed aside as a small, onion-headed green fairy-like creature teleported into the campgrounds.
Gloria gasped. "Are you
Celebi!
? The
time travel
Pokemon? What are you doing here?"
Celebi floated before her, frowning sternly. "Gloria of Postwick! I have arrived to punish you for your crimes against nature!"
"Eh?
What
crimes against nature?"
"
Those
!" Celebi said, gesturing at the hapless Arctozolt and Dracovish, who both seemed to have taken notice of the sudden newcomer, the latter holding their breath to get a look. "You and that Cara Liss' meddling with the natural order has created beings existing in a state of constant suffering! And which look
utterly ridiculous
, besides!"
"They might look a bit odd, but they're hardly 'constantly suffering'! You guys
love
your bodies, right?" Gloria asked, turning to the pair. Both Pokemon immediately shook their heads with more vigor than anything they'd ever done before.
"I think that settles that matter," Celebi said. "Now, as for your punishment-"
"Oh, come on!" Gloria protested. "It wasn't like Cara Liss and I were just slapping fossils together randomly! We were using the best scientific evidence available to determine what parts went with each other!"
Celebi scoffed audibly. "
Sure
you were. Let's see who's
really
right, shall we?" The forest fairy floated towards Gloria, who began to scoot backwards.
"Wha- what do you mean?" she stammered. All of her Pokemon were backing away from Celebi, too, as a strange psychic static began to fill the air around the being.
With a sudden burst of speed, Celebi lunged through the air and grabbed onto Gloria's arm. "Gloria of Postwick, for your crimes against nature I hereby
banish you to the distant past
!" Celebi yelled, and then Gloria felt a horrible lurching sensation as the duo were wrenched out of the proper flow of time. For what seemed like an endless duration, the two fell through a tunnel of psychedelic pulsating colors, before finally materializing onto a beach of coarse-grained sand.
"Urghhh..." Gloria slowly got to her feet. "Where-
when
are we?" she asked, looking around. Behind her, the sandy beach abruptly transitioned into a thick jungle, composed out of massive tree-like ferns and plants that resembled giant horsetails. A stiff breeze was blowing off the blue-green sea, but even so it felt almost unbearably hot, and Gloria quickly shucked off her grey sweater.
"You're in the late tritaceourassic period, on the western shore of a nameless super-continent! I've brought you here so you can see what the Pokemon of the past
really
looked like!" Celebi announced, hovering next to her.
"You mean,
exactly like how I recreated them
?" Gloria said, pointing at a Pokemon that was unmistakably a Dracovish sticking its head in the ocean further down the beach.
"Wait, that can't be-" Celebi started, flying closer to the creature to get a better look at it. Sure enough, it had the distinctive reptilian lower half terminating in a flat circle of flesh, with a big incongruous fish head emerging from its 'tail'. Celebi whirled back around to face Gloria. "Okay, wipe that smug grin off your face! All this means is that I must have accidentally pulled
your
Dracovish back to- Oh
come on!
" they protested as Gloria simply pointed at a
second
Dracovish further down the beach.
"See! I
told you
we were using scientific evidence to fit those fossils together!"
Celebi scowled. "Okay, fine! So you got lucky
once
! But I hardly expect that we'll find-" At that exact moment, a trio of Arctozolt emerged from the jungle, their yellow upper bird-bodies shivering uncontrollably even in the tropical heat as they plodded along. Both Gloria and Celebi simply stared and watched them walk past. "...okay, so I guess it
has
kind of been a while since I've been to this time period before..." Celebi admitted, rubbing the back of their neck.
A shadow passed over the duo, and Gloria glanced overhead and gasped. Flying above them, in an awkward, uneven fashion, was a creature bearing the membranous left wing of an Aerodactyl and the feathered right wing of an Archeops. Then, Gloria turned to see another strange Pokemon emerge from the jungle, which looked like a square-faced Bastiodon from the front, but had the upper half of a Tyrantrum emerging from its backside. The creature was simultaneously engaged in chewing up a fern with its Bastiodon half as the Tyrantrum part chowed down on a hunk of meat it was holding in its diminutive forelimbs.
"Incredible! Not only have Cara Liss and I been assembling our fossils
right
, everyone else has been assembling their fossils
wrong
!" Gloria declared. A Pokemon with the front half of a Kabutops emerging from the spiral shell of a Omastar dragged itself out of the sea with its twin scythes. "Look – those millions of deaths in the great Helix-Dome wars were all for
nothing
!" she cried. "Celebi, you have to take me back to the present so we can tell everyone!"
"I… uh, yeah, I guess I better should. Er, sorry about the little mix up there..." Celebi said woolooishly. "Just hold on to my hand, and-"
The Bastiodon-Tyrantrum hybrid's latter half suddenly took notice of the pair, and let out an earth-shaking bellow as it started to charge towards them. Gloria turned and stumbled back in surprise, feeling a slight crunch underneath her right heel. Luckily, the Bastiodon part of the beast seemed to have no interest in chasing after the pair, and swiftly dragged the Tyrantrum part back towards the fern plant it had been eating.
"Whoa, that was a close one! Gotta wonder how that thing ever manages to catch any prey, huh? I guess the Tyrantrum-are-scavengers theory was- why are you looking at me like that?" Gloria asked. Celebi was staring back at her with a look of abject terror, eyes widening in shock.
"What did you
do
!?" Celebi cried.
"What do you mean,
what did I do
? I didn't do anything!" Gloria protested.
"
WHAT DID YOU DO
!?" the grass fairy repeated, pointing at Gloria's right shoe. She frowned and examined it, finding a mangled butterfly of otherwise unexceptional appearance stuck to its bottom. "What, you mean this butterfly?" she asked.
"
Yes
, I mean that butterfly! Don't you know what you've done? Butterflies are temporal keystones! Even the slightest change to one's past can irreversibly alter the future timestream in completely unpredictable ways! You could've ruined
everything
!"
"Wait, really?" Gloria said, the severity of the situation beginning to dawn on her. "Then can't we just- I don't know, go back in time a minute or two and prevent me from stepping on it?"
"NO!" Celebi snapped. "You can't meet your own past self or it creates a paradox! The only thing we
can
do is go back to the present and
pray
that your little mistake hasn't totally
destroyed
the future!"
"If you knew something like this could've happened, then why did you risk sending me back here? Really, this is
your
mistake!"
"I didn't know butterflies even
existed
in the late tritaceourassic!" Celebi protested. "As I said, I haven't been to this era in a while, okay!? Arrrgghhh!" The fairy flew around in a huff, pulling at their antenna.
"Look, you said this only
might
have caused a problem, right? Let's just go to the future and see how bad it is before worrying about it!"
"Yes, fine, you're right! We should go before anything like this happens a
second
time!" Celebi said, and took hold of Gloria's shoulder. With another temporal wrench, the two returned to Gloria's campsite in present-day Galar. Everything looked almost exactly as it did the instant before the two left, down to the exact positioning of the rocks around the fire pit and the stunned expressions on the faces of Gloria's Pokemon.
"Well, this is pretty encouraging, right? Everything looks fine to me!" Gloria declared.
"So far, yes. But this doesn't mean we're out of the water yet. There could still be massive timeline changes that aren't readily apparent," Celebi replied, grim-faced.
"Seriously? Look, let me check my phone..." Gloria pulled her smartphone out of her pocket. She was in a region of the wild area that had cell service, and began to rapidly switch through various news and social media sites as Celebi looked over her shoulder. Nothing seemed unusual or out of place, and every news story from yesterday looked familiar, down to the exact wording as far as Gloria could remember.
"Hmm… well, I guess
maybe
we're safe," Celebi grudgingly admitted after the two checked to make sure Gloria's phone wasn't just loading cached pages. "Look, I'll go do some research on my own, and you can get on with your journey for now. But don't tell
anyone
about this, understand?" they growled.
"Don't tell who about what?" a voice called from behind. The two jerked around, having been so engaged in Gloria's phone that they hadn't noticed a young boy sneaking up on them. "And what Pokemon is that? I've never see one like that before!"
"Huh? Do you mean Celebi, Arctozolt, or Draco- whoa! What the heck is
wrong
with your Butterfree!" Gloria cried, taking note of the Pokemon hovering beside the young trainer. It was a Butterfree, but it looked mangled and flattened, as if it had been run over with a steam roller, and there were strange markings across its body reminiscent of Gloria's sneaker-prints.
"There's nothing wrong with my Butterfree!" the boy protested.
"Oh no. Oh no no no no..." Celebi moaned.
"Wait… don't tell me they're
supposed
to look like that!" Gloria hastily brought up a search for Butterfree on an online Pokedex. To her horror, the Pokemon depicted looked exactly like the poor creature flying before her. With growing dread, she brought up articles for Venomoth, Beautifly, Dustox, and Volcarona. Each and every one was mutilated in a similar fashion.
"All right, that's it!" Celebi declared. "Gloria of Postwick, for your crimes against nature, I hereby
banish you to the distant future!
"
"Hey, hold on a- aaaahhhhhhh!" Gloria screamed as Celebi grabbed her and she was hurled through the corridors of time for a third time that day. This time, she landed on a plain of blasted red rock that stretched in every direction without end. A wave of unbearable heat immediately assailed her, causing her to gasp in pain as the burning air rushed into her lungs. She looked around in a daze as her whole body began to sweat. ...was it just her, or did the sun look a bit larger than normal?
"Goodbye, Gloria," Celebi said, and vanished.
"Wha- hey! Celebi!" Gloria pleaded. Every breath hurt, and she found herself feeling short of air even as she began to hyperventilate. "This… isn't... funny…!" she managed to croak out, then collapsed to the ground. But Celebi didn't reappear. She was on her own. Her mind raced. There had to be
some
way out of this- there always had been before, no matter
what
danger she had faced in Galar's wild area! The terrain offered no shelter of any sort. Her Pokemon weren't with her. All she had was a few medicines in her bag, and-
Wait! Was it still- Yes! Gloria peeled the crushed butterfly off of her right shoe. Black clouds were starting to consume her vision, but Gloria found a max revive buried within her bag by touch, and immediately applied it to the dead butterfly. Ha-ha, yes! Now all she had to do was wait for the butterfly to revive, upon which it would send time echoes rippling backwards along the timeline to the incident in the late tritaceourassic period, which would then bounce
forwards
to the present, fixing the Butterfree crisis and retroactively preventing Celebi from sending her to the future!
Brilliant!
...Gloria waited. Nothing happened. Her scorched lungs failed, and darkness overtook her. Goodbye, world-
"Thank you for using
Dying In The Distant Future Simulator 3000
! If you enjoyed your experience, please remember to rate us a thousand out of a thousand hyperstars on Trillr!"
...wait,
what?
Gloria slowly got up as her vision returned. The burning heat was gone, she could breathe normally, and she wasn't even covered in sweat. Around her, the blasted red rock and blazing sun faded, replaced by a small black room covered in a grid of glowing green neon lines. A doorway soundlessly slid open. Bewildered, Gloria stepped through it and emerged into what appeared to be some sort of... shopping mall?
She was standing in a wide pavilion ringed by a number of gaudily colored neon-lit shops, most projecting holographic displays of various bizarre products, accompanied by scrolling characters in a variety of languages. Even the ones in Galish made little sense, though:
Omnimeth – Now gives 300% more cavities! DENTISTS LOVE IT! 'Real' 'Fruit' - It's
not
ironically high yield explosive! (OR is IT!?!!?!) Procyon and Clones Disintegration-Beam Injury Lawyers and Insurance (Liquid Disintegration-Beam Only).
Looking above her, Gloria saw a massive glass – well, probably some exotic hypermaterial – dome covering the plaza, with various vehicles and Pokemon zipping through the sky above.
"Oh, man, were you using a
death-sim
? All-in! Those things are
rippin'
!" Gloria was pulled out of her slack-jawed astonishment at her surroundings, and turned to the speaker, a – Seismitoad? – standing beside her. Gloria was pretty sure Seismitoad didn't have a massive speaker system cybernetically integrated into their chest – or have a color-changing mohawk emerging from their head – or speak Galish – or smell like cherry cheesecake – but she wasn't sure what else the creature could be.
"Um, yeah, rippin'… Hey, this might sound a little odd, but, do you, uh, know what year this is?" she asked.
For a second the Seismitoad looked confused, but then bellowed an almost deafeningly loud laugh. "I dee-ell ya! You're fizzing that ironic time-traveler thing, right?"
"Yes, I am definitely fizz- I mean,
doing
that. You know, like we say in the past era I'm definitely from."
"That's hyper, but rip-tip: Those socks dizzjy the shoes – cotton was extinct
way
before rubber was invented!" the Seismitoad said with an authoritative nod.
"Uh, right. So, about the year-"
"Three-thousand-one-hundred-nineteen, my innie! It's Rosememberance day, too!"
Well, at least she hadn't gone quite as far into the future as she had been into the past – assuming it was 3119
C.E.
, of course…
"Thanks. What's this Rose day, now?"
"Rosememberance day's the 'versary of that time in twenty-nineteen this all-in humie named Chairman Rose predicted a dynamax energy crisis one-k years later, and fizzed the Darkest Day to stop it! It was max-rippin' at the time, but it sure is max-hyper for us now! There were these two humies who were destined to defizz the Darkest-D, but one just vanished for some reason and the other was jailed for some rippin' crime! Lucky
that
happened!"
"Yeah, sounds, uh, rippin'! Wait, I mean all-in! That's the good one, right?" Gloria asked.
The Seismitoad made a facial expression which might have been grinning. "You dee-elled it! I gotta fizz off now, so enjoy the future, 'time-traveler'! Just 'member to stay away from the omnimeth!" they said, starting to walk away.
"Um, thanks-"
"Fizz
supermeth
instead!" the Seimitoad cried, and leaped into the air. A jetpack emerged from their back and they rocketed into the sky, soaring through an aperture in the dome above.
Gloria sighed. Now what was she going to do…? Looking around, she saw a small booth labeled 'INFO' – in the Galish holo-projected characters, at least. Shrugging, she strolled into it.
A mechanical arm equipped with an array of sinister-looking sharp instruments on the end emerged from the ceiling of the booth. "Please hold still and deactivate your nociception while the neural link engages," a pleasant voice intoned.
"No neural link! Manual mode! I'm doing the ironic time-traveler thing!" Gloria cried, frantically wrestling the arm away from her skull.
"...audio-visual-olfactory mode engaged. Please state your query." The mechanical arm retreated into the ceiling.
Gloria was about to ask if there was some sort of 'ironic time-traveler's guide to the future' available, then hesitated. There was actually something more pressing…
"Um, do Butterfree and similar Pokemon still look like they've been stepped on with a giant shoe?" she asked.
One wall of the booth changed to show a rotating 3-D model of a Butterfree. "Negatory. Butterfree returned to normal appearance following a time-echo event originating five point two three minutes ago." Indeed, the model appeared to be totally normal.
"Oh. So, can I go back to the present now...?"
"Affirmative. You are in the present."
"I mean, does any form of time travel exist that could return me to the year 2019? Um, C.E., that is?"
"You are not being a very original ironic time-traveler."
"Answer the question!" Gloria snapped.
"...Negatory."
"Come on, seriously? What about Celebi? Do they exist? I'm sure there must be some sort of robot clone of them by now or something!"
"You are still not being a very original ironic time-traveler. Consider asking about a lesser-known mythical time-altering being instead. Suggestions: Dialga, Chrononinetails-"
"So, is that a 'no', then?"
"Negatory Affirmed."
"Ugh, fine, whatever… I'd probably just screw things up again if I went back to the past, anyways..."
WHOOOMPH! The air inside the booth rushed outside as Celebi materialized in the space it had occupied.
"Hey, just wanted to say good job on fixing that Butterfree thing," they said.
"...Past disparagement retracted. You are being a
very
impressive ironic time-traveler," the voice said.
Gloria did a fist pump. "Celebi! Finally! Let's go home!"
"Um, no-can-do. No telling how long you'll live if I take you back – cryonics, nanotech, immortality-granting Ultimate Weapons, Ninetales tail-touch curses, et cetera – which means there's a slim but real chance you might live to this year and meet yourself, causing a paradox."
"Ugh, can't you just show up a few days before now and warp me in time to a little bit after now if that happens to avoid this?"
"Gloria, I can't even remember when butterflies lived, and they're super-important! There's no way I'd remember to do something like that! As I
said
, I was just coming here to give a quick little thank-you."
"I guess you have a point..." Gloria muttered. "Can you at least bring my Pokemon to the future with me?"
Celebi rolled their eyes. "Fine, if that's what you want. And
they
want, too! I'm pretty sure that Dracovish hates your guts..."
Nevertheless, Celebi shortly disappeared and came back with
all
of Gloria's Pokemon – the fossil 'mons bearing the hope that future technology would be able to fix their woes – before saying goodbye to her one last time and vanishing into the past.
And so Gloria and her Pokemon ended up living a very happy life in the year 3119, as well as a great number of years following that one. Future technology
did
vastly improve the lives of Arctozolt and Dracovish. She introduced the scientific methods Cara Liss taught her to the world of the future and became the most famous paleontologist in the solar system.
THE END
Last edited: