Title Screen, Info, and Navigation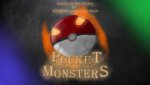 Taking the form of a series of television screenplays, Pocket Monsters chronicles the endeavors of several pokemon trainers and their pokemon partners, as they strive for the highest honor of all - a seat of glory in the Hall of Fame.
Beat – A pause in the flow of the scene.

Continuous – The weather/setting of the titled scene is exactly the same as whatever was in the last one.

Int. – Interior.

Ext. – Exterior.

Cont'd – This means that a character will continue speaking even after they break off from their original line of speech.

O.S. – The character is off-screen when speaking.

V.O. – The character is speaking, but not present in the scene.

CUT TO – go straight to the next scene.

SUPER – Text on screen.

CUT TO BLACK – The screen goes black. Usually signals the end.
Episode 1: Dreams
In Pallet Town, child enemies Red and Blue are recruited by the mysterious Professor Oak for a mission.
Episode 2: Reverberations
All on his own, Red tries to survive out in the wild. Team Rocket invades the nearby Mount Moon. Giovanni makes Dr. Fuji an offer...
Last edited: