Title Screen, Info, and Navigation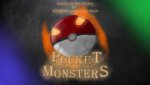 Pocket Monsters is a very weird fic of mine. One of my first attempts at writing a fanfiction of any kind was when I was thirteen and had had only watched the Pokemon Anime and a few game walkthroughs. I saw a tabloid report upon the possibility of a Detective Pikachu Movie (back in 2016 those were only rumors, and stayed that way for almost two years afterward), and then spent the next half hour watching mock-up pokemon movie trailers on youtube. I've always loved movies, and the thought wouldn't leave my head: What if there was a Pokemon Movie? A real one, not the silly things the anime did to showcase legendaries? I searched the internet for examples, but to no avail – it seemed I would have to fill the gap no-one else realized existed. And so naïve, thirteen-year-old me set out on a grand journey to write the first Pokemon Movie.

As I later figured out, however, Pokemon Red/Blue does not fit very well into a movie (Also, I was not a very good screenwriter – one of the earliest drafts looked like an awful attempt at computer-programming and had Ash as the main character). I put the project down for a couple of years, then came back to it in mid-2020 and fixed it up into its current version. Pocket Monsters is now a television script – or rather, a series of them. All of Pokemon Red/Blue has been adapted into the first """season""" of this. Depending on how these are received, I might try to cover other games in subsequent "seasons" too!
Beat – A pause in the flow of the scene.

Continuous – The weather/setting of the titled scene is exactly the same as whatever was in the last one.

Int. – Interior.

Ext. – Exterior.

Cont'd – This means that a character will continue speaking even after they break off from their original line of speech.

O.S. – The character is off-screen when speaking.

V.O. – The character is speaking, but not present in the scene.

CUT TO – go straight to the next scene.

SUPER – Text on screen.

CUT TO BLACK – The screen goes black. Usually signals the end.
Last edited: