Chapter 6
Satisfied, the lucario turned his attention to the aggressing mawile. "A-As for you… You don't have to worry about the sneasel – that is who you're looking for right – getting away.
Aw Anu, you widdle bundle of nerves, you.
"I see. Very well, considering the situation, I believe it fair to tell you what happened in our tribe. You see…" She paused, lowering her head slightly. "Almost two moons ago now, Nip left the tribe in a fit of anger. That in of itself is not a crime, even if it would have been frowned upon. However… before he left, he… he attacked our nursery, destroying several eggs in the process."
Hmm, I am sort of sceptical given what we know or don't know about Umbra so far, but that does seem in character for Nip.
Chapter 7
In hindsight, he could have just stolen meat from the mandibuzz and cubone; he would have had enough time, even factoring in the longer walk there, and if they had caught him, he would have had the advantage against both of them.
Yup, probably should've thought that one through, Nip. Whoooooooooops.
Did eating an egg stolen from people that saved him out of the goodness of their heart make him a monster? If it did, could he live with that?

…

By the time he reached the fourth division, all that remained was a lingering sense of guilt, and littered pieces of shell that would be swept away by the dungeon winds.
Yes, I guess he could live with that.
He turned his head to stare Nip down with a glare that could penetrate the soul. "Don't expect me to stick out my neck when they come looking for you. If they hadn't already wronged me, I'd sell you out for a single oran berry."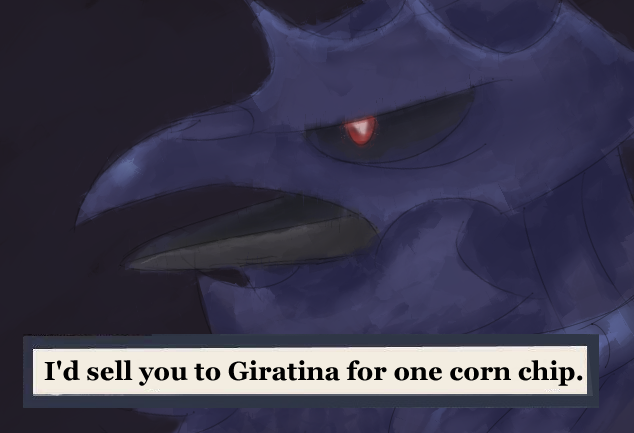 And yet, had he not given everything up for this? When he had left hom- when he had left his tribe in a fit of anger, he knew what he was getting into. He knew he was leaving the protection of many for a life alone, on the road, fending for no one but himself, but also with no one to stand up for him.

He always considered himself a loner; he never expected that he would actually miss the companionship of pokemon - or at least some pokemon - that cared.
Aww, so on top of being an egg thief and murderer, he's also a loner.
She would love to be back there, instead of halfway across the land chasing after a pokemon as ungrateful as nip.
Shouldn't Nip be capitalised here?
But as she closed her eyes and tried to put that… that… scavenging… egg stealing… cretin out of mind, a soft scratching at the - oh what did the kirlia call it, a door?
'That half witted... scruffy looking... nerf herder...' There's something about that phrase that seems a tad tsundere. Also, I find it amusing that Umbra doesn't know what a door is.
"Besides," he added, his voice rumbling with a purr, "I've always wondered what sneasel tastes like."
JESUS CHRIST, JHORLO! I mean, even eating other wild Pokemon is still considered quite taboo in this world, but this just seems like straight-up sapient cannibalism.
--
I don't have much to say about chapter 6 except that it served as a proper introduction of the Mawile that's been stalking our cast all this time. And what an introduction. The fight scene definitely didn't sugercoat how ruthless she is, and that also possibly sets things up for later, since she doesn't seem like a trustworthy figure at all. Aside from that, there wasn't much significant progression in the 'Finding Nipo' plot, and was wondering what the heck he was doing all that time. However, safe to say that was answered with the next chapter.
I really liked the more in-depth look into Nip's mindset. On top of having an interesting setting for a mystery dungeon (plus, Bruxi was a joy to read about), there was more introspection in this chapter. He's still rather alien compared to the rest of the cast, and he still makes a lot of rash decisions that will continue to haunt him throughout the fic, but he isn't just a mindless egg thief since he does reflect on his actions and seems to hate his situation. That inner passage with him missing the companionship of other Pokemon was great. It kind of occurred to me that Nip probably has a lot of things going on in his head he doesn't know how to process since most of his life has been about survival and his asceticism. Like the hunger for something else is there; he just doesn't realise it yet.
And also, WOW, JHORLO. I didn't expect that sort of ruthlessness from him, especially being Shimmer's Dad, and the fact that him and Umbra are teaming up together while Haru and co. are trying to see Nip's side of the story is not a good sign.