Notes and Table of Contents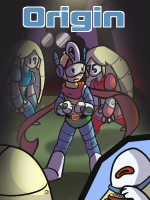 ​
Hitoshi Nakamura's life is about to get flipped on its head. While walking home from an average work day, he encounters an alien that gives him superpowers and grants him the title "Bravoman." And not a moment too soon, With villains beginning to rise in his sleepy hometown, he'll have to learn how to handle his powers fast, or be overwhelmed by evil.
Genre
: Action/Comedy
Rating
: G
Warnings
: Mild to moderate violence.
Note: There is a possiblity of mild blood in later chapters, but it's going to depend a bit on how things shake out
Feedback preferences:
I'm fine with any feedback presented! Though please keep in mind that I am not planning to have this fic series be as polished as some of my other works. Additionally, I am making an effort for the comic to be presentable to an audience unfamiliar with the source material (such is the suffering of tiny fandoms). Do let me know if anything within the story feels difficult to understand.
Author's notes:
Hi all! This is a side project I'm working on. Essentially, it's a series of short stories and novella length stories loosely adapting the Bravoman comic... except I wanted to give the characters more depth. I adore the comic, but I also adore reading dynamic characters too, and I decided to mash up the best of both worlds. This adaptation will be, in parts, darker than the source material, though I do intend it keep things fairly light-hearted. I hope you enjoy!
Please note: this project is very much just for fun. Updates will be sporadic.
Table of Contents
Chapter 1: Normal Guy, Normal Life
Chapter 2: Transformation by Mystic Light
Last edited: