Sword/Reflections From The Past To the Future (present time) OCs
New

Location
Pronouns

She/her
This is definitely going to get VERY long at some point when I put all my Sun pokemon ocs here, but for now I'm just going to put my Sword trainer and her team here ^W^
Alira Shinka, champion of Galar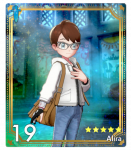 (Regular league card, may add rare one later)
Full name:
Alira Megan Lily Shinka (Never introduces herself with her full name, is embarrassed by her middle names)
Height:
6'0" (Taller than Hop by a few inches)
Age:
18
Birthday:
January 19th
Nicknames:
Alli(Said like "Alley")
Personality:
Shut-in would be an apt term for how Alira would be if she wasn't friends with Hop, as Alira's normally very quiet and keeps to herself, only joining the gym challenge because Hop did and she wanted to follow him, plus she wanted to see more of the Galar region.
She's polite and kind to a fault, mild-mannered to practically everyone, however... She very protective of her friends, to an unsettling and extreme degree at points; this namely been shown when she encountered Bede after his battle with Hop and she found out what he said to her best friend. She almost decked him, lifting him up by his jacket, and the darkness shown in her expression promised that if he did that again, he would not walk away unscathed again as she growled out that if he EVER said those things to Hop again, he wouldn't live long enough to regret it.
Due to events she hasn't yet told Hop that happened before she moved to the Galar region with her mother, she's got extreme abandonment issues and is terrified of Hop or her pokemon leaving her, she doesn't want to be alone again, resulting in her fiercely protective nature regarding them.
She's got some issues expressing her emotions at points, and as a result, she's got a signature half-smile she puts on when she's unsure of how to express what she's feeling.
Miscellaneous traits:
She fiddles with her hands, glasses or bag straps when nervous.
When nervous, she tends to stammer and stutter.
She hums to herself tunes she has on her phone at random intervals.
She's very touch starved so she jumps at the chance to get hugs from her pokemon or her best friend Hop.
She sometimes finds it hard to trust people, but when she does trust someone, they have it until they do something to break it(*side eyes chairman Rose*).
She's got a bad memory in regards to a few years of her life, namely the year before she moved to galar and then the immediate year after she moved to Galar, only recalling small or important snippets of both years.
She likely has a form of Autism, adhd and social anxiety, but hasn't ever had time to get diagnosed.
Team:
(From left to right(last team member wouldn't fit so she's below))(Base is by selenaede on Deviantart)
Nova the Cinderace(Starter)
Nature:
Rash
Level:
92
Ability:
Blaze
Held Item:
Scope Lens
Moveset:
Flame Charge
Low Sweep
Pyro Ball
Bounce
Ribbons:
Galar Champion ribbon
Best Friends ribbon
Relationship with rest of team members:
Nova gets along with most of the team fairly well, for the most part.
She minds her fire balls when Lily is around cause she doesn't want to set the grass type on fire and the Roserade appreciates it. Generally, the fire type and grass type get along.
Nova's not quite sure how she feels about Calethorne most of the time, as with how knightly he is she's often thrown off balance, but she likes how he keeps people from swarming her trainer and the two have mutual respect for each other and a friendly relationship.
Nova often butts heads with Widgyt, the fire type not quite liking how the boltund tries to mother her, but Widgyt doesn't take it too personally. Nova often teases the Boltund on how tiny she was when Alira first set out on the gym challenge, leading to a lot of embarrassed barking from Wdgyt and shriek-laughing from Nova as she runs from the dog pokemon.
Nova's got mixed feelings towards Shiro, sure he's kind and makes sure to not get her wet, but as he's a water type she does get nervous, though thankfully this is abated by the fact she's known him since he was a sobble.
Nova often sees Willowya as delicate and fragile, as in her opinion Willowya shouldn't be anywhere near a battle, but otherwise, Willowya's who she'd go to for advice for various things.
Lily the Roserade
Nature:
bashful
Level:
87
Ability:
Poison Point
Held Item:
none as of yet
Moveset:
Swift
Mega Drain
Leech Seed
Magical Leaf
Ribbons:
Galar Champion ribbon
Best Friends ribbon
Sleepy time-mark
How she met Alira:
A literal accident and Alira wandering into an area Nova wasn't quite high enough level to be tackling, they ran into Lily as a Roselia and after several close calls, they managed to catch Lily at level 15.
Relationship with rest of team members:
Lily's got a interesting relationship with most of her team members, one she's fallen head overheels for.
She and Nova get along fairly well, being two of the first three pokemon Alira ever had they know their trainer better than some of the team, but Lily does get nervous when Nova's kicking one of her fire balls around.
Calethorne is an interesting case, having helped catch him as she had to help corner him, she's nervous that her doing that has tainted his view of her, but she's otherwise polite to him.
She's unashamed to say she enjoys Widgyt mothering her, she had otherwise raised herself prior to being caught by Alira so she never had a proper mother, so she greatly enjoys it wheen Widgyt's fussing over her.
Shiro she greatly enjoys teasing the heck out of, granted he's big enough to kick her away now, she still skirts the line and laughs whenever she flusters him.
Oh my gosh WHY IS THIS ALCREMIE SO FREAKING ADORABLE AAAA-
To say Lily has a MAJOR crush on Willowya is a MASSIVE understatement. She absolutely adores the Alcremie to the moon and back and always gets all blushy around her.
Calethorne the Galade
Nature:
Serious
Level:
88
Ability:
Steadfast
Held Item:
none as of yet
Moveset:
Slash
False Swipe
Draining kiss
Hypnosis
Ribbons:
Galar Champion ribbon
Best Friends ribbon
How he met Alira:
Calethorne's first meeting with Alira was when he was a young ralts who was extremely skittish at the time, having been heavily wounded by a pangoro earlier that day, leading to her chasing him around and having Lily help corner him so she could catch the level 9 ralts with a heal ball to heal him.
Relationship with rest of team members:
He's got good relationships with most of the team for the most part.
Nova and Cale get along, both being fiercely protective of their trainer and not liking people swarming the poor girl when she's out and about.
Lily... Well, he's fairly neutral towards the Roserade. He's grateful that she helped catch him so Alira could get him patched up, but she did corner and terrify the living daylights out of him at the time, thankfully now he's bigger than her he's not as afraid of her anymore. He also finds her affection for Willowya cute.
Widgyt both amuses him and warms his heart, often thinking she'd make a good mother if she ever found anyone she loved enough to have children with, though he does get amused when she's trying to mother himself, Nova and Shiro who are very much taller and bigger than her.
Shiro he often treats a tad like a son, due to having known him as a young sobble at first, and is fond of the young inteleon.
Knight in shining armor is best how to describe him towards Willowya, she's delicate like a princess in a tower and he's like a knight in mannerisms, so he often protects her if she's in danger, but only sees her as a friend.
Widgyt the Boltund
Nature:
Relaxed
Level:
73
Ability:
Strong Jaw
Held Item:
Wise Glasses
Moveset:
Charge
Wild Charge
Nuzzle
Dig
Ribbons:
Galar Champion ribbon
Best Friends ribbon
How she met Alira:
She's actually known Alira since she moved to Galar, as her mother tamed the then Yamper Widgyt not long after moving to Galar, resulting in her name and taking her in as a unofficial pet pokemon. Not long after Alira got Nova as her starter and had a battle with Hop, Widgyt approached her and started yipping insistently, pawing up towards her bag and Leon noted to Alira that Widgyt seemed to want her to catch her, so Alira brought out a pokeball and caught the yamper.
Relationship with rest of team members:
She sees the majority of her teammates as her children, much to some of their annoyance.
She adores Nova, seeing her as a daughter due to knowing her since she was a teeny-tiny scorbunny.
She delights in the fact Lily indulges in her fussing over her and often cuddles the roserade.
She gets rather miffed when Calethorne laughs while she's trying to fuss over him, but still tries to take care of him.
She is fiercely protective of Shiro and does not put up with anyone trying to hurt him.
She's very concerned about how absent minded Willowya often is and keeps an eye out for the alcremie.
Shiro the Inteleon
Nature:
Quirky
Level:
90
Ability:
Torrent
Held Item:
Mystic Water
Moveset:
U-turn
Liquidation
Snipe Shot
Sucker Punch
Ribbons:
Galar Champion ribbon
Best Friends ribbon
How he met Alira:
She met him when he was being attacked by a swarm of Rookidee and Pidove, and was quick to rush to the then wild sobble's defense, her team doing their best to fend off the swarm as she quickly picked up the wounded sobble and making a break for it, team following close behind her.
After a while of running, she ran into Hop and he helped her treat the poor shaking sobble, her telling him what happened as the sobble slept in her arms, and Hop suggested she catch him if the pokemon was okay with it when he woke up. When he did wake up, he was very affectionate to his savior and let her catch him.
Relationship with rest of team members:
He's very trusting of his fellow teammates, but can be rather dense if he's being teased.
Nova he really, really likes, almost having a borderline crush on the Cinderace and often shields her from water moves if he's out in a double battle with her.
Lily he's unsure of how to react to, for the most part, she often flusters him with her offhand remarks he doesn't know how to respond to.
He sees Calethorne as a father figure and often goes to him for advice.
Much like with Cale, he sees Widgyt as a mother figure and is close with her.
He sees Willowya as a little sister and is fond of her.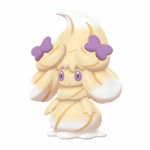 Willowya the Alcremie
Nature:
Naive and often lost in thought
Level:
89
Ability:
Sweet Veil
Held Item:
none as of yet
Moveset:
Tri attack
Decorate
Magical Leaf
Dazzling Gleam
Ribbons:
Galar Champion ribbon
Best Friends ribbon
How she met Alira:
Alira almost squished Willowya when roaming route four, the then Milcery lost in her thoughts to where she didn't notice the human almost trip and fall on her, and also didn't really notice when Alira threw a ball at her and caught her.
Relationship with rest of team members:
Despite her often wandering mind, she's very close to the rest of her team.
Nova she rather likes and sees her as a sister figure, being very willing to help Nova with anything she needs advice on.
Lily she's very fond of, having a mild crush on the roserade.
Calethorne she often hides behind if something is scaring her and sees him as a big brother figure.
Most of Widgyt's mothering goes right over her head, but she likes the Boltund.
Shiro she rather likes and often asks him to carry her, because he's so tall she can see so much more when he carries her.
That's all I'll put for now! Ran out of energy at the end and I've been writing this for like, four hours? Being sick with a nasty bug doesn't help my energy level, so I hope I didn't do too bad X'D But I hope this makes some sense and gives information on my characters in my
Reflections
story! I'll likely either edit this or made another post in this thread when I add my Sun oc Megan and her pokemon. Maay also add theme songs or playlists for each oc, dunno yet but we'll see ^^
Last edited: