Location
Pronouns

She/Her
Partners
Kimiko listened intently as Odette -she'd overheard her telling the other boy her name - described Enora's routine in great detail. "I'm gonna need you to write that down for me at some point," she laughed. And then, "actually, believe it or not, this is all far outside my area of expertise. Would something similar work for an espeon?"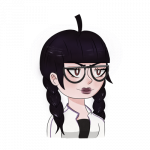 "No worries; it's a lot to take in. I only know what I know because my Nana is big into Pokemon Pageants and filled my brain with it while I was growing up."
She leaned down to eye Olivia closely. "I know most of the Eons--especially the Umbeon, Espeon, and Sylveon trio--have similar fur makeup. So I'm sure it would work just as fine." A pause. "Well, provided you have the same products in your world. I'm sure you could find something similar..." Of course, also provided berries did the same thing too. Gods, that was a whole can of worms.
"Why all the fuss, anyway?" he said before he could stop himself. "Fur is fur, hair is hair. As long as it's not tangled or matted, that's enough for us."

Neo chirped in agreement. Novo was still staring at Enora in wonder.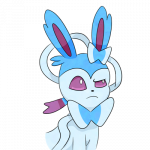 What kind of question was that? Did a man of his temperament not understand the IMPORTANCE of good grooming? Especially in a lady?
Actually, that was a stupid question. Guzma had heard the rundown more than once and still used the same 4-in-1 shampoo/conditioner/body wash/shaving cream without a second thought. It might have just been a "male" thing.
She took notice of Novo staring at her. On one hand it wasn't polite to stare, but on the other hand, she knew she was hard to not look at. She decided to give into it, and smiled warmly at him.
"Hi Novo! How's your bacon? I'm sorry for stealing some from you earlier. I didn't want to be impolite."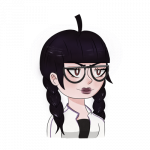 "That's a good way to look at it," Odette said. "But I've got a stick up my ass when it comes to my appearance for that reason." She grasped hold of one of her braids. "You wouldn't be able to tell, but I have unruly curly hair that I wake up every morning to straighten and braid, because curly hair tangles and mats up quite easily." A shrug. "Also it might just be a girl thing. My boyfriend still uses the same 4-in-1 shampoo, conditioner, body wash, and shaving cream combo and," another shrug and a fond chuckle, "whatever, I guess."
With another quick glance down at Olivia and Neo, she asked, "Um… would either of you mind if I joined you? You know, for dinner, I mean."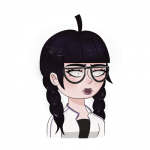 "Oh no," Odette said quickly holding up her hands. Now they were getting into weird territory where she felt like she'd both overstayed her welcome AND contributed to a crowding table when he clearly wanted to be alone. She could stand to get up and say thank you, maybe give a little bit of small talk, but to keep that going? With someone who was clearly not for it? Fuck no.
"We're not sitting together. I just came over to thank him for something. I should really be getting back to...my table...and my other..." she started looking around frantically, as it slowly but surely dawned on her that Odile had been MIA since she ran off for the buffet table.
"God fucking dammit." She didn't see her. There's no damn way they'd barely been here half an hour and she'd already run off to cause a problem even after--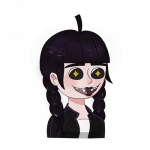 "̴H̵E̴Y̷ ̸O̸D̶E̸T̸T̴E̵.̶"̶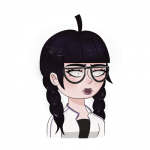 She whipped around to see the demon of the fucking hour, standing behind her politely, holding...a tray of
salad?

"
Fucking gods, where the hell did you go?"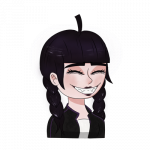 "̸I̵ ̸c̴o̸u̶l̴d̴n̶'̷t̵ ̶f̷i̵g̷u̷r̴e̴ ̸o̵u̴t̶ ̶w̴h̴a̵t̷ ̸t̵o̵ ̷e̶a̵t̴,̷ ̷s̵o̵ ̷I̶ ̵j̵u̸s̶t̶ ̴g̴r̷a̷b̴b̸e̷d̶ ̷t̵h̴e̷ ̴f̷i̵r̴s̵t̴ ̷t̶h̴i̵n̵g̷ ̶t̸h̴a̷t̵ ̴l̶o̵o̸k̷e̵d̵ ̶g̷o̴o̴d̴.̴ ̶M̵y̴ ̴f̸a̷v̷o̴r̴i̶t̴e̵ ̵c̶o̶l̵o̴r̶ ̴t̵o̴d̶a̴y̵ ̴i̵s̵ ̴g̵r̴e̸e̶n̴,̸ ̷s̶o̵ ̵I̷ ̸g̴r̶a̶b̴b̶e̵d̵ ̵t̵h̴i̶s̴.̴"̸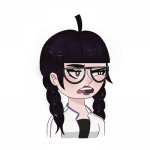 Odette stared at the tray, absolutely flabbergasted. It actually looked like she'd just pulled the entire thing up from the buffet itself.
"What the fuck? You
hate
salad."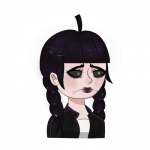 "̸T̸H̴A̴T̸'̶S̷ ̸N̴O̶T̶ ̷T̷R̷U̴E̶.̴ ̸I̵'̶v̵e̴ ̷c̸h̷e̶w̴e̷d̷ ̸o̵n̸ ̴a̴ ̴h̸e̴a̴d̵ ̷o̶f̵ ̸l̶e̵t̷t̸u̵c̴e̸ ̴b̷e̵f̶o̷r̷e̵ ̸a̶n̷d̷ ̶i̵t̸ ̵f̷e̵l̵t̴ ̶r̴e̴a̸l̴l̶y̷ ̸g̴o̷o̵d̸ ̶o̴n̷ ̶m̵y̵ ̷t̶e̶e̷t̴h̷.̴"̷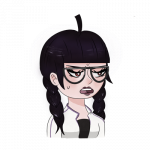 "You need to go put it back. And that's IF they can even take it back, because you've already contaminated it by taking it off the bar."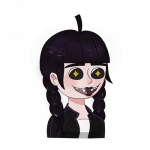 "̷S̶o̸o̵o̸o̵o̵o̷ ̷w̸h̸a̷t̸ ̵I̴'̴m̶ ̶h̷e̵a̸r̸i̴n̶g̵ ̶i̷s̵ ̶t̷h̴a̷t̷ ̶I̵ ̴c̷a̶n̸ ̶k̸e̴e̸p̷ ̷i̵t̸ ̶i̵f̶ ̴n̷o̸b̵o̴d̴y̸ ̷s̷e̶e̷'̶s̸ ̷m̶e̶ ̶w̸i̶t̷h̵ ̷i̶t̷?̴"̵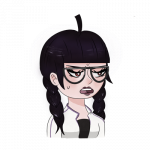 "That's not--"
"Oh, hell," he spat. The maniac from before was here, and glaring daggers at Wes with even more malice than before, which he hadn't thought was possible. Why was he still here? They were seriously going to just let him walk free after that episode earlier? Gods.

Not bothering to hide his anger from the other visitors at his table, he picked up his fork again and stabbed at his steak with far more force than necessary.
Wes's sudden exclamation made Odette stop short. She turned around to see that his demeanor had grown increasingly more annoyed. Was he getting overwhelmed by all the people at the table? Or now that Odile had showed up? Fuck, she should have bowed out a while ago.
But, she did see the other Espeon, and followed its path back to...the Wes lookalike. Actually, now that she knew this was a multiverse game, it was safe for her to assume they were parallel copies. That might have been why they were going at it.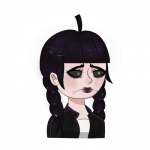 "̸D̷a̷m̸n̵,̵ ̸O̴d̶e̴t̸t̶e̵.̴ ̷H̵e̸ ̴l̶o̴o̷k̷s̵ ̶a̷ ̶l̵i̸t̶t̴l̸e̵ ̸p̶i̷s̴s̷e̸d̴ ̷o̴f̸f̶.̴ ̵M̶a̶y̴b̷e̵ ̶w̵e̸ ̶s̵h̵o̷u̷l̶d̶ ̵h̸e̴l̴p̴ ̴h̸i̶m̶ ̵o̴u̴t̶.̴"̵
Odile could practically smell the wrath wafting off of Wes's body, and on any other day, she'd have started digging into it without hesitation. But, she made a promise. She didn't want to feel any more bowling balls today.
But that didn't mean she couldn't offer her services for a GOOD reason, right? At least, today of course.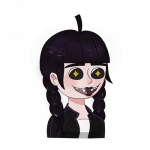 "̷H̵e̵y̴ ̵G̸u̸y̶,̷ ̴w̶o̵u̴l̸d̶ ̸i̸t̶ ̸m̸a̵k̸e̴ ̷y̵o̶u̶ ̸l̶a̵u̸g̵h̸ ̵i̴f̷ ̵I̸ ̷w̴e̵n̸t̷ ̶a̴n̷d̸ ̴p̴o̴k̷e̵d̸ ̴h̴i̶s̴ ̴e̷y̸e̸s̸ ̸f̵o̸r̶ ̸y̸o̶u̵?̵"̶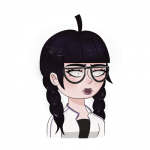 This is not the introduction she wanted to give these people. She was making such progress with making herself seem like a normal, caring trainer, but suddenly injecting something like Odile into the scene, even when she was being mostly agreeable, probably wasn't a good idea. She slowly grabbed Odile's wrist and pushed her behind her.
"Sssssoorrrryyyy about that. This is...my other Pokemon. Odile." She felt like she was sweating. "She's, um...very overzealous."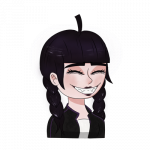 "̸O̸v̷e̴r̸z̷e̵a̸l̷o̶u̵s̴ ̷a̴b̶o̶u̴t̵ ̸N̵O̵T̶.̶ ̶C̴A̵U̴S̶I̸N̶G̵.̸ ̸P̵R̴O̴B̸L̵E̵M̶S̸.̸ ̷O̷N̵ ̴P̶U̵R̸P̷O̶S̵E̷!̴"̸