Location
Pronouns

she/they/he?
Partners
A Facadeverse fic
"Are you okay?"
In which Wallace isn't okay, but he gets better. Eventually.

Alternate summary: college/YA Wallace tries to hide the fact that he's a mess.
So this story originally started back in 2020 as part backstory stuff for a fic that never saw the light of day (a fic that eventually became the Facadeverse fics), part venting when I was suicidal and depressed over quarantine before I was diagnosed with GAD and PMDD (I would have a low, and in order to deal with urges to try purging or relapse into self harm and self starving, I would write about Wallace doing it instead). If you're wondering if I'm okay, yes, I'm okay. I'm in therapy, I'm taking meds, and while I'm not 100% better. I'm getting there. This fic follows a similar trajectory of things falling downhill before getting better.

I decided to go back to this story and publish it because 1. I wasn't letting it go to waste (I have 30k+ words of that old fic, and I refuse to let those words go to waste), and 2. there are some things that can't easily be conveyed in the form of a drabble (like in But How Will It Be). I decided to post it here because someone seemed to want me to do it. I forgot who, but to whoever wanted me to: thank you.

And I hear people like angst on TR.
This story is rated
Mature.
This story contains depictions of:
eating disorders (including starving and purging)
alcohol and alcohol abuse
drug abuse (including alcohol, LSD, marijuana, sedatives, and stimulants. There's also depictions of withdrawal, which includes an offscreen seizure)
parental death
self harm
abuse (physical, verbal, and emotional)
sexual harassment and sexual assault
manipulation and grooming
mental illness (including depressive symptoms, panic attacks, and manic episodes)
bigotry (including Fantastic Racism, homophobia, and ceterophobia, or discrimination towards nonbinary people. There's also the use of the f-slur in Chapter 13)
suicidal ideation
blood, needles, and hospitals
implied consensual sexual content and discussions and themes of sexuality

Several things can't easily be stripped from the story (especially depictions of eating disorders and abuse), but summaries and chapters stripped of other elements can be provided upon request.

Also: if you feel this story warrants other content warnings, please tell me.
Preferred feedback:
- Grammar/spelling/typo stuff
- Is the angst too much? Just right?
- Impressions on headcanons and characterizations
- Did I do a good job of dealing with the heavy subject matter?
- Did I portray hospitals/rehab/treatment/political scandals accurately?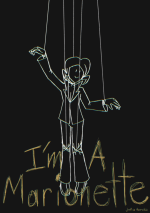 ​
Last edited: