Location
Pronouns

She/Her
Partners
("Wallace? Care to join the game?")

Wallace pointed to Odette. Victoria translated their signing to Enora.

["Smart. Artistic. Good friend."]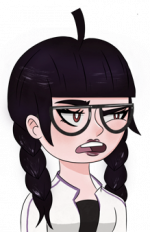 Odette became somewhat wary as Wallace pointed at her. She was in no mood to--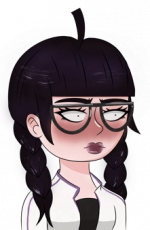 Oh. Compliments. The one other thing she didn't know what to do with aside from her own emotions. Swell.
She looped one of her braids around her finger, averting her eyes quickly. "I--cool."
You suck.
Gods, she didn't feel like any of those things right now. And Wallace barely knew her, and yet? Such nice things he had to say, even when it looked like he couldn't talk for some reason.
They looked at Enora. ["Pretty. Kind. Selfless."]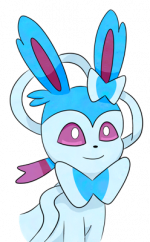 Enora smiled thoughtfully through her trainer's awkward silence, and her fur puffed up proudly as she was acknowledged.
"Aren't you sweet! You are quite kind yourself!"
When Kimiko finally thought she'd removed all the glass shards, she set about pulling her hair back up. Only then when she looked up did she realize that her froslass had vanished again. Probably invisible again... but no, a quick scan of the area showed her hovering over by Steven?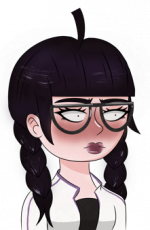 Well, how did this game work? Point at somebody and say something nice to them? Truthfully, she'd have much rather had an eyesight comparison contest. There was no doubt in her mind she'd lose miserably to every goddamn person here, but at least she wouldn't have to twist her entire psyche trying to be personable and
sweet.
She could look Kimiko or Laura in the eyes and tell them they're good looking. She could tell Wes he's fun to banter with. She could tell Steven he's a good person despite what happened in the lounge. FUCK, that shit that happened in the lounge...
Yeah, she'd rather just take her glasses off right now and go the rest of her time here blind. That would be much easier.
"Uh..." she stammered.
This was wasting time. They needed to start coming up with plans. How to utilize whatever Darkrai could offer them, how to best use everyone's strengths to their collective advantage, how to get ahold of Hoopa's rings again. There was so much that needed to be planned right now...
Movement caught her attention, but she didn't think too much of it until the shape caught her attention. Froslass shaped.
Since when was there a Froslass here?
Instinctively, she moved toward her. "Isaur?" She spoke without thinking.
No, not Isaur. She'd have a cow if Isaur ended up here, because then that meant her other Pokemon partners could have been here, and she didn't want to have to subject them to this danger.
When she realized her mistake, she held her free hand up in apology. "Ah, sorry. I thought you were some 'mon I know," she said. "I actually wasn't aware anyone here had a Froslass with them right now."
"And if the Golden King isn't a Hoopa, what is he?"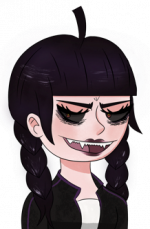 "̶I̸f̷ ̴t̶h̶i̵s̷ ̵i̶s̸n̸'̶t̸ ̵s̷o̸m̴e̵ ̵u̷n̶b̷o̴u̷n̷d̸ ̴a̸n̶g̶r̸y̴ ̷v̶e̷r̶s̴i̷o̴n̶ ̶o̷f̸ ̵a̵ ̴H̵o̶o̶p̷a̸,̵ ̴I̵ ̸b̸e̷t̸ ̵t̴h̸e̶y̴'̷r̶e̶ ̷j̷u̷s̶t̶ ̵a̶n̷o̴t̷h̷e̶r̵ ̵h̸a̴r̷b̶i̸n̵g̶e̸r̷ ̴o̶f̶ ̸s̷i̸n̸ ̷a̵n̸d̸ ̸t̸h̵e̵ ̵d̷a̶r̷k̸ ̸a̵r̶t̶s̷.̶ ̸L̵i̸k̶e̶ ̷y̶a̶ ̸B̶O̸Y̷ ̶r̸i̴g̶h̴t̶ ̷h̸e̴r̷e̴,"̴
she declared, pointing her thumb to her chest.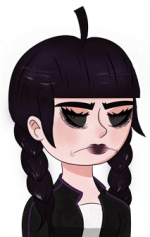 Upon realizing what she said, she frowned.
"̴I̴'̷m̶ ̵s̵p̴e̶n̷d̸i̵n̸g̷ ̵t̸o̶o̴ ̶m̸u̷c̷h̷ ̵t̵i̶m̸e̴ ̶w̵i̷t̶h̶ ̶G̶u̴z̷m̶a̶.̵"̸