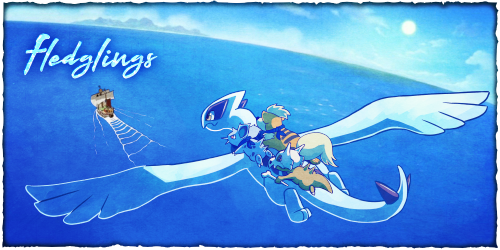 A young Nidoran unearths the ancient guardian of her home, one of a kind lost to the world. Will her home, and the world at large, cope with his return?
Hello everyone, if you remembered Virgil134's Casting Off from last year, this is the main story that shares the setting that we work on together, minus about five years of time since it started. Fortunately for you all, there's a sizable back catalog of chapters, so if you haven't already been following Fledglings elsewhere on the net, you'll be able to enjoy here. The first arc's worth of chapters will be uploaded on a weekly basis after this opening prologue, with subsequent updates moving to a biweekly posting schedule.
Thanks to Fledglings being a fairly large beast, I will be reserving this first post to serve as the site of a glossary of foreign-language terms that pop up during the course of the story. Since Fledglings has evolved along with my and Virgil134's own writing prowess, you may notice some flaws in various chapters. I will be happy to hear out any feedback regarding them, though admittedly some mistakes are best learned from in the future for the sake of maintaining momentum in a story.
Introduced in Prologue:

- Mami - Spanish: "mother", "mommy"
- mija - Spanish: "my daughter", used in a sense akin to "dearie" or "sweetie"

Introduced in Chapter 1:

- Cazadragones - Spanish: "dragon hunter", lit. "hunter of dragons"
- Manternal - French: "Leavanny"
- Papi - Spanish: "father", "daddy"

Introduced in Chapter 2:

- ánima - Spanish (Southern Cone): "shrine", specifically of the small, roadside sort
- cuidadoso - Spanish: "careful"
- (¡)Agarra! - Spanish: "Take it!", specific verb carries more urgency than the otherwise identical ¡Toma!

Introduced in Chapter 3:

- pollito - Spanish: "chick"
- huevo - Spanish: "egg"
- la mar - Spanish: "the sea", identical to el mar if with more romantic/literary overtones.

Introduced in Chapter 4:

- (¿)en serio? - Spanish: "seriously?"
- Cálmate - Spanish: "Relax"
- Mi casa es tu casa. - Spanish: "My house is your house."

Introduced in Chapter 5:

- Maestra - Spanish: "Teacher", "Master". Maestro for male counterparts.
- Para ser fuerte - Spanish: "To be strong"
- Otro día - Spanish: "Another day"
- Plancha Voladora - Spanish: lit. "Iron Flying", referring to the move we would better know as "Flying Press"

Introduced in Chapter 6:

- (¡)No se corre en mis pasillos! - Spanish: "Don't run in my hallways!"
- críos - Spanish: lit. "babies", used in this sense to tersely refer to someone who is acting infantile or immature.
- Hola a todos - Spanish: "Hello, everyone"
Last edited: