Pronouns

He/Him/His
Partners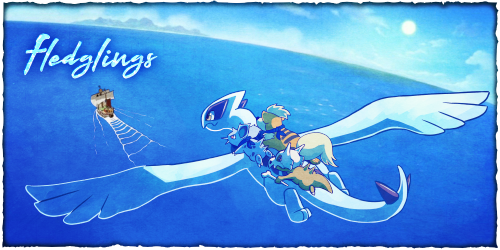 A young Nidoran unearths the ancient guardian of her home, one of a kind lost to the world. Will her home, and the world at large, cope with his return?
​
Hello everyone, if you remembered Virgil134's
Casting Off
from last year, this is the main story that shares the setting that we work on together, minus about five years of time since it started. Fortunately for you all, there's a sizable back catalog of chapters, so if you haven't already been following
Fledglings
elsewhere on the net, you'll be able to enjoy it here. The first arc's worth of chapters will be uploaded on a weekly basis after this opening prologue, with subsequent updates moving to a biweekly posting schedule.
Thanks to
Fledglings
being a fairly large beast, we will be reserving this first post to serve as the site of a glossary of foreign-language terms that pop up during the course of the story. Since
Fledglings
has evolved along with my and Virgil134's own writing prowess, you may notice some flaws in various chapters. We will be happy to hear out any feedback regarding them, though admittedly some mistakes are best learned from in the future for the sake of maintaining momentum in a story.
Introduced in Prologue:

- Mami - Spanish: "mother", "mommy"
- mija - Spanish: "my daughter", used in a sense akin to "dearie" or "sweetie"

Introduced in Chapter 1:

- Cazadragones - Spanish: "dragon hunter", lit. "hunter of dragons"
- Manternal - French: "Leavanny"
- Papi - Spanish: "father", "daddy"

Introduced in Chapter 2:

- ánima - Spanish (Southern Cone): "shrine", specifically of the small, roadside sort
- cuidadoso - Spanish: "careful"
- (¡)Agarra! - Spanish: "Take it!", specific verb carries more urgency than the otherwise identical ¡Toma!

Introduced in Chapter 3:

- pollito - Spanish: "chick"
- huevo - Spanish: "egg"
- la mar - Spanish: "the sea", identical to el mar if with more romantic/literary overtones.

Introduced in Chapter 4:

- (¿)en serio? - Spanish: "seriously?"
- Cálmate - Spanish: "Relax"
- Mi casa es tu casa. - Spanish: "My house is your house."

Introduced in Chapter 5:

- Maestra - Spanish: "Teacher", "Master". Maestro for male counterparts.
- Para ser fuerte - Spanish: "To be strong"
- Otro día - Spanish: "Another day"
- Plancha Voladora - Spanish: lit. "Iron Flying", referring to the move we would better know as "Flying Press"

Introduced in Chapter 6:

- una ave - Spanish: "a bird"
- (¡)No se corre en mis pasillos! - Spanish: "Don't run in my hallways!"
- críos - Spanish: lit. "babies", used in this sense to tersely refer to someone who is acting infantile or immature.
- Hola a todos - Spanish: "Hello, everyone"

Introduced in Chapter 7:

- veikka - Finnish (colloquial, disused): "brother"
- mewa - Polish: "gull"
- bachory - Polish: "brats"
- aika häipyä - Finnish: "time to buzz off", lit. "time to disappear"

Introduced in Chapter 8:

- Ei niin kovaa! - Finnish: "Not so hard!". Can also take on other meanings in other contexts such as "Not so loud!"
- Erinomaista - Finnish: "Excellent". Used here as a sarcastic interjection.
- patéticos parásitos - Spanish: "awful parasites"
- Daj spokój! - Polish: "Come on!"

Introduced in Chapter 9:

- en recreo - Spanish: "on break"
- Chodź i weź to! - Polish: "Come and take it!"
- kurczę - Polish: lit. "chicken", general use euphemistic interjection. Analogous to saying "darn" or "crud".

Introduced in Chapter 10:

- amatorzy - Polish: "amateurs"
- ipana - Finnish: "brat"
- sea una posiblidad real - Spanish: "is a real possibility"

Introduced in Chapter 11:

- rudera - Polish: "hovel"
- espesa - Spanish: "thick, dense"
- (¡)No te preocupes! - Spanish: "Don't worry!"
- asquerosa - Spanish: "disgusting"
- Daj mi spokój! - Polish: Interjection, roughly "Give me a break!"

Introduced in Chapter 12:

- (¡)Ya, ya! (¡)Entiendo! - Spanish: "Alright, alright! I get it!"
- fajerwerki - Polish: "fireworks"
- (¡)Tonto! - Spanish: "Idiot!"

Introduced in Chapter 13:

- (¡)Pruébamelo! - Spanish: "Prove it to me!"
- Księżniczka - Polish: "Princess"
- (¡¿)Están bien?! - Spanish: "Are you (all) okay/alright?!"
- idźmy dalej! - Polish: "let's move on!"

Introduced in Chapter 14:

- (¡)dale duro! - Spanish: roughly, "hit him hard!"
- klanowy - Polish: "clannish"
- Bonguris - Spanish: Localization name for "Apricorns", derived from name in Japanese language media. In Latin American dub of anime, "Apricorn" is used instead.
- breanueces - Spanish: "tarnuts"

Introduced in Chapter 15:

- a quien madruga, los dioses ayudan - Spanish: "The early, the gods help." Play off of "a quien madruga, Dios ayuda", a Spanish-language idiom roughly analogous to "the early bird gets the worm"
- (¡)No se duerme en mis peldaños! - Spanish: "No sleeping on my steps!"
- No co ty nie powiesz! - Polish: Idiom, roughly "Well, you don't say!"

Introduced in Chapter 16:

- (¡)Ojo! - Spanish: "Watch out!"
- (¡)Sácate la mochila! - Spanish: "(You, )drop the backpack/knapsack!"
- Bogowie - Polish: "(Oh) Gods". Derived by using the plural equivalent of "Boże", which is used as an interjection in Polish.
- psiakrew - Polish: Mildly vulgar interjection, often translated as "darn/damn (it)". lit. "dog's blood"

Introduced in Chapter 17:

- así es la vida - Spanish: "such is life"
- (¡)Al abordaje! - Spanish: "All aboard!"
- strażnicy - Polish: "guards", "watchmen"

Introduced in Chapter 18:

- do odważnych świat należy! - Polish: "fortune favors the bold!", lit. "the world belongs to the brave!"
- canallas - Spanish: "rascals", "swine". Can carry offensive connotations depending on context of use.
- amator - Polish: "amateur"
- Ty bałwan! - Polish: "You moron!"
- (¡¿)Qué te pasa?! - Spanish: "What is wrong with you?!"

Introduced in Chapter 19:

- niñita - Spanish: "little girl"
- Uważaj! - Polish: "Watch out!"
- nom de scène - French: "stage name"
- un Gruikui, un Venipatte, et un Chacripan - French: "a Tepig, a Venipede, and a Purrloin"
- (¡)Ahora mismo! - Spanish: "Right now!"

Introduced in Chapter 20:

- (¡)No te rindas! - Spanish: "Don't (you) give up!"
- skarby - Polish: "treasures"
- Tiens bon - French: "Hold on"
- Caninos - French: "Growlithe"
- le Prince des Temps - French: "the Prince of Time"
- Xe tuti mati - Venetian: "They're all crazy"
- Ne t'en fais pas! - French: "Don't worry about it!"
- Un instant. - French: "One moment." lit. "A moment."

Introduced in Chapter 21:

- Goélise - French: "Wingull"
- nous voilà - French: "we're here"
- un cocal - Venetian: "a seagull"
- Trioxhydre - French: "Hydreigon"
- Soyons raisonnable - French: "Let's be reasonable"
- Uno... dos... tres... cuatro… cuatro... cuatro… mil... - Spanish: "One... two... three... four... four... four... a thousand..."
- cepy - Polish: "blockheads", lit. "flails"
- Excavarenne - French: "Diggersby"
- le lapin de la nuit - French: "the rabbit of the night"
- Sapereaeu - French: "Bunnelby"
- pardon - French: "sorry"
- filo - Spanish (Chilean): "whatever" (interjection), lit. "edge"
- äiti - Finnish: "mother"
- Mairesse - French: "Mayor" (feminine), masculine analogue is "maire"

Introduced in Chapter 22:

- Mimigal - French: "Spinarak"
- commerce sans frontières - French: "trade without borders"
- To totalne zdzierstwo! - Polish: "This is a total ripoff!"
- treize à la douzaine - French: "a dime a dozen", lit. "thirteen to the dozen"
- Rhinolove - French: "Swoobat"
- Da, da, konechno! (Да, да, конечно!) - Russian: "Yes, yes, of course!" (BGN/PCGN Romanization.)
- (¡)Me parece bien! - Spanish: "Sounds good to me!"

Introduced in Chapter 23:

- Solochi - French: "Deino"
- maman - French: "mother" (informal), "mum"
- Trois… deux… un… - French: "Three... two... one..."
- mecz - Polish: "(sporting) match"
- (¡¿)Por qué no te callas?! - Spanish: "Why don't you shut up?!"
- (¡)Cosita! - Spanish: "Dear!" (endearing), lit. "little thing"

Introduced in Chapter 24:

- Dosyć - Polish: "Enough" (Interjection)
- un 'Cintillo Trombense' - Spanish: "a 'Tromban Headband'"
- Hola, buenos días - Spanish: "Hello, good morning"
- Madame - French: "Madam"
- la bastille - French: "the fortress, "the citadel, "the bastion"
- Na litość boską! - Polish: Interjection roughly analogous to "For crying out loud!" or "For goodness/God's sake!", lit. "For divine mercy!"
- mon petit - French: "my little (one)" (Term of endearment, male)

Introduced in Chapter 25:

- Papa - French: "Dad", "Father"
- Chyba żartujesz! - Polish: Expression meaning roughly "Are you kidding me!" or "You must be joking!"
- 'sa? - Venetian: Interjection meaning "What?" or "Why?"
- (¡)Sube! - Spanish: "Pull up!", "Go up!"
- Jesteś szalona! - Polish: "You're crazy!"

Introduced in Auld Lang Syne:

- Año Nuevo Trombense - Spanish: "Tromban New Year's"
- (¡)Gracías Mami! (¡)Gracías Papi! - Spanish: "Thanks Mom! Thanks Dad!"
- Lyhtyjuhla - Finnish: "Lantern Festival"
- (¡)Feliz Año Nuevo! - Spanish: "Happy New Year!"
- Trombenses - Spanish: "Trombans"
- Nanda? (何だ?) - Japanese: "What?" / "What is it?" Informal, rude or contemptuous in some contexts. (Hepburn Romanization)
- mijo - Spanish: "my son", compare to "mija" for usage and connotations.
- Moët du Boisocéan - French: "Moët of Boisocéan", play off of "Moët et Chandon".
- Drugi gąsior jest mój! - Polish: "(The) Second jug is mine!"
- Neveroyatno (Нeвeроятно) - Russian: "Unbelievable" / "Incredible". (BGN/PCGN Romanization.)
- Chicos - Spanish: "Children"
- De nada - Spanish: "You're welcome"
- Feliz Año a todos - Spanish: "Happy (New) Year, everyone"

Introduced in Chapter 26:

- sknerzy - Polish: "misers", "scrooges"
- Tennobi-shima e yōkoso! (テッノビ島へようこそ!) - Japanese: "Welcome to Tennobi Island!" (In reference to local name referenced in passing in Chapter 12.) (Hepburn Romanization)
- Sang (no Mi) (サンのみ) - Japanese: "Sang (Fruit/Berry)". Language version name for "Lansat Berry". (Official Romanization)
- cuchitril - Spanish (Chilean, Peruvian): "hovel", "hive"
- Ryūbokuya (流木屋) - Japanese: lit. "Driftwood House/Shop". Style of place name is sometimes used in names for shops or dining establishments. e.g. "Harukiya (春木屋)". (Hepburn Romanization)

Introduced in Chapter 27:

- tokage (蜥蜴) - Japanese: "lizard" (Hepburn Romanization)
- Sleep (スリープ) - Japanese: "Drowzee", used here as a pun/double entendre. (Official Romanization)
- Koppen dicht - Dutch: "Shut up" (plural subject). Compare "Kop dicht" for singular subjects. lit. "heads closed"
- rabunek - Polish: "mugging", "robbery"
- péist - Irish: "worm"
- casse-toi! - French: "get lost!", "get out!"
- Gardie (ガーディ) - Japanese: "Growlithe" (Official Romanization)
- Ima sugu! (今すぐ!) - Japanese: "Right now!", "Immediately!" (Hepburn Romanization)
- El equipo de incansables buscadores de las verdades perdidas. - Spanish: "The team of tireless seekers of lost truths." Ordering of adjective and noun is convention in romantic descriptions in Spanish.
- (¡)Eres Trombense! - Spanish: "You're Tromban!"

Introduced in Chapter 28:

- Calme-toi, mon fils - French: "Calm down, my son."
- una versión - Spanish: "a version".
- Zuruggu (ズルッグ) - Japanese: "Scraggy". (Official Romanization)
- Camome (キャモメ) - Japanese: "Wingull". (Official Romanization)
- majū (魔獣) - Japanese: "Magical Beast", used in as a historical name to refer to Pokémon in M12 prior to creation of 'Pokémon'. (Hepburn Romanization)
- Ciò! - Venetian: Interjection/Intensifier. Means roughly "Hey!" or "Oi!" in this context.
- Nee, domkop! - Dutch: "No, blockhead!" (lit. "No, dumb-head!")
- Eto (えと) - Japanese: Interjection. Roughly analogous to "Uh...", "Er...", or "Well, actually..." (Hepburn Romanization)
- to wspaniale - Polish: Interjection. Roughly meaning "that's great", "that's wonderful"
- Iku ze (行くぜ) - Japanese: "Let's go", has 'commanding' connotations. (Hepburn Romanization)

Introduced in Chapter 29:

- Świetnie - Polish: Interjection, roughly meaning "(Oh) Great"
- yajū (野獣) - Japanese: "beast" (Hepburn Romanization)
- (¿)No es obvio? - Spanish: "Isn't it obvious?"
- Solamente Trombense - Spanish: "Only Tromban"
- Zokuchō (族長)- Japanese: Title, roughly meaning "clan/family head", used here for name of leader position. (Hepburn Romanization)
- -sama (-様) - Japanese: Honorific, roughly analogous to "Lord/Lady" or "Sir/Ma'am" depending on context of usage. (Hepburn Romanization)
- Cestìl - Venetian: Interjection meaning "Shut up" or "Be quiet"
- Camula( no mi) (カムラのみ) - Japanese: "Camula (Fruit/Berry)". Language version name for "Salac Berry". (Official Romanization)
- Yatapi (no mi) (ヤタピのみ) - Japanese: "Yatapi (Fruit/Berry)". Language version name for "Petaya Berry". (Official Romanization)
- Lapis (ラピス) - Japanese: Language version name for "Emera(s)" (Official Romanization)
- Kodora (コドラ) - Japanese: "Lairon" (Official Romanization)

Introduced in Chapter 30:

- (¿)Cómo? - Spanish: (Interjection) "What?"
- Cafteur - French: "Tattletale"
- por favor - Spanish: "please"
- un polluelo - Spanish: "chick", same meaning as "pollito" though with more endearing connotations
- Yamero! (止める!) - Japanese: (Interjection) "Stop!", "Enough!" (Hepburn Romanization)
- shizoku (氏族) - Japanese: "clan" (Hepburn Romanization)
- Taiyō-shi (太陽氏) - Japanese: "Sun Clan" (Hepburn Romanization)
- Taiin-shi (太陰氏) - Japanese: "Moon Clan" (Hepburn Romanization)
- Honebūmeran (ホネブーメラン) - Japanese: lit. "Bone Boomerang", referring to the move that we would know as "Bonemerang" (Hepburn Romanization)
- Nie ma sprawy - Polish: "No problem"
- Garagara (ガラガラ) - Japanese: "Marowak"

Introduced in Chapter 31:

- Crimgan (クリムガン) - Japanese: "Druddigon" (Official Romanization)
- Co ma być, to będzie - Polish: "Whatever will be, will be"
- Golone (no ishi) (ゴローンのいし) - Japanese: lit. "Graveler('s Rock)", referring to what we would know as a "Gravelerock". (Official Romanization)
- Geef op - Dutch: "Give up"
- Hiraishin (ひらいしん) - Japanese: "Lightning Rod", referring to ability we would call "Lightningrod". (Official Romanization)
- Attendez! - French: "Wait!"
- non? - French: "no?", used in context as akin to "right?"

Introduced in Chapter 32:

- Matte! (待って!) - Japanese: "Wait!" (Hepburn Romanization)
- (¡)Alto! - Spanish: "Hold it!"
- Nie dzięki - Polish: "No thanks"
- Kapteeni - Finnish: "Captain"
- fregat (Фрeгат) - Russian: "frigate" (BGN/PCGN Romanization)
- Da (Да) - Russian: "Yes" (BGN/PCGN Romanization)

Introduced in Chapter 33:

- baba (баба) - Bulgarian: "grandmother" (BGN/PCGN 2013 Romanization)
- Nani? (何?) - Japanese: "What?" (Hepburn Romanization)
- Mille grazie! - Italian: "Thank you very much!", lit. "(A) thousand thanks!" Also rendered "Grazie mille!"
- Tak jasne! - Polish: "Yeah, right!"
- largo y ancho - Spanish: "far and wide"
- las cosas buenas en la vida se hacen esperar - Spanish: "the good things in life make you wait", idiom analogous to "the best things in life take time"
- Izvinete (Извинeтe) - Bulgarian: "Sorry", "Pardon me" (formal) (BGN/PCGN 2013 Romanization)

Introduced in Chapter 34:

- fuklyo (фукльо) - Bulgarian: "Show-off" (BGN/PCGN 2013 Romanization)
- Kavko ima? (Какво има?) - Bulgarian: "What's the matter?" (BGN/PCGN 2013 Romanization)
- Onondo (オノンド) - Japanese: "Fraxure" (Official Romanization)
- (¡)Levántense! - Spanish: "Wake up!"
- nie wiem - Polish: "I don't know"
- Yokarō (良かろう) - Japanese: "Very well" (Hepburn Romanization)

Introduced in Chapter 35:

- vecherya (вeчeря) - Bulgarian: "dinner" (BGN/PCGN 2013 Romanization)
- Megayanma (メガヤンマ) - Japanese: "Yanmega" (Official Romanization)
- Livolt (ライボルト) - Japanese: "Manectric" (Official Romanization)
- Mou ii (もういい) - Japanese: "Enough" (Hepburn Romanization)
- tan a pecho - Spanish: "so serious"
- To nie nasza wina! - Polish: "It's not our fault!"
- eda (えだ / 枝) - Japanese: "branch", Japanese localization name for "Wand". (Hepburn Romanization)
- Khranitel Rod (Хранитeль Род) - Russian: "Keeper Clan" (BGN/PCGN 2013 Romanization)

Introduced in Chapter 36:

- (¡)Esperen un momento! - Spanish: "Wait a moment!"
- Trzymaj się! - Polish: "Hang in there!", can also be used as an expression analogous to "Take care"
- kirlivi paraziti (кирливи паразити) - Bulgarian: "filthy parasites" (BGN/PCGN 2013 Romanization)
- (¡)Más bajo! - Spanish: "Keep it down!", lit. "more low"
- Calmo! - Italian: "Calm down!", "Take it easy!"
- debutcho (でぶっちょ) - Japanese: "fatty" (Hepburn Romanization)
- kakvo pravish?! (Какво правиш?!) - Bulgarian: "What are you doing?!" (BGN/PCGN 2013 Romanization)

Introduced in Chapter 37:

- Ti si lud! (Ти си луд!) - Bulgarian: "You're mad!" / "You're crazy!" (BGN/PCGN 2013 Romanization)
- Sidon (サイドン) - Japanese: "Rhydon" (Official Romanization)
- Do svidaniya (До свидания) - Russian: "Goodbye" (BGN/PCGN 2013 Romanization)
- Davvero? - Italian: "Really?"
- Chotto matte! (ちょっと待って!) - Japanese: "Wait a minute!" (Hepburn Romanization)
- Veche? (Вeчe) - Bulgarian: "Already?" (BGN/PCGN 2013 Romanization)
- Juptile (ジュプトル) - Japanese: "Grovyle" (Official Romanization)
- (¿)estás bien? - Spanish: "are you alright?"

Introduced in Chapter 38:

- Seguimi! - Italian: "Follow me!"
- Dobre li si? (Добрe ли си?) - Bulgarian: "Are you alright?" / "Are you okay?" (BGN/PCGN Romanization)
- (¡)Venga, vamos! - Spanish: "Come on, let's go!"
- Bądź tu mądry - Polish: Expression roughly analogous to "Go figure", lit. "Be smart"
- Stiga! (Стига!) - Bulgarian: "Enough!" Interjection. (BGN/PCGN Romanization)
- yashcherka (ящeрка) - Russian: "lizard" (BGN/PCGN Romanization)
- Masaka (まさか) - Japanese: Interjection communicating disbelief. Used here to roughly mean "No way!" (Hepburn Romanization)

Introduced in Chapter 39:

- Mwo (뭐) - Korean: "What", used here as an interjection. (South Korean Revised Romanization)
- otlichno (отлично) - Russian: "fine", "very well" (BGN/PCGN Romanization)
- kaisō (海藻) - Japanese: "seaweed" (Hepburn Romanization)
- Ne me interesuva! (Нe мe интeрeсува!) - Bulgarian: "I don't care!" (BGN/PCGN Romanization)
- Ataman (Атаман) - Russian: "Chieftain", "Commander", traditionally used as name of the leader of a Cossack host. (BGN/PCGN Romanization)
- advina - Spanish: "fortuneteller"

Introduced in Chapter 40:

- (¡)Retrocedan! - Spanish: "Fall back!", "Retreat!"
- zaczekaj chwilę - Polish: "wait a moment", "wait a second"
- (¡)Estás bien! - Spanish: "You're alright!"
- Ibwa (이봐) - Korean: "Hey", used here as an interjection. (South Korean Revised Romanization)
- Soko da! (そこだ!) Japanese: Expression roughly analogous to "There it is!" (Hepburn Romanzation)

Introduced in Chapter 41:

- Jishin ( じしん ) - Japanese: "Earthquake", both literal and as name of move. (Official Romanization, more commonly rendered as "地震" outside of game context)
- rodov (родов) - Russian: "clans", plural of "rod". (BGN/PCGN Romanization)
- deti (дeти) - Russian: "children". (BGN/PCGN Romanization)
- chayka (чайка) - Russian: "seagull". (BGN/PCGN Romanization)

Introduced in Chapter 42:

- älä viitsi - Finnish: "come on"
- Skoreye (Скорee) - Russian: "Quickly" / "Hurry up" (BGN/PCGN Romanization)
- (¡¿)de qué hablas?! - Spanish: "what are you talking about?!"
- dworek - Polish: "estate" / "manor" (diminutive)
- Yerunda (Ерунда) - Russian: "Nonsensel' (BGN/PCGN Romanization)

Introduced in Chapter 43:

- Daikenki (ダイケンキ) - Japanese: Localization name for "Samurott" (Official Romanization
- Privet! (Привeт!) - Russian: "Hello!" (informal) (BGN/PCGN Romanization)
- (¡)Ya volví! - Spanish: "I'm back!"
- Ratunku! - Polish: "Help me!"
- kamome (鴎 / かもめ / カモメ) - Japanese: "(sea)gull". Compare "キャモメ", the Japanese localization name for "Wingull". (Hepburn Romanization)

Introduced in Swinging the Lamp:

- Strandmeer Arena - Dutch: "Lagoon Arena"
- De Kust - Dutch: "The Coast", used here as a place name.
- Tranquilo - Spanish: "Relax" (interjection)
- (¡¿)Qué estás haciendo?! - Spanish: "What are you doing?!"
- Sōna no?! (そうなの?!) - Japanese: "Is that so?!" (Hepburn Romanization)

Introduced in Chapter 44:

- laghairt - Irish: "lizard"
- Atamanov (Атаманов) - Russian: Plural of "Ataman", used here as title of a "clan leader/chieftain" (BGN/PCGN Romanization)
- Conas atá sibh - Irish: "How are you"
- Razbiram (Разбирам) - Bulgarian: "I understand" (BGN/PCGN Romanization)
- no es nada - Spanish: "it's nothing"
- Dość tego - Polish: "Knock it off!"
- Go, jū, jū-go, ni-jū... (五,十,十五,二十...) - Japanese: "Five, ten, fifteen, twenty..." (Hepburn Romanization)

Introduced in Chapter 45:

- (¡)Cuidado! - Spanish: "Be careful!" / "Watch out!"
- svetilishte (свeтилищe) - Bulgarian: "sanctuary" (location) (BGN/PCGN Romanization)
- Anois - Irish: "Now"
- Chigau yo! (違うよ!) - Japanese: "No!" (emphatic) (Hepburn Romanization)
- Nieważne - Polish: "Whatever"

Introduced in Chapter 46:

- Esto no me gusta - Spanish: "I don't like this"
- Wraaknemer - Dutch: "Avenger", lit. "Revenge Taker".
- Hóigh tú! - Irish: "Hey you!"
- kocevniki (кочeвники) - Russian: "nomads" (BGN/PCGN Romanization)

Introduced in Chapter 47:

- Jedną rzecz na raz! - Polish: "One thing at a time!"
- As ucht déithe - Irish: "For the gods' sake"
- cajero - Spanish (Southern Cone): "shopkeeper, cashier"
- Booster (ブースター) - Japanese: "Flareon" (Official Romanization)
- We gaan veel plezier met je hebben - Dutch: "We're going to have a lot of fun with you"

Introduced in Chapter 48:

- Izvinyavaĭ (Извинявай) - Bulgarian: "Sorry" (informal) (BGN/PCGN 2013 Romanization)
- Cad sa diabhal - Irish: "What the hell", "What on earth". lit. "What the devil"
- Schiet op! - Dutch: "Hurry up!"
- Vniz! (Вниз!) - Russian: "Get down!" (BGN/PCGN Romanization)

Introduced in Chapter 49:

- Nyama zashto (Няма защо) - Bulgarian: "You're Welcome" (BGN/PCGN 2013 Romanization)
- dailtíní - Irish: "brats"
- Isogu (急ぐ) - Japanese: "Hurry up" (Hepburn Romanization)
- brzydula - Polish: "ugly woman", "hag"

Introduced in Chapter 50:

- meduzy (мeду́зы) - Russian: "jellyfish" (BGN/PCGN Romanization)
- una cueva de ladrones - Spanish: "a den of thieves", lit. "a cave of thieves"
- Yatta! (やった!) - Japanese: "I/We did it!" (Hepburn Romanization)
- Bueno - Spanish: "Good", used in this context as "Fine"

Introduced in Chapter 51:

- Vetäytykää! - Finnish: "Retreat!" / "Pull back!" (given as a command in 2nd person plural)
- chiquita - Spanish: Term of endearment meaning "little girl" / "little child", used here in context roughly equivalent to "sissy"
- buenas tardes - Spanish: "good afternoon"
- portán - Irish: "crab"
- Molchi! (Молчи!) - Russian: "Silence!" (BGN/PCGN Romanization)
- Ya ne znayu (Я нe знаю) - Russian: "I don't know" (BGN/PCGN Romanization)
- księżniczko - Polish: "princess"

Introduced in Chapter 52:

- Eso es una locura! - Spanish: "That's crazy!", lit: "That's (a) madness!"
- kersat - Finnish: "kids", "children"
- Waruvile (ワルビル) - Japanese: "Krokorok" (Official Romanization)
- mogura (土竜 / 鼹鼠 / 鼴 / モグラ) - Japanese: "mole" (Hepburn Romanization)
- tonbo (蜻蛉 / とんぼ / トンボ) - Japanese: "dragonfly" (Hepburn Romanization)
- Protivnik sleva! (Противник слeва!) - Russian: "Hostiles on left!" (BGN/PCGN Romanization)
- kakarat - Finnish: "brats"

Introduced in Chapter 53:

- Herätä! - Finnish: "Wake up!"
- Tutaj! - Polish: "Here!"
- Lo siento! Lo siento! - Spanish: "Sorry! Sorry!"
- Uskomatonta! - Finnish: "Incredible!" / "Unbelieveable!" (interjection)
- Anta baka?! (あんたバカ?! / あんた馬鹿?! ) - Japanese: "Are you stupid?!" / "Are you an idiot?!" (Hepburn romanization)
- mite! - Japanese: "Look!" (Hepburn romanization)
- Anteeksi! Anteeksi! - Finnish: "Sorry! Sorry!"
- Joutukaa - Finnish: "(You all) Hurry up"

Introduced in Chapter 54:

- fregatti - Finnish: "frigate"
- Hyvää iltaa - Finnish: "Good evening"
- dōmo (どうも) - Japanese: Multipurpose Japanese interjection, meaning informal "thanks" in this context. (Hepburn Romanization)
- Gracías - Spanish: "Thank you"
- Nie ruszaj się! - Polish: "Hold it!" / "Don't move!" / "Stop right there!"
- Nie ma mowy! - Polish: "No way!"
- Rauhoitu - Finnish: "Calm down!" / "Settle down!"
- Ya lo sé! - Spanish: "I know that!"

Introduced in Chapter 55:

- no tan fuerte - Spanish: "keep it down", lit. "don't be loud"
- plenniki (плeнники) - Russian: "prisoners" (BGN/PCGN Romanization)
- Ni idea - Spanish: "(I have) No idea"
- es facíl! - Spanish: "it's/that's easy!"
- Nani itterunda?! (何言ってるんだ?!) - Japanese: "What are you saying?! / What are you talking about?!" (Hepburn romanization)
- bao - Venetian: "bug"
- mordownia - Polish: "dive", "dump". lit: "murder-hole"

Introduced in Chapter 56:

- cuco - Venetian: "fool"
- Vecioferàle Arena - Venetian: "Old Lighthouse Arena". Irregular, conventional rendering in language would be "Arena Vecioferàle"
- Arena Veijofaro - Spanish: "Old Lighthouse Arena"
- Sugoi! (凄い! / すごい!) - Japanese: "Great!" (Hepburn Romanization)
- świeca - Polish: "candle"
- Qué es este lugar? - Spanish: "What is this place?"
- cerimònia - Venetian: "ceremony"

Introduced in Chapter 57:

- najemnik - Polish: "mercenary"
- cunìcio - Venetian: "rabbit"
- Gliger (グライガー) - Japanese: "Gligar" (Official Romanization)
- Kom terug hier! - Dutch: "Get back here!"

Introduced in Chapter 58:

- mànega - Venetian: "gang" (criminal)
- pàre - Venetian: "father" (informal), "dad"
- Trimmien (トリミアン) - Japanese: "Furfrou" (Official Romanization)
- Buena suerte! - Spanish: "Good luck!"
- Davay! (Давай!) - Russian: "Come on!" (BGN/PCGN Romanization)

Introduced in Chapter 59:

Part 1

- Jalorda (ジャローダ) - Japanese: "Serperior" (Official Romanization)
- Prinses - Dutch: "Princess"
- jari (じゃり) - Japanese: "brat" (Hepburn romanization)

Part 2

- (¡)Cállate! - Spanish: "Shut up!"
- canàje - Venetian: "brats"
- Hanashite! (放して!) - Japanese: "Let go!" (Hepburn romanization)
- Ladno (Ладно) - Russian: "All right"

Introduced in Chapter 60:

- Novomarca - Venetian: "New Market"
- Destacàr - Venetian: "Stop" (interjection)
- Smotri (Смотри) - Russian: "Look" (second-person imperative) (BGN/PCGN Romanization)
- Pardón - Venetian: "Sorry" (formal)
- Bònjorno - Venetian: "Hello"
- Ganbatte (頑張って) - Japanese: "Good luck". lit. "do your best/give it your best" (Hepburn Romanization)
- kholui (холуи) - Russian: "lackeys", "grovellers" (BGN/PCGN Romanization)

Introduced in Chapter 61:

Part 1

- dzieciaki - Polish: "kids"
- Shakh i mat, buyany (Шах и мат, буяны) - Russian: "Check( and )mate, ruffians"
- Ohsubame (オオスバメ) - Japanese: "Swellow" (Official Romanization)

Part 2

- oseo - Venetian: "bird"

Introduced in The Deepest Wounds:

Part 1

- mama - Polish: "mom"
- äippä - Finnish: "mom"
- Kapitein - Dutch: "Captain"

Part 2

- kundel - Polish: "mutt"
- szaleńczy - Polish: "insane", with nuance closer to "stupid" or "foolish"

Part 3

- Idź stąd! - Polish: "Go away!"
- selyane (селяне) - Russian: "peasants", "hicks" (BGN/PCGN Romanization)

Introduced in Chapter 62:

- por el amor de los dioses - Spanish: "for gods' sake", lit. "for the love of the gods"
- Kenhallow (ケンホロウ) - Japanese: "Unfezant" (Official Romanization)
- Nae sure! (내 수레!) - Korean: "My cart!" (South Korean Revised Romanization)
- Seodulleo!(서둘러!) - Korean: "Hurry!" (South Korean Revised Romanization)

Introduced in Chapter 63:

- Ib dagchyeo! (입 닥쳐!) - Korean: "Shut up!" (South Korean Revised Romanization)
- Srak (스라크) - Korean: "Scyther" (Official Romanization)
- Hé daar - Dutch: "Hey there"
- Bossgodora (ボスゴドラ) - Japanese: "Aggron" (Official Romanization)

Introduced in Chapter 64:

- Hayaku ikō yo! (早く行こうよ!) - Japanese: "Let's go quickly!" (Hepburn Romanization)
- Snova? (Снова?) - Russian: "Again?" (BGN/PCGN Romanization)
- Zatknis'! (Заткнись!) - Russian: "Shut up!" (expression is much ruder in Russian culture than Anglophone analogue) (BGN/PCGN Romanization)
- Val! - Venetian: "Alright!"
- Brzmi dobrze! - Polish: "Sounds good!"

Introduced in Chapter 65:

- venado - Spanish (Latin American): "deer"
- tuman (туман) - Russian: "fog" (BGN/PCGN Romanization)
- Opa, we zijn er! - Dutch: "Grandpa, we're here!"
- dyado (дядо) - Bulgarian: "grandfather" (BGN/PCGN 2013 Romanization)
- Mengirski (Менгирски) - Bulgarian: "Mengirese" (BGN/PCGN 2013 Romanization)
- potok (поток) - Russian: "current" (BGN/PCGN Romanization)
- Katte ni shiro (勝手にしろ) - Japanese: "Whatever", "Have it your way" (Hepburn Romanization)
- babo (바보) - Korean: "idiot" (South Korean Revised Romanization)

Introduced in Chapter 66:

- Manyula (マニューラ) - Japanese: "Weavile" (Official Romanization)
- Glion (グライオン) - Japanese: "Gliscor" (Official Romanization)
- Acrobat (アクロバット) - Japanese: "Acrobatics" (Official Romanization)
- Snel! - Dutch: "Quick!"
- Strike (ストライク) - Japanese: "Scyther" (Official Romanization)
- Jeogi! (저기!) - Korean: "Over there!" (South Korean Revised Romanization)
- Nae nun! (내눈!) - Korean: "My eyes!" (South Korean Revised Romanization)
Episode List:
Note: Each link leads to either the chapter in question or the first chapter of the episode
Prologue: A Bedtime Story
Episode 1 - Awakening
- Chapters 1-3
Episode 2 - Upheaval
- Chapters 4-8
Episode 3 - Trial
- Chapters 9-13
Episode 4 - Departure
- Chapters 14-19
Episode 5 - Boisocéan
- Chapters 20-25
Special Chapter: Auld Lang Syne
Episode 6 - Kenobi
- Chapters 26-32
Episode 7 - Mengir
- Chapters 33-38
Episode 8 - Otvaga
- Chapter 39-43
Special Chapter: Swinging the Lamp
Episode 9 - Orleigh
- Chapter 44-49
Episode 10 - Sormus
- Chapter 50-54
Episode 11 - Giotto
- Chapter 55-61
Special Chapter: The Deepest Wounds
Episode 12 - Buyeom
- Chapter 62-
Bonus Chapters:
Bonus Chapter: Turbulent Roadtrip
Trivia:
Trivia #1
(Prologue and Episodes 1-3)
Trivia #2
(Episode 4)
Trivia #3
(Episode 5 +
Auld Lang Syne
)
Trivia #4
(Episode 6)
Trivia #5
(Episode 7)
Trivia #6
(Episode 8)
Trivia #7
(
Swinging the Lamp
+ Episode 9)
Trivia #8
(Episode 10)
Trivia #9
(Episode 11)
Art:
Pleo by Autobottesla, commissioned by Virgil134
Nida by Iris-Sempai, commissioned by Virgil134
Crom by Plumcea, commissioned by Virgil134
Hess by Plumcea, commissioned by Virgil134
(
Work
in
progress
images
)
Pleo by Chibi-Pika
Nagant by Chibi-Pika, commissioned by Virgil134
Cabot by Chibi-Pika, commissioned by Spiteful Murkrow
Banner Art by Chibi-Pika, commissioned by Umbramatic
Elty by Chibi-Pika, commissioned by Virgil134
Valatos, Alvise, and Nori by Chibi-Pika, commissioned by Spiteful Murkrow
Cabot Expressions Sheet by toonirl, commissioned by Virgil134
Guardia by Chibi-Pika, commissioned by Virgil134
Cabot's Very Non-Canon Friendship by Chibi-Pika, commissioned by Spiteful Murkrow
Berecien by Chibi-Pika, commissioned by Virgil134
Niilo by Chibi-Pika, commissioned by Virgil134
Alvise Expresisons Sheet by Chibi-Pika, commissioned by Virgil134
Nida by Cresselia92
Last edited: