A cat that writes stories.
Location
Pronouns

they/she
Partners
In 1996, the first human-pokémon hybrid was created, named 'Mewtwo'. The project soon met with disaster. In 2020, a new generation of hybrids are created by a Galarian tech company, this time made from living pokémon. Two pokémorphs agree to learn why they were made, but as they dig deeper, they uncover secrets better left buried. A story about identity, freedom and becoming human.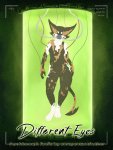 Cover art by
@canisaries
.​
Author's Note:
Different Eyes
is my take on the 'pokémon/human hybrid experiments' trope, as a character-driven story from the perspective of pokémon-turned-morphs. You may like this fic if you're a fan of pokécentric fic, scifi, drama, introspection, angst, slow-burn, and of course, anthros.
It's a long-running project, which started with jumbled notes circa 2010 and eventually became a carefully structured project conscious of its own themes in 2020. It has been the subject of much revision! I expect it to reach about 400,000 words and 80 chapters in length by the time it's finished, and I work on it nearly every day.
Updates are irregular, but at the time of writing I have over 70,000 words of buffer material, so this is definitely happening. My goal is a monthly update schedule.
I appreciate any and all civil feedback, however short or long, however gushing or critical. Please do leave a comment, even if it's only to say that you're a fan. I'll appreciate it enormously. Thank you for reading.
Content warnings for trauma and abuse, dysphoria, fantasy violence, profanity.
Last edited: