Chapter 1: Kuki's Tale Begins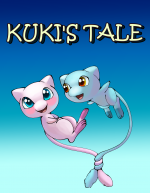 ​
Hey guys, back at it again with yet another rendition of this fic. Anyway, here's the first chapter.

I'll always reciprocate any and all reviews! (⌒‿⌒)
Feedback Preferences:
I'm looking to get feedback focus on narrative structure, prose, rudimentary grammar checks and overall how well or badly I did regarding those factors.

If you're a reader that has read the previous versions of this fic. Tell me what you think of this version. If you feel that it's not different enough and struggle to find any feedback to give, please refrain from reviewing altogether and just DM me what you think of the fic on discord instead.
Chapter One: Kuki's Tale Begins
Kuki's hair fluttered in the warm afternoon breeze. She stretched her arms with a yawn and leaned back against a large berry tree. A second gust threatened to knock her summer hat off just as she relaxed, and she quickly clamped it down to her head. With a relieved sigh, she tucked her loose puffy hair back into her hat and sat upright.
Before they'd arrived, Kuki had thought that tagging along with Mew to gather berries would be fun, but all she'd done so far was sit around while Mew did everything. Within minutes she'd been bored out of her mind, and so she kept herself entertained by tracing her fingers against an Oran berry in her palms. She took a bite from it when boredom kicked in and began wondering what to do when they got back home. Perhaps she could watch some TV, or make another tower of cards. Studying her textbooks was an option too…. No, doing that last one was even more boring than sitting around in front of a tree.
Kuki tried finding other ways to distract herself, and that came in the form of a red berry up in the treetops. It resembled a spike ball, if the spikes had all been hammered till they became round bumps. She chuckled as she pictured it happening in her mind. The berry then seemed to pluck itself off its stalk. It hovered in the air and landed next to Mew, who hummed while dancing with a handful of other berries floating around her; they too danced to her rhythm.
'Something on your mind, Kuki?' Mew asked, glancing over her shoulder. A half-eaten Chesto berry floated next to her. Kuki stifled a chuckle because the berry juice around Mew's mouth made it look like she'd done a shoddy job at make-up.
"Nothing really. I'm just thinking of what to do when we go home." She drew her arm forward and reached towards the blue sky. Sunlight fell onto her arm between the gaps in the canopy, creating a soft shimmer over her caramel skin.
Mew licked some of the juices off her mouth before stuffing her face with the rest of the berry. 'Come up with anything yet?'
"Not yet. I'm still brainstorming."
'Brainstorming? Can't wait to hear what you come up with then. It's gonna be exciting, isn't it?'
"Sure, it will! Just wait and see!"
Mew giggled, then went back to plucking out various berries around her. Kuki watched her quietly for a while. She could never not be amazed by how Mew was able to carry so many things without so much as raising a finger. With her rear growing sore from sitting, she stood up and walked over to Mew.
"Mew, I want to help with the berry picking too."
'No need. I've got it all covered. Besides, I'm almost done anyway, and then we can go home.'
"Oh, come on. Pretty pleeease? I'm so bored out of my mind just sitting here. It's not like you brought me here to just watch, right?"
'You do have a point. Sitting around
is
boring. Since you really want to help, I guess it's fine,' Mew said with a chuckle. 'Let's see now…' Mew glanced at an empty sack, then drew it towards herself and handed it to Kuki.
Kuki smiled and reached for the empty sack as Mew pointed at a couple of berry trees whose branches dipped low to the ground.
'Here, you can go get those ones over there, okay?'
"On it!" Kuki said, skipping as she approached the berries. "And a one, and a two…" she sang to herself, plucking whatever berries she could reach from her height.
After wandering about for a bit, she spotted a tree with several ripe looking berries nearby. Kuki held her hand over her mouth and ogled at them. She turned around to inform Mew, but stopped short before saying anything. What if she went and got them all by herself? Mew would shower her with praise and tell her how proud she was, then they'd go on more outings together! Excited by the thought, she quietly sneaked away while Mew was focused on reaching for a particularly tall branch.
Kuki's heart raced with every step that brought her closer to the berries. She gasped when she got close enough to see the tree clearly. The Oran berries were the ripest ones she'd ever seen, and each one was plump as both of her fists combined. Mew would absolutely love them! Kuki may as well have found the greatest treasure trove on the planet! She hurriedly walked into the clearing and reached to pluck one of them.
"What in the—what do you think you're doing?!" barked a loud voice.
Kuki flinched and turned in the direction of the voice. She saw a large man wielding a trowel marching towards her. With his spottled, faded overalls and straw hat, he resembled the farmers she'd seen on some of her shows.
Her breath caught in her throat. In all of the shows she'd seen, farmers were kind and smiley. This one might've worn the right clothes, but the fierce scowl plastered across her face reminded her more of a villain. "H-hi," she managed to stammer. "I'm Kuki."
"I don't care who you are, get the hell out of my farm or I swear——"
Kuki quailed. What should she do? She'd never talked to a farmer before, let alone one as frightening as that one. Her eyes darted between the berry tree and the man's towering figure, and she flinched when his gaze turned even fiercer than before just as she did. Kuki's throat felt like it'd closed in on itself, and she wanted nothing more than to shrink into the ground and disappear.
"I was just gonna take some berries, Mister. That's all."
"Ah, so, you're a thief then! Get away from my prized berries!" the farmer demanded and began to
stomp
her way.
Kuki's shrieked, stumbling back and away from him. Futile as it was, she tried defending herself, saying, "I found the berries first. Get your own!"
That much at least seemed to stop him for a moment. He looked at her in pure bafflement. "My own? I can't even… This is
my
private property! I own this farm! That is
my
Oran tree!"
"I don't see your name on it." Just to be sure, she glanced back at the trunk. Sure enough, there weren't
any
names on it. "Can't we just share? I can take half of them and you can take the other half. It's not much, really."
"Holy crap, how old even are you?! You know what? I don't have time for this. Come with kid, I'll be having a word with your parents at the station," the man said, his scowl now mixed with annoyance.
Kuki's heart drummed even faster the moment he took a step towards her. Kuki remembered Mew telling her that should she ever get into trouble, she should run away and call for her. So, Kuki turned to flee, only to trip on a rock. Kuki yelped and face-planted onto the ground.
Pain erupted from her ankle, forcing her to lose grip of her berry bag to clutch her aching leg. By the time she turned around, the farmer was mere inches away from grabbing her by the arm. She closed her eyes and shouted Mew's name. The farmer's fearsome hand never reached her, and when she looked up she immediately found out why.
The man had frozen, and a pinkish glow had engulfed his entire body. Right after that, a pink bubble surrounded Kuki, and she sighed in relief.
The farmer only had a moment to stare in shock and confusion before Kuki's bubble expanded outward, smacking and sending him hurtling through the air. Just before he hit the ground, he froze in midair for a second, then he dropped with a painful groan.
Kuki's contracted again, and Mew appeared in front of her as a gothorita.
"What in the world?!" the farmer blurted through clenched teeth, his arm pressed to his back.
Mew frowned at him. Kuki knew there was nothing a human could do once caught in Mew's psychic restraints, especially not when she was furious. She and Mew exchanged glances, one with tearful eyes and the other with worry.
'Are you hurt, Kuki?'
"A little… but it's not
his
fault. I tripped and fell."
'Fun time's over. Let's go home.'
Mew glanced at the farmer and her eyes flashed blue for a second. In that moment, the man fell on his face, limp and unconscious.
As Mew entered the bubble she was in to embrace her, Kuki stared back at the farmer. He would probably wake up later, and would not remember anything that happened that day. She looked away, expressionless, and snuggled Mew against her body. A second later, they were gone without a trace.
***B***
​
The long-range teleportation brought with it a dizziness Kuki still hadn't gotten used to, even after experiencing it a bunch of times. She sighed in relief when it wore off. They were back at home sweet home. Nothing could quite compare to the coziness of their room. Her bed was tucked away at one corner while her mirrored dresser, shelves, and television sat adjacent to it. The rest of the room's space was mostly for recreational purposes. It gave her plenty of space to play with toys and build models of the things she saw in shows with her toy bricks.
"That was close. Thanks for showing up, Mew," Kuki said. She moved her leg a little before a burning pain raced up her ankle. She clasped her hands over it and groaned. When Kuki noticed the worried look Mew was giving her, she forced a smile and said, "It doesn't really hurt that much."
Mew didn't reciprocate the smile. Her eyes drooped and she placed her paws against Kuki's cheeks. 'You shouldn't have wandered off like that, Kuki! You could've gotten into huge trouble with those humans!'
Kuki lowered her eyes turned her face the other way. "I'm sorry … I was just trying to help. I wanted to bring those huge berries because I thought you'd like them."
'Oh, what do I do with you?' Mew shook her head. Her eyes glowed so she could inspect Kuki's leg. 'Looks like you sprained it. You won't be playing outdoors today with your foot like that.'
"What? That's not true! It really doesn't hurt that much! Look, I can stand up just fine!" Kuki tried pushing herself up, but a sharp pain shot up her ankle the moment she put pressure on it. Her legs buckled, but a psychic hold held her from falling, and Mew gently lowered her back down to sit.
Kuki pouted in defeat, which prompted a giggle from Mew.
'See? What did I tell you?'
"Okay fine, it hurts. Mew, please heal me,"
Mew brought a paw to her chin and looked the other way. 'Oh, but should I? I'm not sure.'
"Meeeeew. I'm sorry, please!"
'I'm just teasing you, Kuki," she said with a laugh. 'Here you go, one healed foot coming right up!'
Mew's paw glowed a radiant pink and she gently pressed it over Kuki's sprained ankle. Kuki winced from the contact, but then the pain was completely gone right after. She smiled and moved her foot around. Her ankle really was as good as new.
It marveled Kuki just how quickly Mew's healing worked. Mew told her she was the only human her healing powers worked on, though Kuki was sure Mew only said that to make her feel special.
"Hooray, I'm back in action!" Kuki said, springing up to her feet and spreading her arms upwards.
Mew clapped her paws together and smiled. 'That's very good, Kuki! Come on now, let's go and prepare lunch.'
"Okay!" Kuki lowered her arms and noticed one of the bubbles Mew was carrying had something strange in it. She widened her eyes for a moment and snorted. "You actually brought the tree with you?"
'You looked like you wanted it, so I picked it up.'
"I was only gonna pluck a couple for you. I wasn't going to take the whole tree!"
'This works out for us, though. Now we can get more berries without having to leave the lighthouse.'
"Are we going to plant it somewhere in the courtyard?"
'If that's what you want. Here's what we're going to do," Mew waved her paw and a spot in the air shimmered. A second later, an identical copy of Mew hovered next to her. "Other me here will go with you, and you two can plant the berry tree wherever you want. I'll go prepare us something in the kitchen in the meantime, okay?"
"Alright, yay!" Kuki said, pulling the real Mew into a tight hug before letting go and trotting up the staircase. A normal person could barely tell Mew apart from her illusory copies, but Kuki could recognize the real Mew easily. After spending thirteen years of her life with Mew, it had become instinct for her to recognize the very faint difference in the pink shade Mew had compared to her clones. The real Mew was also warmer whenever Kuki hugged her, not to mention she also smelled a bit like Lum berries. Unsurprising. Lum berries were Mew's favorite, and she didn't share with her copies.
About half an hour later, Kuki returned to the room while singing a tune to herself. There was dirt all over her clothes and hands, because Kuki insisted on doing most of the manual labor. She put the tree into the soil all by herself too even though Other Mew insisted on helping her. In the end, she couldn't and needed to be helped with just a bit of telekinesis to make the tree just light enough for Kuki to carry. All that hard work left her feeling sore all over. Other Mew had disappeared shortly after they'd planted the tree.
Mew was nowhere to be found in the room, though the sweet scent permeating the air told her everything she needed to know. Knowing that, Kuki went to take a bath and got a change of clothes. While combing her hair in front of the mirror, she noticed a strange black feather sitting on top of the drawer. Curious, Kuki reached her to pick it up, but it disintegrated into nothing just before she could touch it.
'Lunch is ready!' Mew announced, hovering down to the room with a tray in tow. 'I bet you're really hungry right about now!'
"Sure am! What are we having today?" Kuki asked with gleaming eyes. The sweet scent alone caused her to drool a bit. "Is it curry? Fried poffins? Oh, are we having steamed potatoes again?!"
'Dadan! You guessed it right. Today, we're having steamed potatoes with
three
sauces! The red one's Tamato berry sauce, the blue one's Yache and the green one's Lum berry flavored. First one's a bit spicy though.'
Mew placed the tray on the coffee table. Kuki looked in awe at the two bowls filled with steaming peeled potatoes. The sauces were in three separate smaller bowls.
Kuki quickly reached to grab a potato, but Mew held her tail in front of her to halt her reach. 'They're still hot. Wait for them to cool down a bit.'
"But I'm huuungry!"
Mew giggled. 'Just give me a moment first, silly girl.'
Kuki opened her mouth to complain again, but closed it without saying anything. Mew had her paws over the bowls and the steam drifted towards her as though she was vacuuming it. A few moments later, the steam slowed, and Mew looked at the cooled potatoes with a pleased smile. How had that worked? Kuki hadn't the slightest idea.
"Is there anything you can't do?" Kuki said absentmindedly.
Mew raised her brows then laughed. 'Of course, there are all sorts of things.'
"Really? Like what?"
'Well for instance… I can't keep up with a hyper energetic girl like you!'
"Haha, I haven't heard that one before!"
Mew held a paw to her snout and giggled. 'Really though, there are a lot things even I wish
I
could do. I'm not perfect, even if I may seem that way to you.'
"Oh… well, you'll always be the best in the world to me no matter what!" Kuki said, throwing a fist into the air.
'… Thank you.'
Partway through the meal, Kuki had her head in the clouds as usual, staring idly at the single light bulb on the ceiling. She could feel Mew's curious gaze, then she smiled and made eye contact. She chomped down the remains of her last potato when she spoke.
"Let's make a kite."
Mew tilted her head sideways. 'A kite? Like the one in that lotad prince show?'
"It's
Lotus Prince
, not lotad!" Kuki corrected passionately.
Mew swayed her tail back and forth with a smile. 'Sorry, I can't seem to ever get the name right.'
"You know… you kinda remind me of the fairy queen from the show."
'Do I? What's the fairy queen like?' Mew asked, her curiosity piqued.
"Oh, she's this magical lady who helps guide the hero on his great journey to save the Lotus Kingdom! She gave him a magic kite in the third episode, and he uses it to travel through the air like an unfezant!" Kuki said, waving her hand in the air with a wide smile. She thought of something and her smile faded. "We could watch it again sometime. We never get to finish it together cause you're always going out somewhere."
'Oh, whoops. Sorry about that. You know how it is. I have to go around helping all sorts of folks around the globe, making sure everything's going well and we're all getting along. Most of the time I just go to have fun though." Mew smiled giddily as though recalling a funny, then her smile grew faint. "But a lot of what I do is still too dangerous to bring a delicate human like you, Kuki. I mean, you almost got in trouble with that human earlier
and
even got hurt too!'
"I guess so…" Kuki pushed her bowl aside and rested her arms over the table with a glum look.
'Tell you what?' Mew said, and hovered upwards with her paw raised, saying, 'When you get
this
tall, I promise I'll take you out on my adventures more often!' Mew said, patting Kuki's puffy hair gently.
Kuki's mouth fell open. Her eyes gleamed as she held Mew's paws tightly. "You mean it?! You must promise!"
Mew giggled. 'That's a promise then!'
"Alright! I sure can't wait to grow up! I am so, so excited!" Kuki squealed and pictured herself with Mew exploring hidden caves, finding lost treasures and saving the world from bad guys and other stuff. They'd already done those things during Kuki's plays, but Kuki had always wanted to know what they were like for real.
"We'd have adventures just like in the shows and movies!"
'Come now, let's not get carried away. Here, tell me more about this kite thing you mentioned earlier.'
"Oh, I almost forgot." She walked to the pile of papers and cardboard at the other end of the room. "In the show it looked like we can make a kite out of some light paper, and with these sticks… Oh, don't forget the strings to tie them up together!"
Mew peeked over Kuki's shoulder to see what she was doing, and sudden realization dawned on her face. 'So, this is why you took those things from that human shop the other day?'
"Oh that? I actually wanted to make something else called an origami that day, but I couldn't really figure it out. I kind of gave up. Well, not really. I still want to do it… someday," Kuki explained with a sigh, twirling a string around a chopstick.
'Oh, you. Don't give up on something just because it's difficult.'
Kuki pouted with folded arms. "The instructions were too complicated. I couldn't follow them at all! They were like fold it like this, and like that. There were pictures, but they were no help." Kuki's shoulders drooped.
'Well, if you're feeling up to it again some other time, we can make some of these origami together!' Mew said, throwing her fist in the air. 'If we put our heads together, I'm sure we'll be able to understand the instructions!'
"Really?!" Kuki asked, leaning forward. Her gaze fell back on the string-wrapped chopstick in her hand. "But first, we have to make the kite!"
Mew giggled as she climbed up Kuki's shoulder. 'That's the spirit, Kuki! Now then, where do we start?'
And so, the two of them set to work on the kites. After a few failed attempts, Kuki suggested they watch
The Lotus Prince
again to figure out how, but they ended up marathoning the series, because Kuki couldn't remember which episode the instructions were shown in. After a few hours and lots of used paper, they finally made something that actually resembled a working kite.
"Hooray, we did it! We made a kite," Kuki said before yawning heavily. Her eyes burned with exhaustion and she couldn't help rubbing her hands over them. She was already nodding off even as she said, "Let's go and test it out, Mew. We… still don't know… if it can fly yet."
Mew smiled and flicked off a small bit of paper on Kuki's nose. 'That can wait till tomorrow, Kuki. What you need now is lots of rest.'
Mew shapeshifted into an audino and scooped Kuki up in her arms. Kuki groaned as she meekly tried nudging away from Mew to break free. Unable to find the strength to do so, she lowered her arm and yawned once more.
"I can still keep going…" Kuki argued, but her yawns weren't fooling anyone.
'No, Kuki. It's sleepy time for you.'
"Awwwww."
'Don't worry. We'll play again first thing in the morning.'
With what remaining strength she could muster, Kuki held onto Mew's hand and met her eyes. "Mew, will we always be together?"
Mew's eyes widened at the sudden question, then her expression softened to a smile. "Always, Kuki. Always."
"Yaaaaay…" Kuki smiled widely and closed her eyes. With that, she fell fast asleep.
After holding onto her for a few minutes, Mew tucked Kuki into bed gently. She drew some of the girl's loose hair behind her ear and kissed her on the forehead.
'I might as well sleep too,' Mew said with a huff after stretching her limbs. The lights went off at her command and then she tucked herself under the blanket next to Kuki, smiled, and closed her eyes. 'Good night, Kuki.'
***B***​
The night had been quiet and peaceful. Mew laid awake and curled next to Kuki, who was sound asleep. Mew kept going over that day's events in her mind. That human on the farm. What if she'd been just a minute later? Kuki could've been hurt even worse. It had only taken a few minutes too…. Mew grimaced. If they did something like that again, she'd have to stick to Kuki like glue.
Mew sighed and clenched her paws while staring at the ticking clock on the far-off wall. All was said and done, at least. Things were fine. Kuki would be safe as long as she had her. Maybe Mew worried too much, though at times it felt like she never worried enough. Everything… everything was fine.
With her mind at ease, Mew curled against Kuki to bask in her body warmth, and listen to the ambience of the girl's dreaming mind. However, she immediately felt something wasn't right. Kuki's body had gotten cold.
Could it be?!
Mew sprang up and jerked her head towards Kuki. Maybe it was just her imagination? She pressed her paws against Kuki's neck and cheek. Cold. Much too cold. Was Kuki already…? How could that be? Mew whimpered. No matter how often it happened, Kuki would enter that state with little warning beforehand.
Heartbeats! Mew needed to check for that. If Kuki was hanging on by even a thread, it wasn't too late. Mew pressed her ear against Kuki's chest and held her breath. Anything, any small glimmer of sound would be more than enough!
A second passed, followed by another, and another. Mew clenched her paws and her heart began to sink further and further, then she heard something. A heartbeat, faint enough that it sounded like it'd wither and fade from the lightest touch. Relief washed over Mew like a tidal wave. Kuki was still alive. She was still alive! There was still hope, and Mew was intent on not wasting it.
Without wasting a second, Mew raised her paws. They glowed bright pink, illuminating the entire room like a lamp. She brought them down and pressed them tightly against Kuki's chest, right over where her heart was. It wasn't the first time it happened, and likely won't be the last. Yet it pained Mew's heart the same every time. At the very least, she knew how to deal with it. She knew how to save Kuki. With a mental push, Mew rushed a surge of energy into Kuki's body.
Luminous pink veins spread all around Kuki's body from her chest. Every minute that passed drained a great deal of energy from Mew. The next ten minutes agonized Mew, and every second that passed drained her even further.
At long last, warmth steadily returned to Kuki's body. Shortly after, Mew saw the girl's chest rising and falling with every breath. Mew bestowed more of her power to Kuki a while longer, just in case. After that, she withdrew her paws and slumped over Kuki with a groan. The glow of her paws and Kuki's veins faded, bringing darkness back to their room once more.
'That was close… too close,' Mew muttered to herself. She toppled to the side with heavy eyes and yawned.
As Mew started dozing off, she felt arms wrap around her body and pull her in.
"Mew…" Kuki said, whimpering.
Mew smiled and lightly stroked Kuki's forehead with her tail. 'What's wrong, Kuki? Did you have a nightmare?'
"Mmmhmm."
'Everything's okay now, Kuki. I'm here for you. I'm here,' Mew said, smiling weakly. She hummed Kuki a lullaby and waited till she made sure Kuki had gone back to sleep. Only then did she too drift off.
Last edited: