Arceus is nice I suppose...
Location
Partners
Edit: Edited to be less bad. It's still bad probably, but "lessly" so.
Edit 2: I changed the title because I didn't like it
Edit 3: I didn't like that one either so I changed it one more time
EDIT 4: I like this name
edit 5: I want to add a description or something! No promises though That's not a description dummy
EdiT 6: I've been writing this for like 2 years and I decided to make a cover art. Fair warning, I'm a photoshop enthusiast first and an artist second. Which is to say, I don't know a thing about art. Oooh welllll.
Edit 7: Had somewhat of a spiritual moment, now editing is cool. Just fixed up the first chapter a bit and will do the others soon. Wow, I had no idea what I was thinking when I first was writing this.
Edit 8: I don't want to bold anymore. I made a new cover art since the other one stopped working. I doodled a couple of characters, hopefully it'll stay put this time?
Edit 9: Revamped the entire first chapter and working on others for clarity purposes. Also introduced like, 2 new characters.
EDIT 10: 11/30/21 New Cover art yay!
Edity 11: 6/23/22 new cover art! It's mysterious!
Rated M for meanness and bad evil violence and me cursing. On a serious note, content warning for blood, significant violence and injury.
This is a story I've been writing here, I like it a lot, kind of
.
I'm not a particularly thorough author, I just want to have fun! But like, don't take that as a laissez-faire admission that I don't care about stuff or whatever, because I do, but I'm still a hobbyist at most so don't count on me to be very profound.
Advance notice, I haven't actually read my first chapters in like a year (as of 11/20) so I don't even remember what happens in them for the most part, but I want to try and go back at some point
. (Ha, I'm going back through now.)
I've been doing this for 3+ years?????
Err '
Synopsis: A lonely Haxorus meets a strange pokemon named Arceus with no memories. They have no one but each other, and they have nothing to lose. Finding out the truth might be a lot harder than it seems though!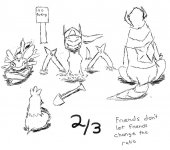 Chapter 1: There was a Small Annoying Thing in the Path
"I am immortal, untouchable, eternal. No one can kill me, let alone harm me. Do you relish the fantasy of victory so much that you would throw away my mercy for your heroics?"
There was a long pause as the hero worked on a suitable retort.
"Your mercy is meaningless compared to true peace! No one would live happily under a mint."
The mint stared down the hero. "Bold words from a frail, sweet, piece of caramel. Do you know what makes everyone happy? How to satisfy every need equally and without bias? I doubt that."
"Yes but- well, that is a good point."
The Haxorus leaned on the brick wall, squinting in the sunlight. In one claw, he held a striped mint, in the other, a dark chocolate caramel nougat. Turning the mint over repeatedly, he took a long breath, deep in thought. He was alone in a small courtyard, a chest height brick wall running up against the tall building he was leaning against, topped with a pointed roof that sloped downwards.
"You cannot guarantee peace," the Haxorus said in a low voice, bobbing the mint up and down. "No one can."
He stopped, staring up for a moment.
Guarantees are the boldest lies
, he thought, making a face.
The Haxorus looked back down. "I believe in trying anyway," he said again, this time in a higher voice while moving the nougat. "I... I might fail, but I would let everyone down otherwise."
The Haxorus paused, trying to imagine how to continue. His arms fell to his sides as he idly chewed his tongue, staring at the sky. Abruptly something felt wrong, and he looked down to see he had accidentally dropped the chocolate in the dust.
"Ack!" Nearly falling over, he swiped the fallen piece of candy off the ground, blowing on it quickly before popping it in his mouth.
As he swallowed, he grimaced. "Ugh, I wanted to save that." Glancing at the mint he still held in his other claw, he shrugged and ate it, shuddering at the bitter taste.
"I suck at storytelling," he said quietly to himself, his shoulders sagging.
A rustling sound caught his attention. Standing up straight, he walked over to the wall, peering over it at the road nearby. A strange pokemon was stumbling about as if drunk. Its white fur gleamed in the sunlight as it stood unsteadily on four spindly legs tipped with gold. The most striking feature though was the massive half circles attached to its torso, a golden ring that extended outwards from its belly.
As the Haxorus watched, the other pokemon swayed from side to side, green eyes blinking in the sunlight. Hesitantly stepping forward, the pokemon lurched sideways, having lost its balance. The Haxorus winced as it fell to the ground, legs flailing wildly.
"Are- are you okay?" he shouted, waving at the other pokemon.
"I don't know," it replied. The Haxorus realized it was a telepathic response, hanging in the air unnaturally.
He waited a moment before talking again. "Do you need me to help you?" The Haxorus started to move slowly around the edge of the wall, watching the other pokemon curiously.
"Umm, yes please." The pokemon staggered to its feet, turning to meet the Haxorus. "I can't see well, there's dust in my eyes."
The Haxorus hurried over, wrapping an arm around the other pokemon's neck. "Here, let me guide you."
The pair carefully made their way into the building, the Haxorus guiding the other pokemon.
-----
The inside of the building was cavernous, stretching high up and far back. The craftsmanship however was lacking, rough wooden beams unevenly spaced across the ceiling, some tilted slightly in one direction or another. There was an open spot along the back wall that looked like it was supposed to hold a bell, a short length of chain hanging idly.
The Haxorus gingerly rubbed the white pokemon's face with a small cloth, holding it carefully between its claws. It seemed to have no mouth, only its eyes and two small circles that the Haxorus assumed were its cheeks. Two lines ran horizontally across its face, dividing it into thirds.
"There you go, that should be better," the Haxorus said with a smile, stepping back to get a better look at it. "So how did you end up this far out? Long way from the city you know."
The creature blinked and was silent for a moment. "I don't know really, I just remember the dust."
The Haxorus looked concerned, "Does that mean you don't remember before that?" He thought for a moment, looking away. "Better question then, what's your name?"
"Uhm, uh, it's Arceus." The reply was hesitant.
"That's a nice name, do you not like it?" the Haxorus asked, watching Arceus carefully. "On that note though, I'm Mallys, nice to meet you."
"Ah," Arceus said, nodding. "Thank you Mallys. And er, I think my name is fine."
Mallys shrugged. "It's nothing. The least I could do for a stranger." The Haxorus relaxed, the tension leaving his body. "Back to the first question though. Are you sure you don't remember anything noteworthy?" He paused. "Besides your name of course."
"Not really." Arceus looked away awkwardly, scraping the floor with one hoof.
Mallys wasn't sure how to respond. The Haxorus stared at Arceus, slightly unnerved. "What are you going to do now?"
"I don't know," said Arceus. "Where is this?"
Mallys sighed. "I suppose I should have expected something like that. Did you get drunk recently perhaps?" He grimaced. "On second thought, you probably wouldn't remember that either."
Arceus looked uncertain. "I- I guess not. Do you think you know why I'm here?"
Mallys looked him over before reaching out to poke Arceus' ring. "I can't really think of anything, but you don't look like any pokemon I've seen before, so you're probably a tourist. See, the thing is, I've heard of this affliction or something of tourists going into shock when the place they're visiting isn't what they expected." He stopped momentarily before continuing, "That was a bit complicated. Sorry, it's just something I thought of."
"That's a big conclusion to reach in a few minutes," Arceus said.
"It's just what I thought of," Mallys said, "Maybe you just hit your head."
"It makes sense though," Arceus replied, sounding hopeful. "The tourist thing that is. What's around here that tourists come to see?"
"If anything, the Grand Harvest Temple in the city, though it must have been a real disappointment if you wandered all the way out here," Mallys replied. "I've heard it's not really something worth writing home about. Just an opinion."
"I... guess so." Arceus was upset that something like that would be the case, but tried not to show it.
"Hopefully if anything, you'll remember what happened if you go back. Before you go though, take a moment to rest, it's better for you."
Arceus nodded. "That's a good idea."
Walking a few feet away, Mallys stepped carefully around a brilliant jade statue of a huge bird in the center of the room, somehow polishing it with a greater care than he had taken with Arceus' face. Arceus watched with fascination as Mallys' claws moved gracefully, covering every inch of the surface with a forceful yet delicate energy leaving a complete sheen. "I don't mind if you take a nap," the Haxorus said softly, "Just let me know."
"Is this a temple too?" Arceus asked, standing slightly straighter as he looked around in wonder. Unlit candles lined the walls, the cavernous ceilings creating a dull reverb. Colonnades carved from a dark wood were spaced down the length of the room, more precise and carefully arranged than the ceiling. Arceus experimentally poked one with a hoof, captivated by the detail. "It kind of feels like one."
"Once upon a time, yes." Mallys spoke idly as he continued to polish. "Nowadays I'm just a historic preservationist, in a manner of speaking." He stared down, considering something.
"A temple for uh-" Arceus gestured towards the statue. "The bird?"
Mallys nodded. "Yes, the bird." He stepped back from the statue to look it over. "This is a pokemon known as Ho-Oh." He looked back at Arceus. "I'm a big fan. Can't say I'm a great choice to represent them."
Arceus could only admire the statue of Ho-Oh. It was exquisitely detailed, the curves of the talons were perfect, complemented by angular lines depicting a fearsome avian face. The feathers were separated from lifelike quality only by being sculpted out of jade, splayed outwards in a triumphant wave.
"It would be really something to meet a pokemon like that someday." Arceus looked thoughtful. "Have you ever met Ho-Oh?"
"Not at all," Mallys said, making a strange smile. "That's why I said I'd make a bad representative. If I did though, I'm sure I would have some words for them."
"How long have you been taking care of this place anyway?"
"Some thirty-five odd years, and I'd say it's been something I would do again-" Mallys looked away. "-but I won't say it."
"You just said it?" Arceus was confused.
"Manner of speaking." The Haxorus stared at Arceus for a moment. "To tell the truth, I actually built this place. Pretty cool, right?"
"I guess," Arceus replied with uncertainty.
The Haxorus nodded. "I like to think I'm pretty 'aesthetical' sometimes."
Arceus nodded. He didn't really understand what Mallys meant but decided it was the best he would get. For a time, the two of them simply looked at the statue. As fantastic as it was, the fading daylight cast a shadow across the face, giving it a rather somber expression. In the small chapel, Arceus felt an unshakable sense that something was wrong.
-----------
For a long time, Arceus stared at the ceiling, more confused than tired. Mallys had retreated earlier to a room somewhere near the back of the chapel, leaving Arceus alone with a pile of blankets the Haxorus had brought.
What am I supposed to do?
he thought. He tried to adjust his position, but his ring only left him uncomfortably awkward every time.
I don't have an answer.
Arceus slowly got to his feet. "I should go," he said quietly to himself. He thought about thanking Mallys for at least taking care of him, but decided against it. The Haxorus probably expected him to be gone in the morning anyway.
Doing his best to avoid making a sound, Arceus made his way outside, shivering a little in the cool night air. Glancing back once, Arceus started walking, not knowing where he would end up.
"What are you up to?"
Arceus stopped. He turned to see Mallys standing a little ways away, a small smile on his face.
Mallys looked exasperated as he leaned against the green brick wall. "As far as I'm concerned, leaving in the middle of the night flies in the face of common sense," he added. The moon was high in the sky, reflecting off the tiles on the rooftop as a lone chirp occasionally echoed around them.
Arceus was apologetic. "I didn't want to be a hassle for you."
Mallys shrugged. "I understand, but I can't help but be a little concerned. Plus, with how you move around, I just want to make sure you're careful, you know?"
"Kind of you for someone you've just met," Arceus said half jokingly.
"As I said earlier," Mallys started, "It's the least I can do. This road is hardly traveled nowadays." He looked bashful. "And as much as I would like to think I'm modest, it's nice to have someone appreciate the work I do to make my little world look nice." Something flickered across his face. "Alright, that was a bit of a lie too, I just enjoy the company."
"Well, it's the least I could do for someone who would help me out," Arceus said, turning Mallys words right back at him.
Mallys smiled, yawning. "If you ever need a place to stay..." He left the words hanging in the air for a moment. "-I can accommodate if you happen to be around."
Arceus nodded. "Maybe sometime." With that, he walked off into the night as the Haxorus watched. The moon was only a sliver in the sky as Arceus walked, the only sounds the gravel under his hooves and the lonely chirping.
'I guess'
he thought to himself, '
-if this Harvest Temple was apparently disappointing enough that I had a mental shutdown, I shouldn't expect much
.' Even as he thought this, he couldn't help but feel a morbid anticipation for whatever it would be. Unavoidable he supposed.
Mallys watched Arceus disappear into the night. A part of him wanted to run, to go with Arceus. The Haxorus fought down his sudden desires, biting his tongue a bit harder than he'd meant to.
"Oww," he muttered, stumbling. Recovering his balance, he ran a claw across one of the blades running alongside his head. "Wow- I'm pathetic," he said quietly to himself.
<><><>​
Arceus had walked through the night, filled with energy, half excitement, half nerves. The sun was rising again as tall walls came into view. Arceus stared at the seemingly endless stretch of sun bleached stucco, broken only by a wide arch under which pokemon streamed in both directions. Arceus noted he was approaching from a side road branching off from a main thoroughfare that shot away elsewhere; one of many unkempt and downtrodden paths. Making his way through the throng, he received some glances, more so disapproving than anything else as the half-wheels along his back disrupted the flow of the crowd.
The street was lined with double story mud brick houses with grass curtains for doors. Smaller pokemon could be seen leaning out of windows, either watching the crowds below or affixing miscellaneous ornaments to strings stretching across the road overhead from building to building. The lines stretched from side to side along the avenue, hanging with formless colorful material that hung so low at points that Arceus could touch it. There was a scent of something sweet baking, for a moment Arceus almost stopped walking just to take it all in.
"Hi, do you have a moment?"
A Watchog, sidled up to Arceus, panting. A sturdy rope was tied around his midsection, securing a Pupitar against his back like a sack of flour. The Pupitar seemed to be asleep.
"Really sorry to bother," the Watchog continued, smiling apologetically, "I'm... we're out fundraising for disadvantaged families in Carigara. I'm Qiyoha, and this-" He gestured to the Pupitar on his back. "This is Postcard. She likes to sleep a lot, so I carry her around."
"Oh, hi." Arceus looked at the Pupitar, then back to the Watchog. The former was almost as tall as the latter, but Qiyoha didn't seem to be affected by his package. "She looks heavy."
"Yeah, she is. But I've gotten used to it." Qiyoha glanced over his shoulder at the sleeping Pupitar. "Anyway, as I was saying, we're fundraising today. Do you have anything to spare?"
Arceus shook his head. "Sorry uh, I have nothing. I'm in a bit of a rough spot myself."
Qiyoha glanced around. "No, I understand. Everyone has their own problems." The Watchog grinned, paws on his hips. "On the off chance, do you know anywhere or anyone that might be a bit charitable. Honestly, we haven't had much luck lately."
"I'm new in town too," Arceus admitted, "But I'm headed to the Grand Harvest Temple- I think that's the name. They might be able to help."
"Thanks for the tip." Qiyoha exhaled heavily. "I'll head by later, I have to take a break." He gestured at Postcard. "I've been carrying her on my back for a week straight now."
"A week?!" Arceus was dumbfounded. "You didn't untie her when you went to sleep?"
"And have to tie it myself again in the morning? No way. I can handle it." The Watchog puffed himself up. "I hope she wakes up soon. It's lonely on the road."
Arceus stared at the Pupitar. "How long does she sleep for?"
"Depends. I think she's saving energy to evolve." Qiyoha made a face. "Don't tell her I told you this, but she's kind of a runt compared to other Pupitar."
"I won't," Arceus said, thinking about how he wouldn't likely meet them again. "Sorry again for not having anything."
"It's fine, it's fine." The Watchog waved. "Bye!"
Arceus watched the Watchog as he maneuvered through the crowd, disappearing deep into the throng.
"I hope he can get some money," Arceus muttered to himself.
A little while later, following some directions he had been given by a passerby, Arceus arrived at the temple. A gigantic obelisk rose into the sky in the center of a modest pavilion. Directly behind it was a dome, ringed with white pillars heavily contrasting the red surroundings. Terraced steps lead up to the entrance, the white stairway covered in pokemon engaged in lively conversation as well as the occasional merchant sorting wares on ragged carpets. Arceus attracted more attention this time walking up the steps, his white and gold colors playing off the white of the stairs accidently creating an almost regal aura.
Needless to say, Arceus felt uncomfortably embarrassed.
----
The air in the temple was stiff. Though a breeze blew through the entrance, it seemed to disperse before it left the antechamber. Soft voices floated through the hall as Arceus entered. A lopunny wearing a yellow sash over its left shoulder hurried over to him.
"Many warm welcomes traveller to the Grand Temple of the Fourth Harvest. I am Mae Chee, a humble believer in prosperity for the world, what brings you to this sanctuary?"
Arceus hid a sheepish look, "I'm sorry Miss Mae Chee, I don't quite know myself".
She smiled at him, "No need for such formalities, it's unbecoming; and it's ok that you don't know, guidance for the unknown is always a reason."
Arceus nodded and made a move to go in before Mae Chee stopped him.
"Full apologies, but I must ask, do the-," she hesitated, " -ornaments attached to your back come off?"
Arceus looked down for a moment in thought. "I uh, I don't know, why do you ask?"
"Oh oh, it's not a bad thing." Mae Chee was quick to appear apologetic. "It's simply that this temple's corridors are somewhat thin and I fear they may cause some crowding."
"You don't need to be sorry," Arceus was quick to respond. "I get it, but I really don't know." He craned his head to look back at the ring. "If you want you can try."
Mae Chee approached somewhat apprehensively. She looked at Arceus several times, reaching and retracting her paws several times. He nodded at her and she finally, tentatively grasped the outer edge and pulled. Arceus swayed slightly, but the rings did not budge.
"Ugh, damn it," she murmured under her breath. Arceus looked strangely at the Lopunny.
She pulled experimentally a few more times from different angles and both sides before returning to face him.
"It looks like they're firmly a part of you," she said. "Oh well, what will be will be. Also, sorry for the uncouth language." She shot a strained smile at him. With that, she led Arceus into the temple proper.
The walls were unusual, sharp pearly-blue surfaces that curved and jutted outwards at uneven points. Vague murals of lines and circles dotted the walls, many drawn unevenly. Aside from a few scattered pokemon that Arceus assumed to be tourists like him, the majority of pokemon inside wore similar yellow sashes in various places. The temple's style he supposed. In one corner, a group of yellow sashes were in what looked like a prayer. Others wielded a sharp looking instrument, carving into boards of wood, the scratching sound dimly echoing throughout.
Most importantly was at the far end of the room. A large symbol was etched into the wall, an arrangement of straight lines forming an intersected triangle. Underneath it, two pokemon were having a conversation, a floating shield with two swords crossed behind it and a mass of blackness, save for a strand of white along the top. Though he tried not to, Arceus could not help but stare. At a point, the black mass turned and Arceus suddenly felt a pressure as it stared him down with a steely blue eye. Though he averted his gaze, he felt frozen in place as the two approached.
"Greetings to you." It's voice was smooth. Arceus was enraptured by the voice of the dark as it continued, "We do not usually play host to such exquisite looking pokemon such as yourself, so I fondly hope you can understand my immediate interest."
Arceus was lost for a moment before coming back to himself. "Ah, I don't look that great, I'm just a visitor, no one special." He inwardly grimaced for sounding like a fool in front of the clearly eloquent pokemon. "I'm Arceus, and I just came to ask a few questions."
The dark pokemon seemed intrigued, "An unusual name to be sure, but not a bad thing." It affixed Arceus with both eyes, "I am Darkrai, the head of this temple, and if it's questions you have, I can answer them to the best of my ability."
"Thank you Darkrai," Arceus said. "It's, well, not really an important question or anything, so sorry in advance."
"Don't be. We all have our own problems."
Arceus looked at Darkrai for a moment before looking away. "I was wondering if I've been here some time before."
"Here before?" Darkrai said curiously. "As in, if you have visited the temple in the past and you do not remember doing so?"
"Yes, yeah that's it."
Darkrai was silent for a moment. "No, you have never been here".
Arceus looked at him in surprise, "Really? Not at all?"
Darkrai spoke directly. "There's no way I'd forget someone like you." He paused, grimacing. "Er, please excuse me, that came out wrong. I have never seen you before. Since that is the case-" Darkrai continued, "What precipitated the question?"
Arceus explained the entirety of the past day to Darkrai who listened intently. The entire time, the other pokemon, the shield, simply looked straight at Arceus, its gaze unwavering. Around them, the activity of the temple continued heedless of the exchange.
"A strange situation to be sure," Darkrai said matter-of-factly. "If it is any consolation to you, I can offer the resources of this temple to assist you in undoing this affliction."
Arceus was taken aback. "Thank you very much Darkrai, though-" he stopped, "It's only been a day, I don't think it will be a long term thing. It's just an intuition, I guess?"
Darkrai simply nodded. "If you decide otherwise, my position will remain unchanged."
Arceus blinked. "You're very generous."
"The harvest exists to provide for all. I would do the same for anyone because it's simply right."
------
Exiting the temple was like waking up in front of a window in direct sunlight. Arceus looked back at the temple, admiring the gleaming dome. The disparity between the exterior and interior was strikingly confusing, it bothered Arceus a little.
Taking a moment to get his bearings again, Arceus was surprised to see a flash of yellow scales, a familiar face in the plaza.
"Mallys?" Arceus said hesitantly. The Haxorus was leaning rather unceremoniously on the base of the obelisk; hearing Arceus he looked at him and waved. In one claw he held a bar of chocolate.
"You know it's not hard to find someone like you around here," Mallys said.
"That makes sense," Arceus replied, looking himself over. "I suppose you just asked about something big and white."
"Could've worked," Mallys shrugged. "Actually I just asked if anyone had seen a pokemon that looked like a god."
Arceus was incredulous, "What- You mean?" He glanced around, "I mean, I don't think... ah."
Mallys almost laughed, but caught himself. "Sorry, not sorry, I just asked the questions." He looked behind Arceus at the temple. "-and it looks like the answers agreed with me." The Haxorus stuffed the rest of the chocolate in his mouth. "I uh, thought you might need some help, that's all."
-----
+++
-----
"I'm going to die."
"You're not going to die."
"Yes, I am!" the Lopunny said. "If I have to talk like this for another year, I am going to kill someone. Are you going to let me kill someone, Darkrai?"
Darkrai blanched. "Please don't do that Mae. I know it sucks, I have trouble doing it too. But we're doing well, plus- we're actually helping pokemon."
Mae was unconvinced. "Is that what you want to do? Help others? Remember, we still have a debt to pay."
Darkrai sighed, sitting on the edge of a bed while Mae paced around the room. The room was sparsely decorated, a single picture hanging on the wall of a muddy looking scenery.
"I know, I know," Darkrai said despairingly, "Just hold on for a bit longer okay? I'll make you some cheesecake later, would that help?"
The Lopunny narrowed her eyes at Darkrai, regarding him silently. "It would."
Darkrai walked away, idly examining a bookshelf. "Remind me though, how much do we owe?"
Mae rubbed her head. "Three million plus interest to the Cobicuran mob. Given how long it's been, I'd say that interest is worth another four million- if they're generous."
"It's not that bad," Darkrai replied. "We're an entire continent away after all."
"That's how we always get in trouble," Mae protested, "You always underestimate other pokemon."
"That's..." Darkrai didn't finish. "I need to get some better pictures," he murmured, looking away.
Mae grabbed Darkrai by his shoulders, staring intently into his eyes. "Look, I'll be with you whether we pay up or run for the rest of our lives. Just let me do the crazy stuff. I wouldn't be able to handle losing you."
"Hey! I feel the same way about you," Darkrai said indignantly.
"Yeah, well you'll just have to manage if it happens," Mae shot back playfully, "I can't help dying."
===========
:::::::::::::::::::::::
Some time later, Mallys and Arceus left the city, walking along the outer wall of the town on a quiet path in the shade of a line of trees.
"So no luck?" Mallys asked.
"Nothing." Arceus shook his head in frustration. "I even got to ask the head of the temple-"
"Wait." Mallys cut Arceus off with an exclamation. "You got to meet Darkrai?"
Caught off guard, Arceus took a moment to reply. "Oh, yea, yes I did."
"Huh..." Mallys nodded to himself. "You're lucky then ya know? I've heard he's really smart, usually always doing business with dignitary types and royalty. How did you get to talk to him anyway?"
"I think he noticed me because I was staring at him."
Mallys' eyes narrowed. "Seriously? I mean, I could pick you out from a crowd a mile away, so I can see it, but that just sounds silly."
Arceus sighed. "You're the one who got the idea that I look like a god."
"Fair point." Mallys trailed a claw along the brick wall for a moment. "But, if he didn't know, then we're back to square one."
Arceus was thoughtful. "Well if anything, Darkrai said I could use the temple's resources I don't remember sooner or later."
Mallys looked at Arceus strangely, "I'm sorry, what?"
"Yea," Arceus started, looking at the trees. "Darkrai said that they offer the temple's help to anyone in need."
"Then uh, why didn't you take him up on that?"
Arceus looked at Mallys. "I mean- I think- well, I'd think the temple really has a lot more to do than help out with a minor memory problem-" Arceus was cut off suddenly as Mallys smacked him with a claw. He recoiled slightly, his face stinging.
"Idiot, what are you putting yourself down for? You literally don't know why you ended up eating dust in the middle of nowhere." Mallys paused for a moment. "And- and, I never even asked you what you remember before any of this happened; what do you- what did you do before this?"
Arceus couldn't focus. "I don't remember?" he said in a daze.
Mallys looked at Arceus, jaw agape. "So you don't remember anything before turning up in front of where I live?" Seeing Arceus nod, he covered his face with his claws. "I don't know what to say. "
"You still think it could be the tourist thing?" Arceus asked, rubbing his head with one hoof.
"The what?" Mallys looked at him confused for a moment before remembering. "Right, uh, I guess?"
"I must have had the worst day then."
Mallys had to take a moment to compose himself. He leaned against the wall as Arceus slowly sat in the grass. "Sorry for hitting you, it's just, you know, you already were acting foolish when you left last night, and now you're just letting this opportunity pass. What were you thinking?"
"I was thinking about it for a while," Arceus said. "If it was really just memory lost from some disappointment somewhere, I thought maybe it would just go away after a while."
Mallys shook his head. "I might have agreed with you if I didn't know you don't remember a thing. Makes me wonder if you were this thoughtless before."
"Maybe, maybe not." Arceus groaned. "How do you hit so hard?"
Mallys flexed a claw. "I really only wanted to give you a little smack" there was something of regret across his face. "Suppose it's muscle memory or something."
Not really convincing
, Arceus thought to himself. Mallys probably didn't know his own strength from living alone in the small temple for so long. "Yea Mallys, I'll go back to see what they have."
"Go for yourself, not for me," the Haxorus replied, "I mean, I want to see you get better; it's the most interesting thing that's happened to me in a long time."
Arceus knew Mallys was right. He felt uncertain again, he still didn't know anything about himself, but he didn't feel extremely concerned by the fact either.
Is something wrong?

Do I not care about myself?
Mallys watched Arceus, who looked deep in thought. "You haven't slept since yesterday have you?"
Arceus looked up in surprise. "I- no."
Mallys shrugged. "The temple aint going anywhere. If you don't mind, you could sleep right there if you wanted."
Arceus looked at Mallys for a long time, before simply nodding and spreading out on the soft grass.
Mallys was bemused. "He really doesn't have anything to lose huh."
The Haxorus was quiet. "Now that I think about it, neither do I."
Last edited: